Binance complaints: how to solve problems?
Binance is the largest crypto exchange in the world: it is therefore not surprising that users also experience many problems. But how can you actually resolve complaints on Binance and what are the most common problems? We discuss everything here!
How can you file a complaint with Binance?
Do you have issues with your Binance account and are you looking for a suitable solution? Then you can contact the customer service of Binance. It may help to describe in detail how you would like them to solve your problem.
Unfortunately, the Binance crypto exchange can become overloaded. Because of this, it can take a long time before you receive a response to your complaint. It is therefore wise to first investigate whether you can find a solution yourself. For example, read our extensive manual and learn exactly how the Binance platform works.
Complaint: my account has been blocked
A common complaint among Binance users is that their account has been blocked. This can happen when the algorithms have detected suspicious login attempts. Binance tries to prevent hackers from stealing your crypto. Is your account blocked? Then it is advisable to contact Binance, who will be able to help you unblock your account.
Complaint: Binance is offline
Binance is fortunately not often offline, but this can certainly happen. In 2019, for example, over 7,000 Bitcoin were stolen. The website was then taken offline due to 'maintenance'. Fortunately, all users got their Bitcoin back. It is wise to follow the Twitter account of Binance; that way you will know immediately what is going on when the website goes offline.
Complaints about verification
There are also many complaints about the verification procedure on Binance. However, Binance has to carry out this procedure: there are many laws governing the steps required to approve an account. If your identification is rejected, it is usually indicated why this is the case. In any event, please note that your Binance account must be in your own name and that you can only deposit money from bank accounts that are also in your own name.
Users also often complain that verification takes a long time. This is because Binance suffers from capacity problems: a huge number of accounts are opened every day and it takes a lot of manpower to verify all these accounts. So be patient: it can sometimes take up to two weeks to verify an account.
Complaint: difficult to reach customer service
A justified complaint in my opinion: Binance's customer service is indeed very difficult to reach. It sometimes takes many days before you get a proper response to your request for support. Binance could make improvements in this area. In this article, you can find more disadvantages of the trading platform Binance.
Complaint: spreads are too high
Some users complain that they paid too high a spread on a transaction. This is not always a justified complaint: after all, Binance does not directly influence the development of the price of a crypto asset.
When the market suddenly moves strongly in one direction, there may be a shortage of buyers or sellers. The difference between the buying and selling price then increases. This is unfavourable if you are trading at that time, as your costs may suddenly become much higher.
You can avoid this by using a limit order: you then set the price at which you want to trade. It is also wise to keep an eye on the markets yourself when you are trading. When you see that the difference between the buying and the selling price is too large, it can be wise to wait for a bit.
Problems with withdrawing money
Binance is under fire in many countries for not complying with local regulations. This is the reason why some countries block the withdrawal of money to bank accounts.
Fortunately, it is still possible to exchange your crypto through other exchanges. If you experience problems with withdrawing money, you should read this article. There, we will discuss in detail how to withdraw money and cryptos from your Binance account.
Transactions missing
It often happens that crypto deposits or withdrawals do not arrive correctly. It is essential that you send your crypto to the correct address. A small typo can cause you to lose the entire amount of crypto you want to receive or send. In addition, pay attention to the network type: if you select the wrong type, your transaction may also fail.
Are there many complaints?
When we look on Trustpilot, we see that people complain a lot about the platform. No less than 67% of users rate Binance as very bad compared to 16% who rate the platform as excellent. Remember, people typically put more effort into complaining than complimenting.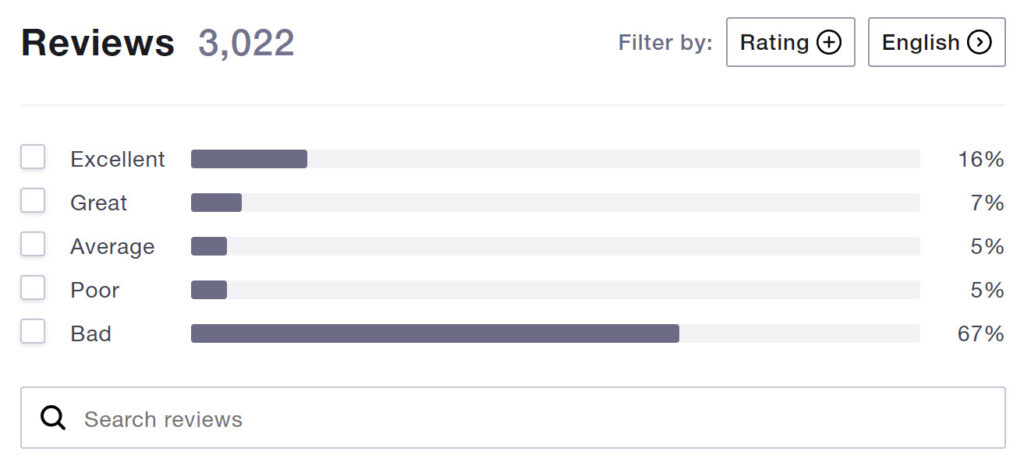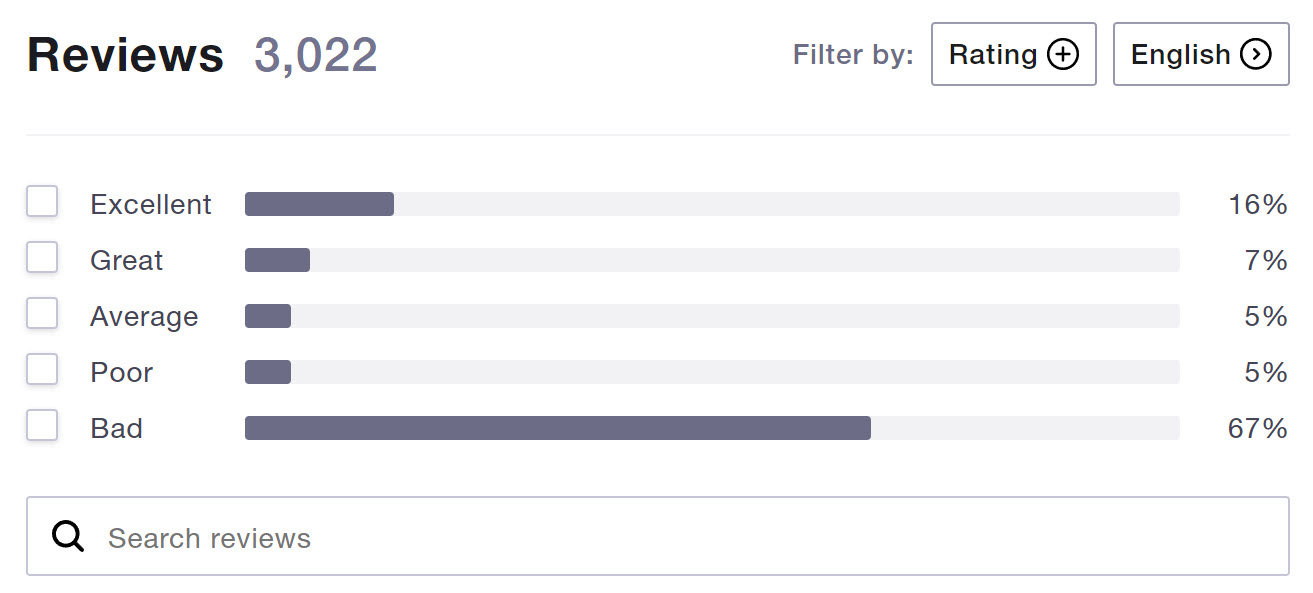 Do you have another complaint?
Do you have another complaint? Are you experiencing problems with Binance? Let us know in a comment below this article!