Binance NFT manual
NFT stands for Non-fungible token, which is a unique digital item, connected to a smart contract. On Binance, it is also possible to trade NFTs using the Binance NTF Marketplace. In this guide, we will discuss what you can do with this Marketplace.
Tip:
haven't opened an account on Binance yet?
Click here
& receive a permanent 20% discount on all your transaction fees through our friend discount.
What is the Binance NFT Marketplace?
The Binance NFT Marketplace is a centralized exchange for buying, selling and creating various non-fungible tokens.
A big advantage of trading NFTs through Binance is that the users are not anonymous. This means you know that the other party is verified and because all transactions are done through Binance, the chance of scams is a lot smaller.
With the Binance NFT Marketplace, you also benefit from the reputation of the exchange. Because many people use the exchange, you can always quickly sell your NFTs. Moreover, Binance has many potential buyers, which increases the chance of making a nice profit.
Another advantage is that the Binance Marketplace charges low transaction fees: these are currently 1%. You can also receive royalties as an artist: if you create an NTF on Binance and it is sold several times, you will receive 1% on each subsequent sale.
Finally, it is good to mention that the mining process on Binance is very cheap because it runs on the Binance Smart Chain. As a result, you do not pay high gas fees when trading NFTs through Binance.
Different features of Binance NFT Marketplace
Special events
Binance regularly organises special events where it is possible to buy NFTs of well-known brands and artists. You will have the opportunity to buy famous art at these events.
Mystery boxes
You can also take a gamble within the Binance NFT Marketplace by buying a mystery box. On Binance, you see in advance the chance of rare items. If you are lucky, you can make a substantial profit with a mystery box, but you can also receive less interesting items.
How can you get started with the NFT Marketplace?
Step 1 open an account with Binance
Before you can use the NFT marketplace on Binance, you must first open an account. Opening an account with Binance is completely free and easy. It is advisable to go through the verification process so that you can use all the possibilities of the Binance platform.
Click here to open an account on Binance & benefit from a 20% permanent friend discount!
Step 2: Buy an NTF on Binance
You can buy NFTs at a fixed price on Binance. To do so, simply click on the Buy Now button.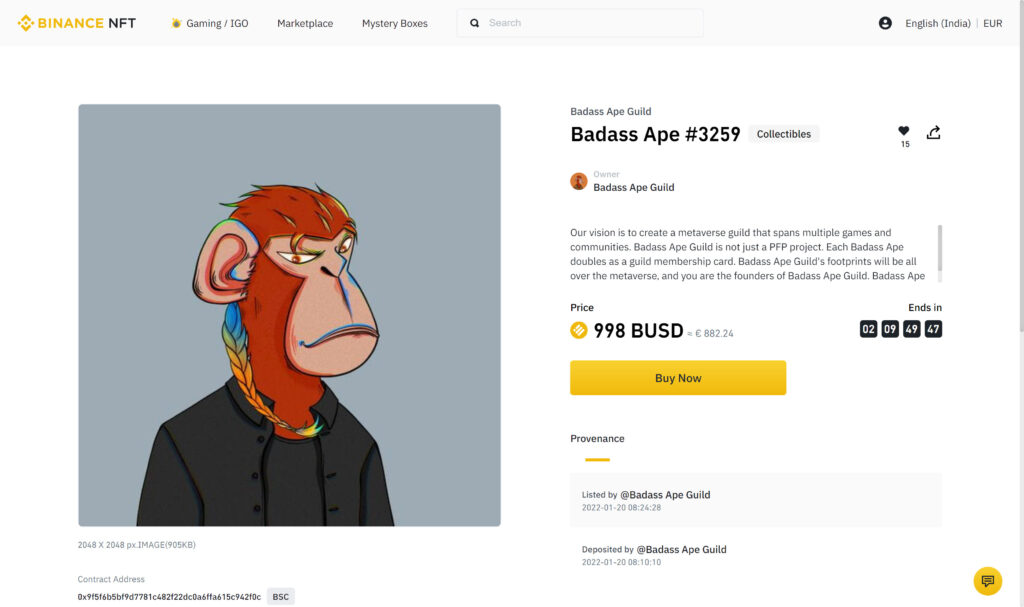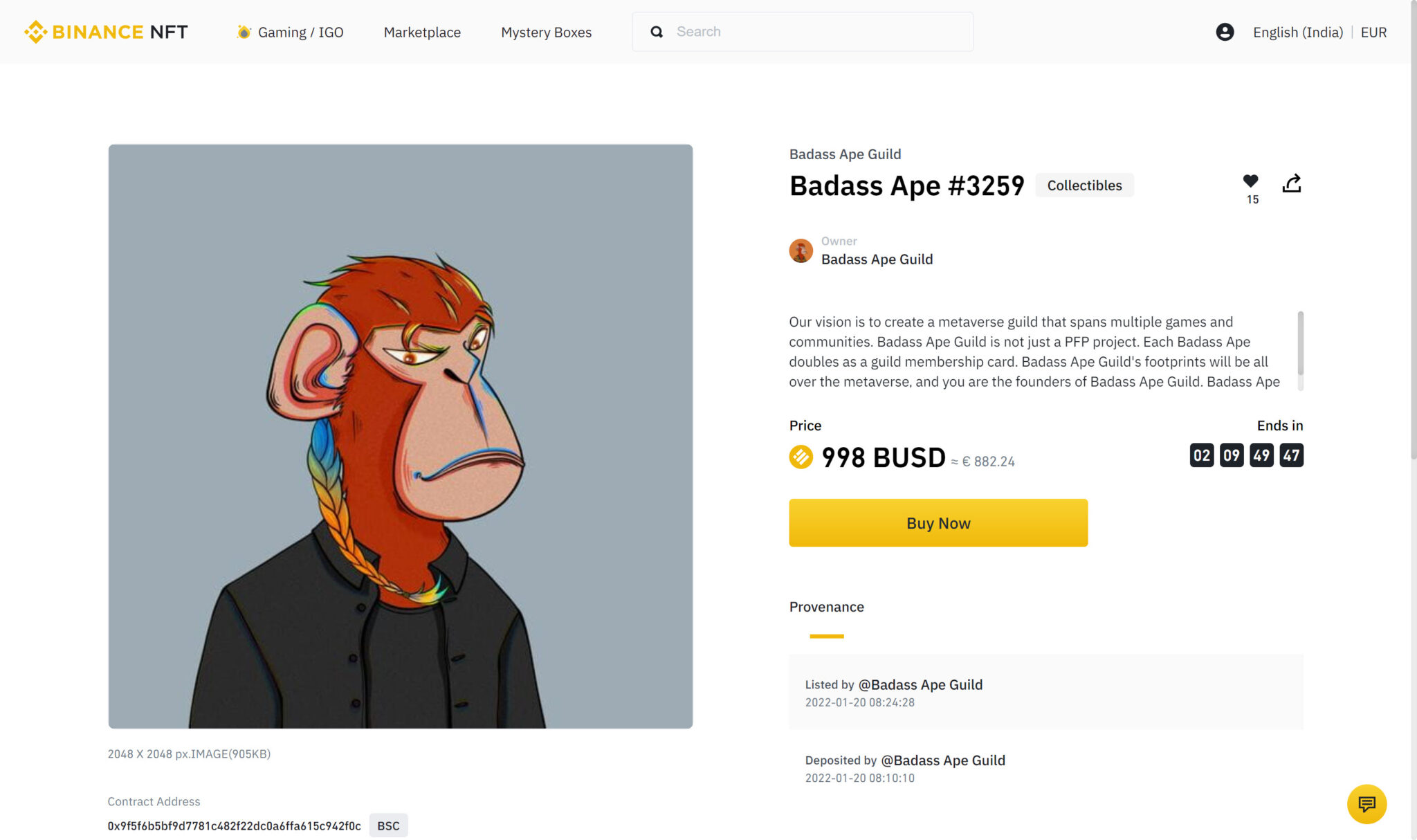 In some other cases, you will have to bid on an NTF: in an auction, the user with the highest bid at the end of the bidding period wins the auction. Bidding on an NTF is easy: just click on Place a Bid. You must always bid a minimum amount above the last bid. The amount of your bid is temporarily frozen to ensure that you can actually buy the NTF if you win the auction.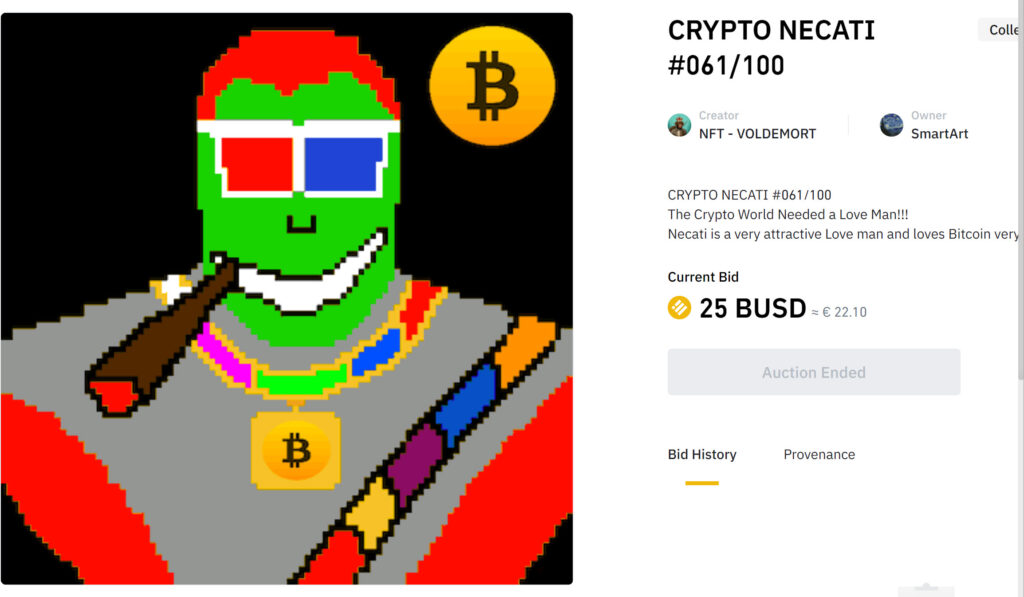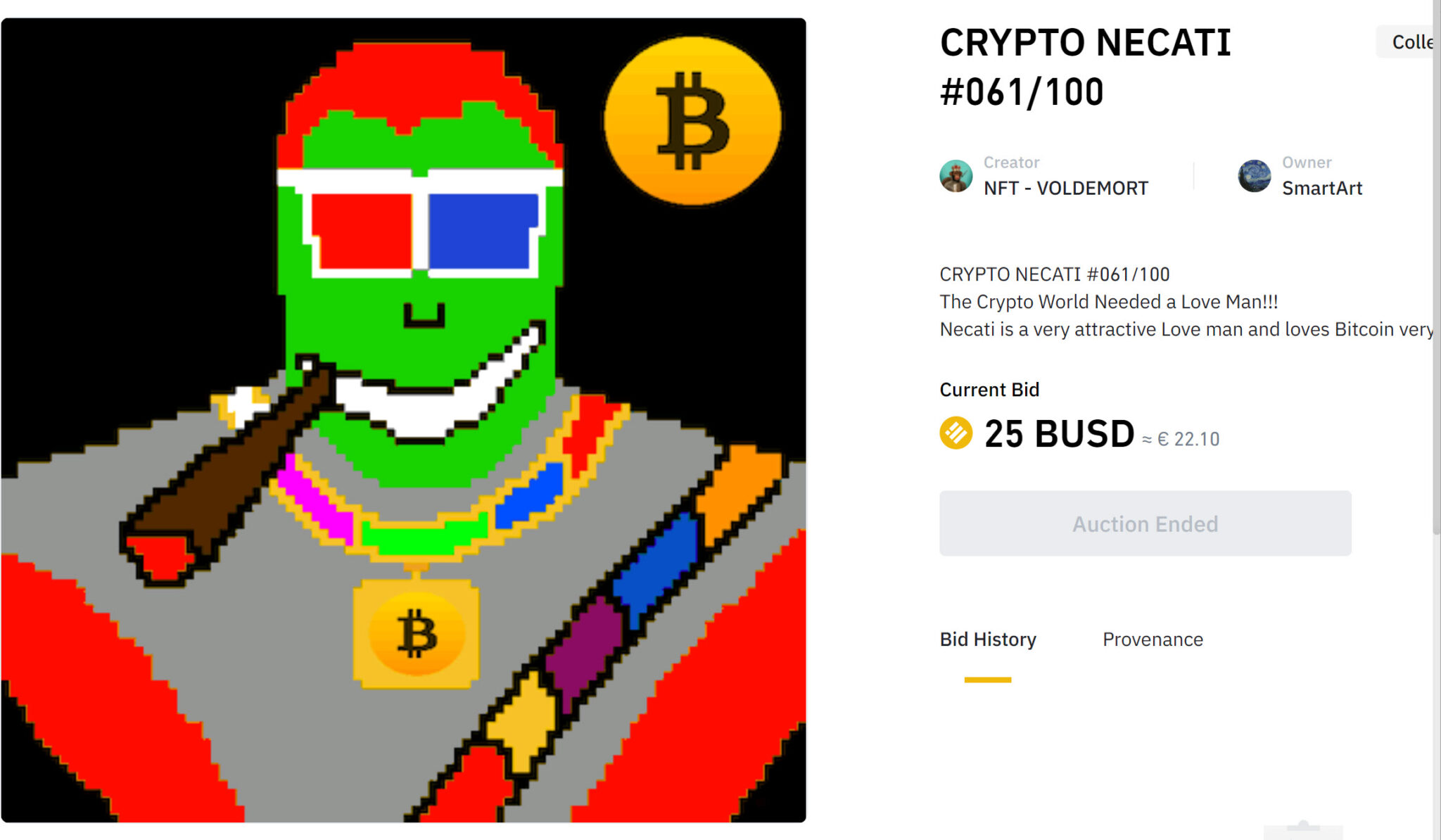 You can also buy a mystery box. You can see the percentage of rare items in each mystery box. These percentages indicate the chances of winning a rare item.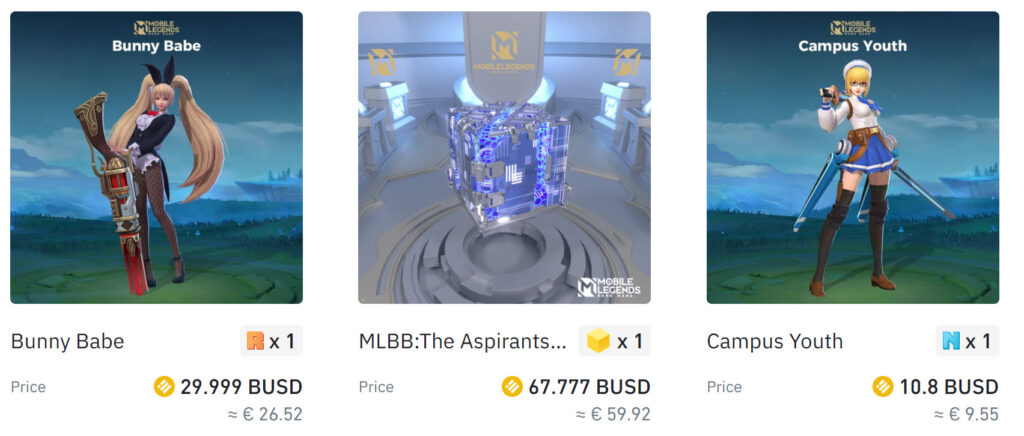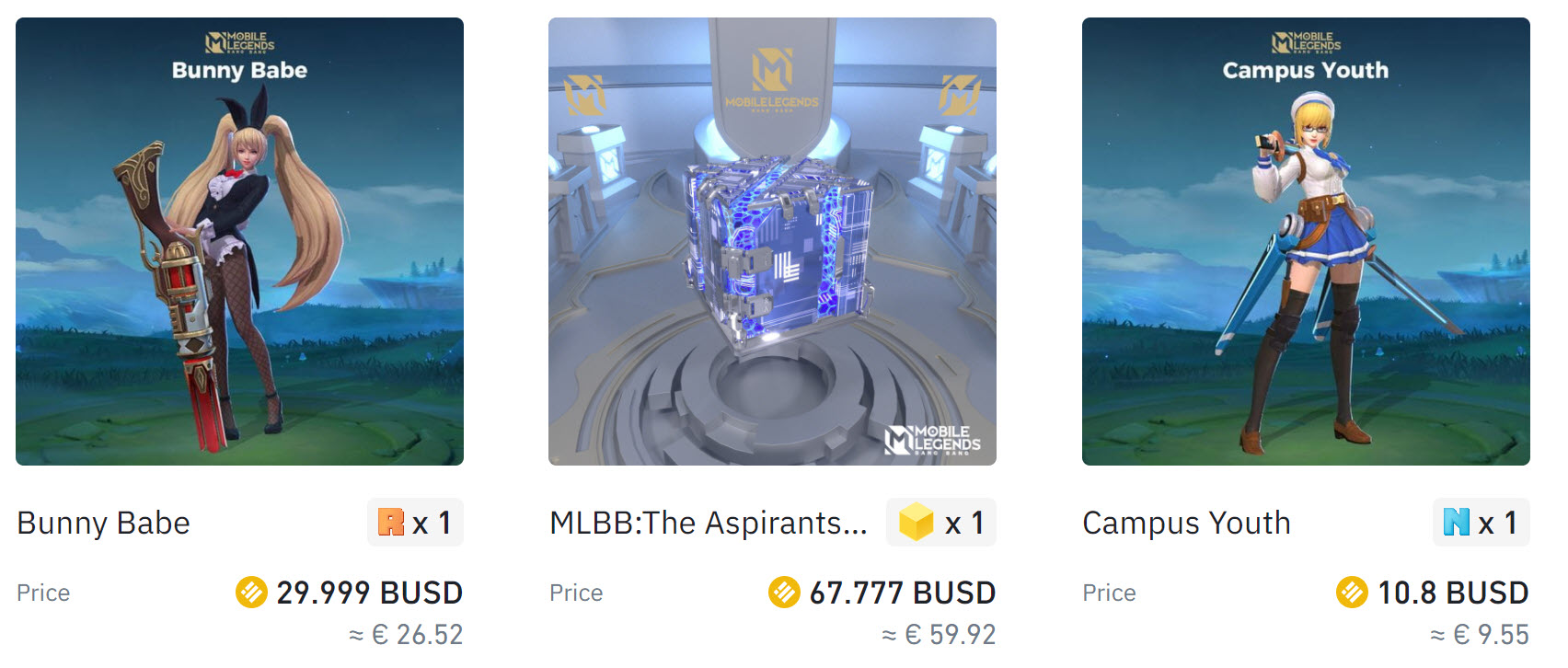 Before you can buy NFTs, you need crypto. You can easily deposit the corresponding crypto by pressing the deposit now button. In this article, we will show you how to do this.
Step 3: Reselling an NFT
By navigating to your profile, you can immediately see which NFT assets you have available under NTF Assets. You can then offer your assets for sale on the Binance Marketplace. You can offer your NFT in an auction, or you can set a fixed price.
If you want to auction the NFT, you have to enter the following data:
Duration of the auction (maximum 1 week)
The minimum bid for the auction
You also always choose a name for your NFT. You can then place your sale in the Marketplace and hopefully earn a nice amount of money with your NFT!
How can you make an NFT yourself?
You can only create NFT's on Binance when you are invited. When you have access to this possibility, you can press the Create button in the upper-right corner to create an NFT. You can then decide between an image, audio file or video. It is possible to create a single NFT or a series.
After you selected which type of NFT you want to create, you can upload the file(s). You have to pay a mint fee in BNB to create the NFT. Fortunately, this fee is relatively low, so it is not expensive to add NFTs.
The great thing about Binance is that you receive 1% every time your NFT resells. When you launch a popular NFT, you can receive recurring commissions.
If you are not yet able to create works of art on the Binance platform, you can import them. You will also receive a commission of 1% on NFTs that you import (deposit) into your Binance account and sell.
Conclusion NFT Marketplace Binance
NFTs are a hype and Binance knows how to capitalize on this. The NFT Marketplace is easy to use and you can quickly buy and sell NFTs. To buy and sell you need BNB, BUSD or ETHC, but fortunately, you can buy them quickly on the exchange. Especially the 1% commission you receive for selling your own NFTs is attractive.
Frequently asked questions about NTF

You can only create an NFT on Binance if you are invited to do so. Fortunately, you can also import NFTs and then sell them. So if you create an NFT elsewhere, you can still make money with it on the Binance platform.

With the Deposit option, you can easily deposit NFTs to your Binance account. You can choose between an NFT that runs on the Binance Smart Chain and an NFT that runs on the Ethereum Chain. It is possible to add NFTs via MetaMask or WalletConnect.

An NFT is a non-exchangeable, irreplaceable certificate of ownership. This certificate can be attached to, for example, an image or a video. With an NFT, you can prove that you are the sole owner of a piece of digital art, a song or even an object in a video game.

.