How does the Binance wallet work? Binance wallet manual
You can use an online wallet on Binance for free. However, it may be safer to store some of your cryptos on an external wallet. In this article, we will discuss in detail how the Binance wallet works.
What is a wallet?
Cryptocurrencies are ultimately nothing more than computer codes that represent a value. One danger is that these codes fall into the hands of hackers, causing you to lose your cryptos. Therefore, it is important to store your cryptos safely.
You normally store cryptos in a wallet. A wallet has both a public and a private key. With the public key, you and other users can add crypto's. The private key gives you full control over the wallet and you should never share it with other users.
Cold or hot wallet?
When you store the crypto's within a wallet that is connected to the internet, we call this a hot wallet. A hot wallet can be hacked easier, since it is constantly possible to gain access via the Internet. However, with a hot wallet it is easier to trade cryptos quickly.
It is also possible to store crypto on a cold wallet. A cold wallet is not connected to the internet, which makes it more difficult to hack. You have special hardware wallets that you can store in a safe, for example. It is also possible to store your cryptos on a paper wallet: this is simply a piece of paper with a QR code.
Does Binance offer a free wallet?
At Binance, it is possible to store all the cryptos you buy for free. This actually happens immediately when you buy the crypto. Within your wallet overview, you can immediately see all the crypto assets you hold on Binance.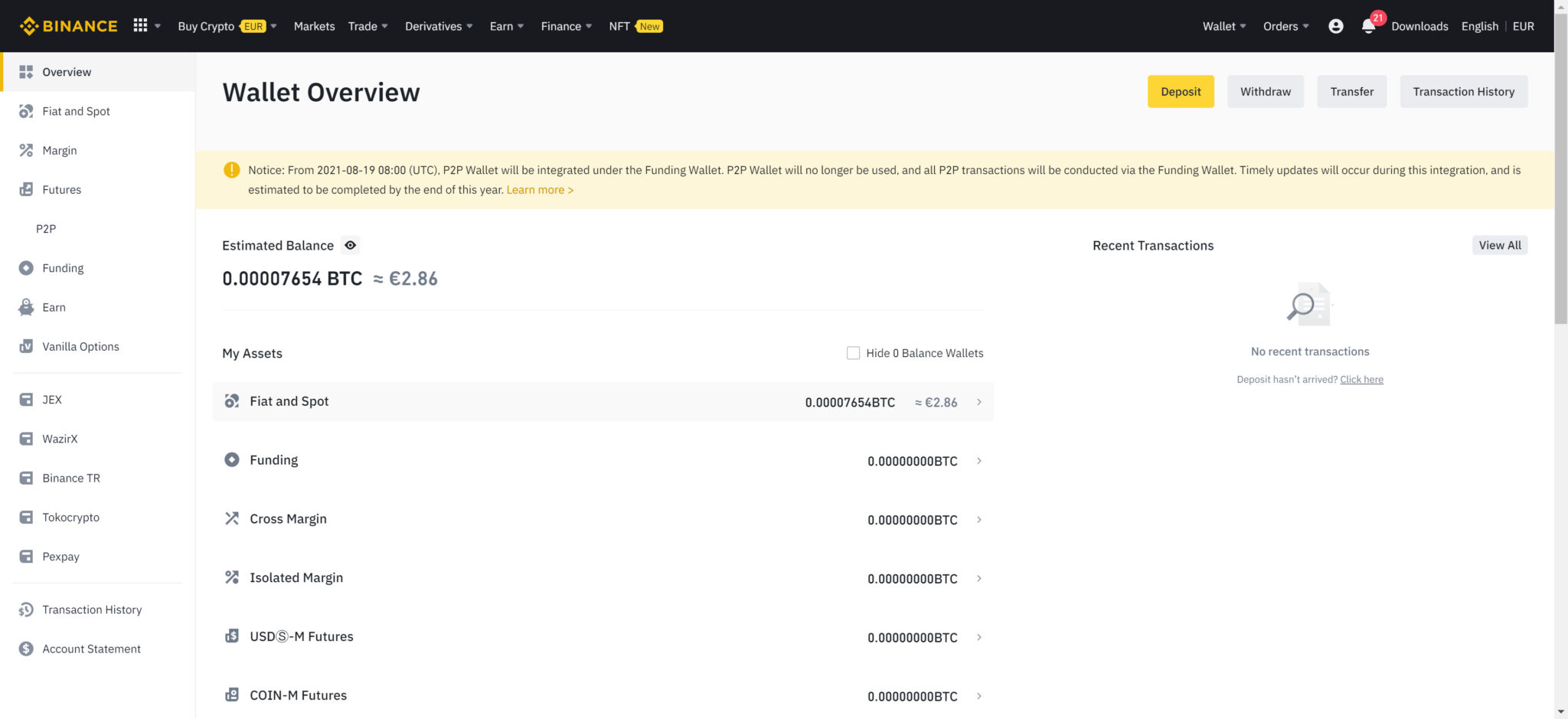 Holding crypto assets on the online wallet at Binance is risky. If a hacker gains access to your account, you could lose all your cryptos. That this is a risk became clear in 2019, when hackers stole 7,000 Bitcoins of Binance users. Fortunately, Binance is a reliable exchange and customers were compensated for this.
When you want to store your cryptos within the free wallet of Binance, it is important to secure your account properly. Choose a strong password, use the whitelist for wallets and apply 2FA protection. In this article, we will discuss in detail how to secure your Binance account better.
How to create a wallet on Binance?
Creating a wallet on Binance is easy! Every user receives the Binance wallet free of charge.
Don't have an account on Binance yet? Click here to open an account. We will share our friend discount with you, giving you a permanent 20% discount on all your transactions.
Do you want to read in more detail how opening an account with Binance works? We will discuss this in detail in this article.
Transferring Binance funds to an external wallet
When you hold large amounts of crypto, it can be wise to transfer a part of your assets to an external wallet. Because you own the private key of this wallet, you have maximum control over it.
To withdraw cryptos to an external wallet, you must first navigate in the menu to Wallet and then Fiat and Spot.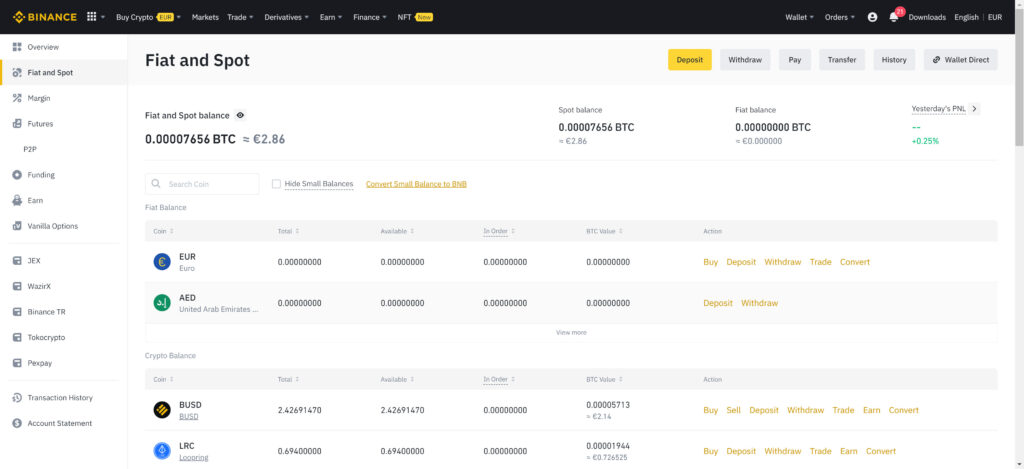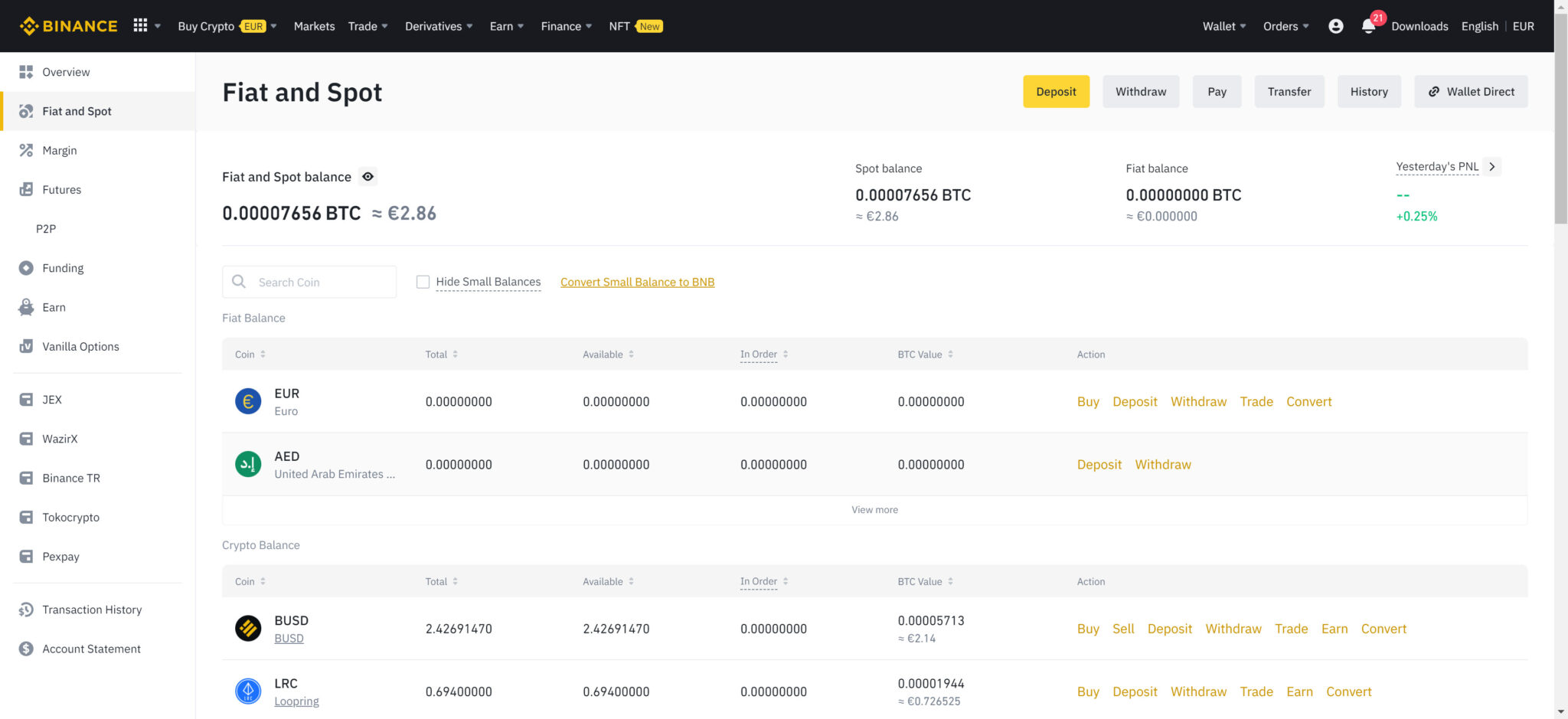 Then click on withdraw in the overview.


Then switch to crypto.


Here you can enter a new wallet address or select an address from your address book. It is wise to use the whitelist option: you can only send crypto's to wallet addresses on the whitelist. This makes it more difficult for hackers to steal your crypto. The wallet address is the public key of your wallet.
You also have to choose the network you want to use. Transactions are verified on the blockchain, and this costs money. Depending on the cryptocurrency, you can choose from one or more networks. The costs and processing time can vary greatly between the networks.
When it is very busy on a network, the costs can rise significantly. When the fees are high, it may be wise to wait awhile before withdrawing your crypto.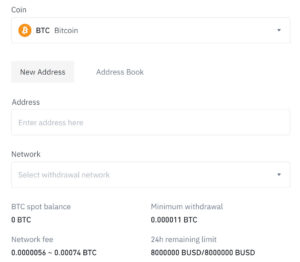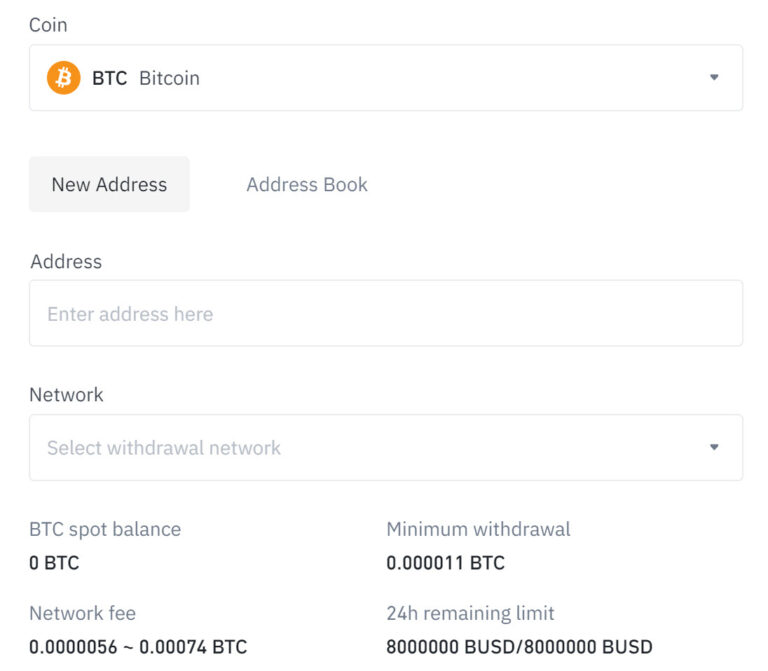 Some networks support MEMO. If the wallet you want to send the crypto to supports MEMO, you need to enter this value. Other exchanges also call the MEMO a day, label or note. When you forget the MEMO, your crypto assets can be lost.
After you have entered all the data, you will see an overview of your withdrawal request. Withdraws are secured: you often have to enter several security codes. Binance sends these security codes to your e-mail, phone and Google Authenticator application. In this article you can read in more detail how to enable these security options.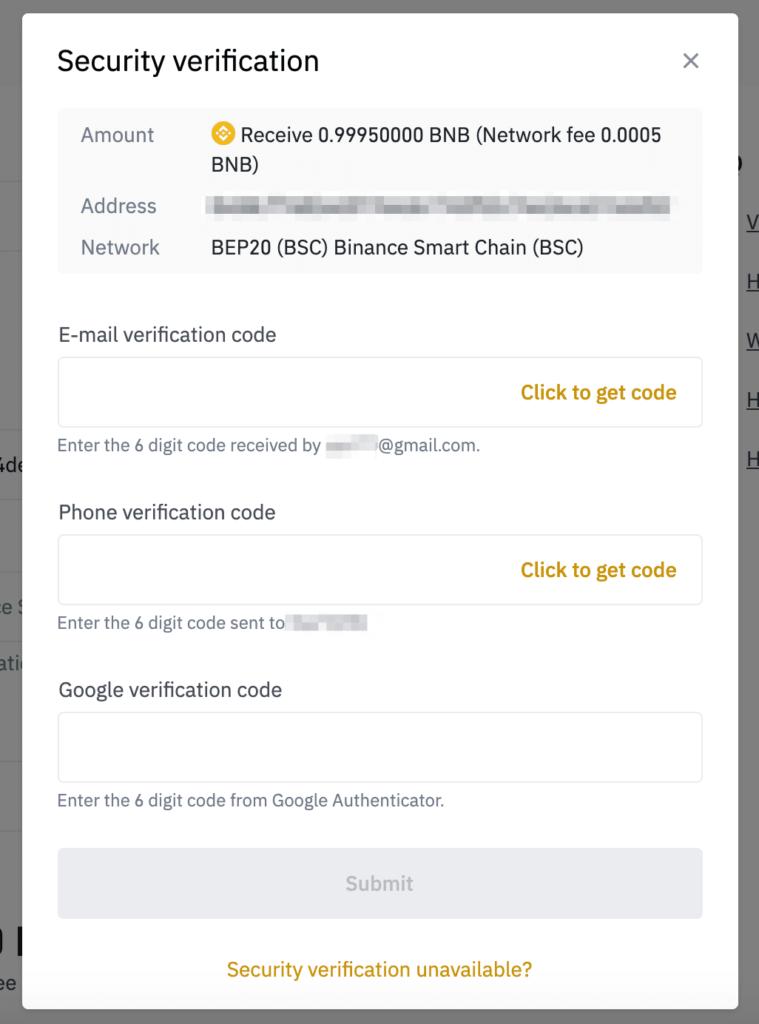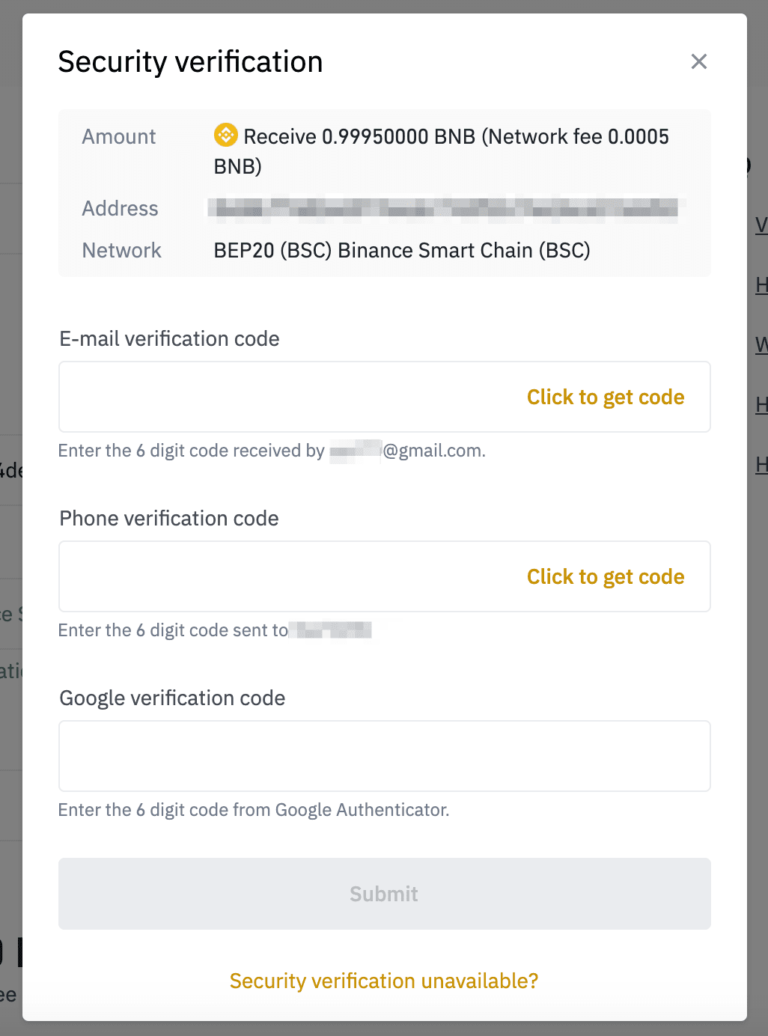 Make sure that all the details in the transaction are correct. If you make a mistake, you may lose your entire withdrawal amount.
How can you deposit cryptos to your Binance wallet?
Of course, you can also add cryptos to your Binance wallet. To do so, navigate to your wallet again by clicking on wallet in the menu and then on fiat and spot.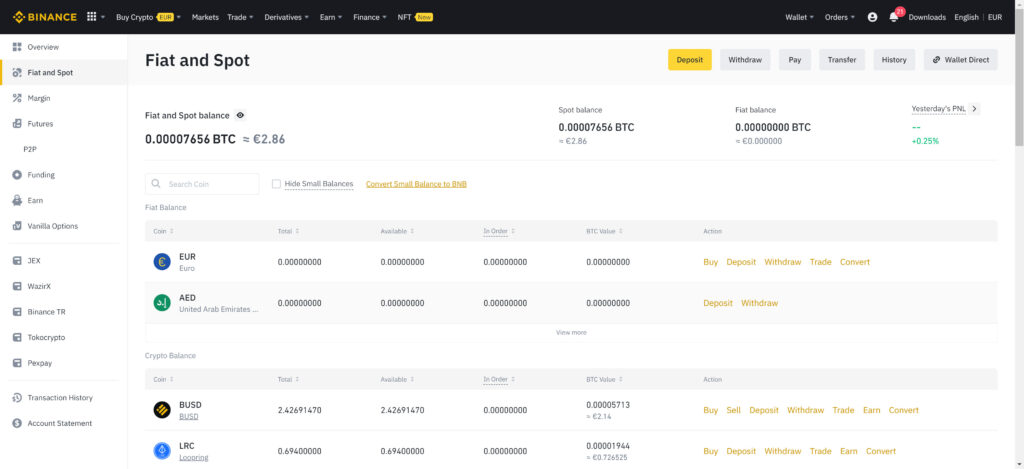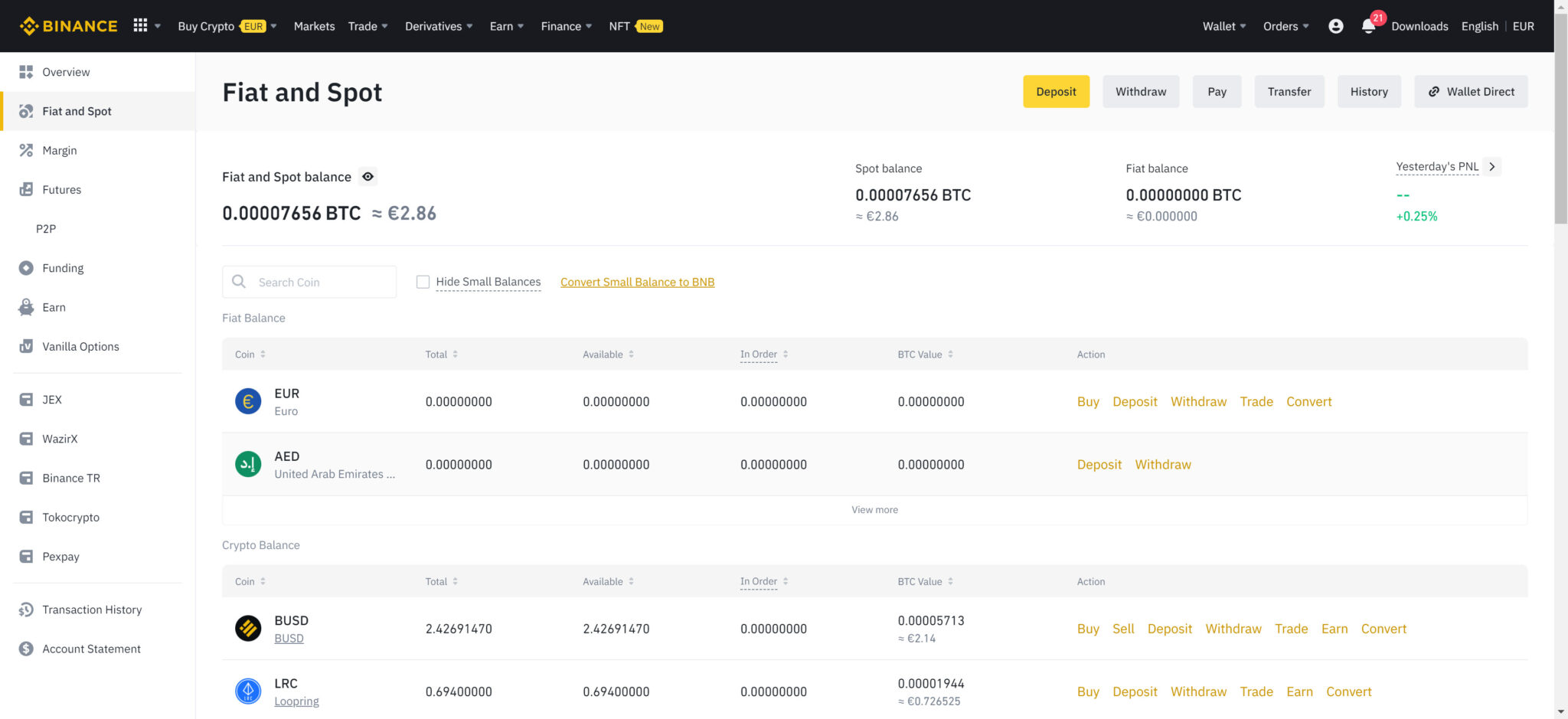 Then click on deposit in the overview.


Then click on deposit crypto.


In the first step, enter the cryptocurrency you wish to deposit. Then choose the network you want to use. It is important that this network matches the network you use to send the crypto; otherwise, you may lose the tokens.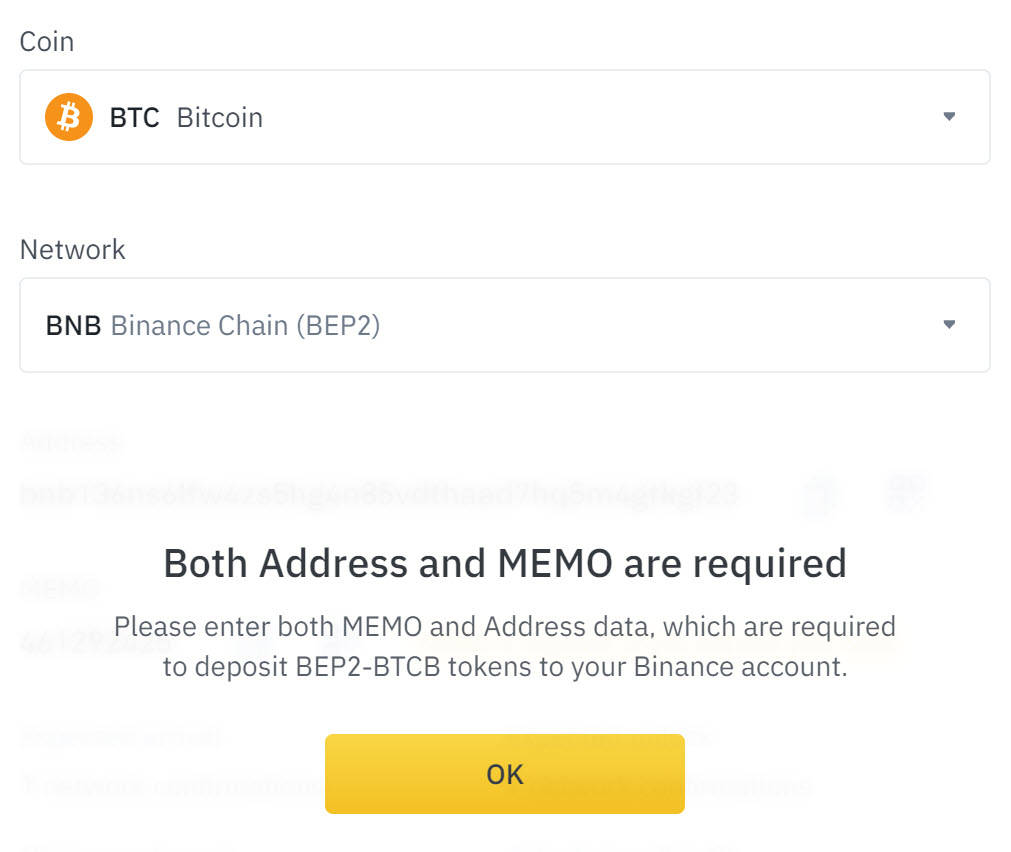 You will then see the address you can use to send the crypto to your Binance wallet. You will also see the MEMO code; you need to provide this code when depositing the cryptos.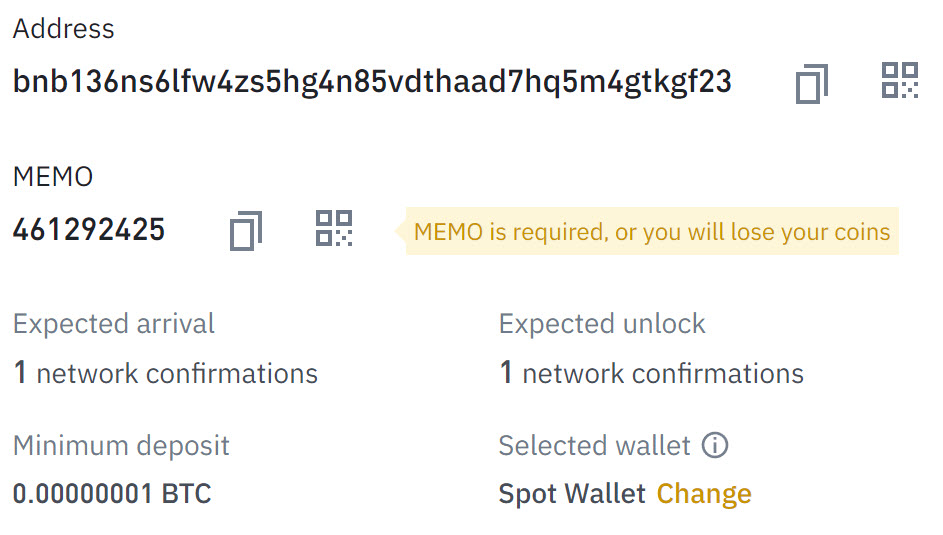 Then start the withdrawal on the platform where your cryptos are stored. You receive the deposit on your Binance account after the blockchain network confirms the transaction. Binance will then add the cryptos to your Binance wallet.
Increasing your withdraw limit
With an unverified account you can only withdraw a limited amount of crypto from your account. It is therefore wise to verify your Binance account. When you are verified, Binance can help you better when something goes wrong and you can withdraw much larger amounts. In this article, you can read in more detail how to verify your account.
Tip: Selling your cryptos
You can also sell your cryptos by transferring them to another wallet. I send cryptos to Bitvavo for this purpose. At Bitvavo, you can have cryptos paid into your bank account for a low transaction fee. Use this link to open an account with Bitvavo & pay no more than 0.25% in transaction fees!
Trustwallet: the wallet of Binance
Binance has also launched its own mobile wallet: the Trust Wallet. With the trust wallet, you can store cryptos in an external location, but still retain maximum flexibility.
You can store all known and less known crypto on the Trust Wallet: they currently support more than one million different crypto's. Moreover, with the Trust Wallet it is possible to stake, which can earn you up to 11% on an annual basis.
With the Trustwallet nobody has insight in your transactions. At the same time, it is possible to buy and sell crypto with your credit card. It is important to secure your phone when using the Trustwallet. Are you curious? Please visit the website of Trustwallet.
Frequently asked questions about the Binance wallet
The Binance wallet is protected, and they are constantly adding new security options. For example, you can whitelist external wallets, so hackers can't just withdraw your cryptos. You can also use the device management to determine from where people can log in to your account. Still, it is impossible to secure an account 100%, which makes it wise to move a part of your crypto holdings to an external hardware wallet.
If your personal wallet gets hacked, you will probably lose all your crypto. It is therefore important to secure your Binance wallet. Transactions on the blockchain are permanent, so they cannot be reversed.
This probably depends on the scale of the hack. When 7,000 Bitcoin were stolen by hackers in 2019, Binance compensated all users with a special fund they hold for this purpose. Of course, if things ever go badly wrong in the future, this could turn out differently. Cryptocurrencies are decentralized and unregulated, so the risks are always significant.
Do you want to read more about Binance?