Binance advantages: 12 benefits of Binance
Binance is the largest crypto exchange in the world since 2017. They achieved this milestone for a reason… in this article, we will discuss the benefits of Binance's trading platform.
Tip:
in
this article
, we also discuss the biggest disadvantages of Binance.
One of the cheapest crypto exchanges
Binance is the cheapest crypto exchange I know: you never pay more than 0.1% in transaction fees on Binance, both as a maker and a taker. If you hold enough Binance Coins, you will receive an additional 25% discount.
I am happy to make it just a bit more affordable for my visitors to trade on Binance. When you create an account by using the button below, I will share my friend discount with you. Your transaction costs will then drop by an extra 20%. Use the button to open an account right away:
Extensive range of cryptos
Another big advantage of Binance, is the extensive range of cryptos that are available on Binance. On Binance, you can trade in more than 500 different cryptocurrencies. This makes the trading platform the ideal choice if you want to trade in exotic cryptos.
Binance often adds new cryptocurrencies to their platform quickly. When a crypto coin first becomes available on the trading platform, you will often see its price rise sharply.
Many trading & analysis possibilities
At Binance, you can use various platforms to buy bitcoin and other cryptocurrencies. If you would like to buy a certain crypto, you can do so easily. However, on Binance, you can also use the advanced trader. With the advanced trader, you can perform complex analyses, which makes Binance suitable for active trading.
At Binance, you can also use various trading instruments. For example, with futures you can apply a leverage effect, which means that both your profits and losses can increase rapidly. On Binance, you can also speculate on a falling price by opening a short position. The possibilities on Binance are endless! In our manual, you can read in more detail how to make use of all these possibilities.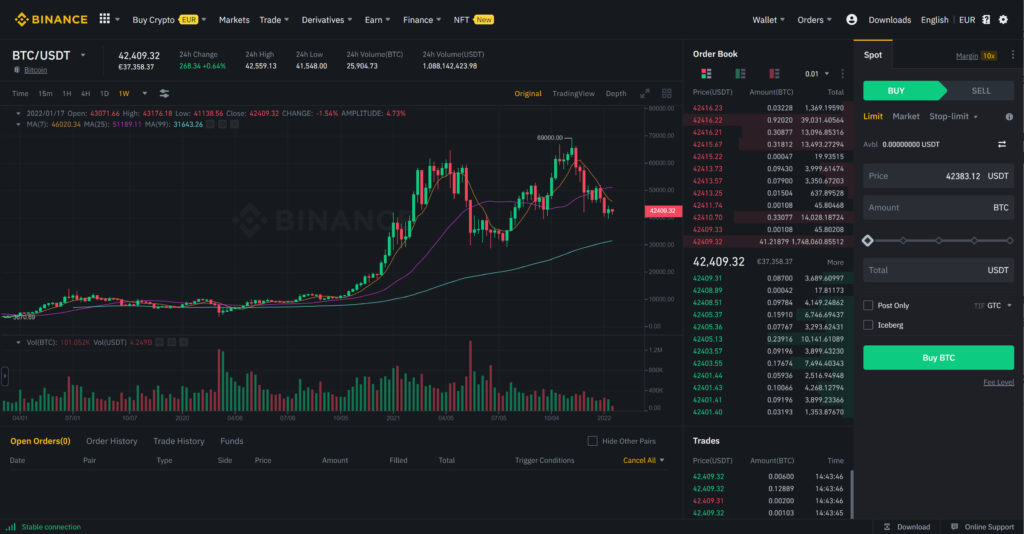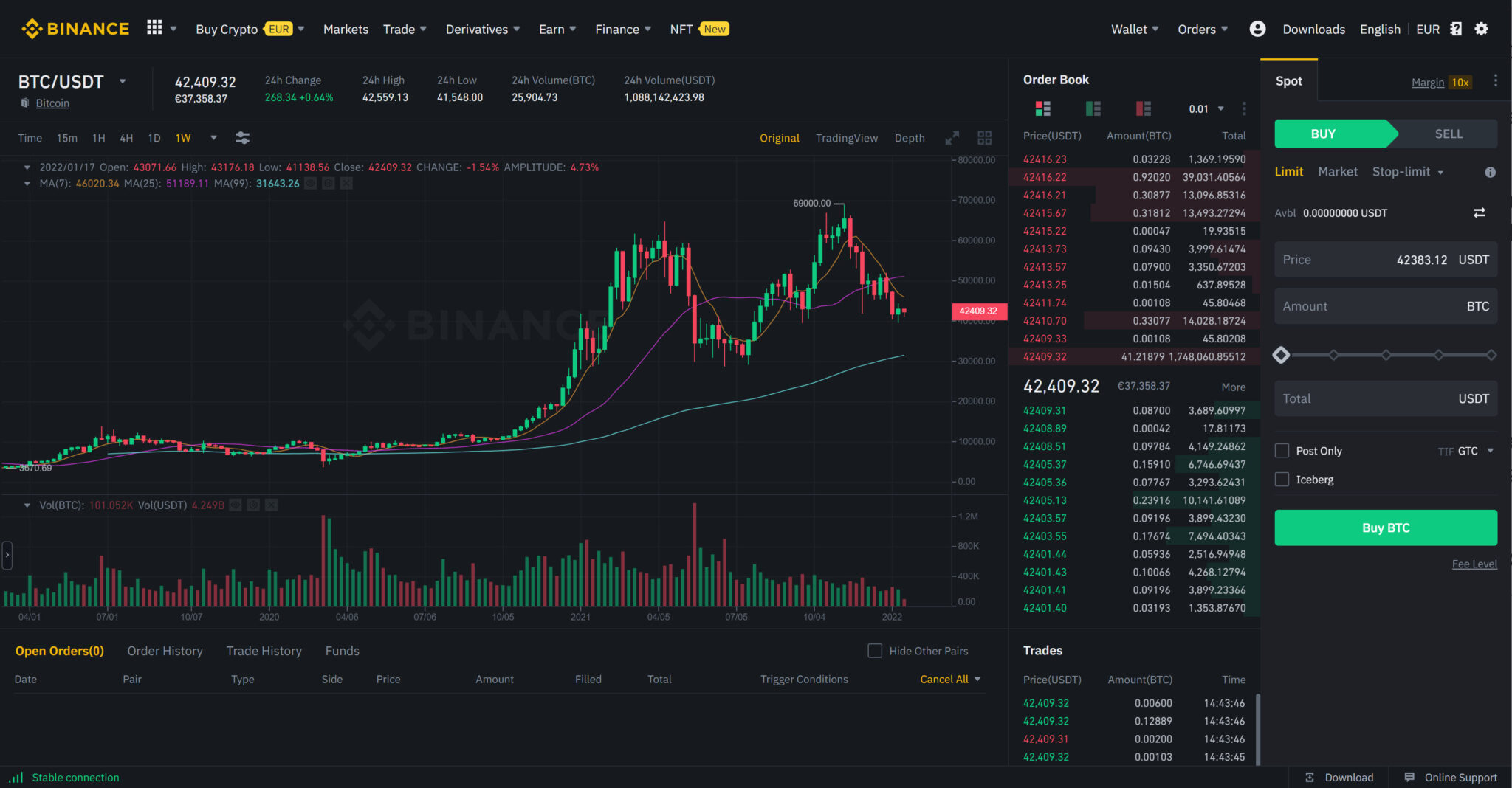 Binance is a reliable party
Binance is not regulated, but we still classify the crypto exchange as a reliable party. Binance has become the largest crypto exchange in the world and serves millions of satisfied customers worldwide.
Binance sets aside money to compensate customers in the event of a possible hack. Binance had to use this compensation in 2019 when over 7,000 Bitcoin were stolen from users. Nevertheless, Binance can still improve its reliability. Binance is notorious for ignoring local regulations, which prevents users from some countries from accessing the exchange. In this article, you can examine our research on the reliability & security of the platform.
Online wallet
Another advantage of Binance is that you can store any crypto you buy online whenever you want. This has the advantage that you can trade your cryptos quickly, allowing you to react quickly to the latest market developments.
However, there is a disadvantage to this: hot wallets are connected to the internet, which makes them more susceptible to hacks. When you invest larger amounts, it is therefore advisable to store them on a cold wallet. In our article about the Binance wallet, we discuss how this works in more detail.
Staking
With staking, you can get an additional return on cryptos on Binance. On Binance, you can choose between locked and DeFi staking.
With locked staking, you lock the cryptocurrency for a longer period of time to support the blockchain. The return, especially for unknown crypto coins, can be substantial: sometimes more than 100% over a period of 365 days. Do keep in mind that these cryptos are very volatile, which can cause them to fall sharply in value.
With DeFi staking, you lock crypto tokens within a smart contract to validate the underlying protocol. On Binance, these contracts are flexible: you can therefore get in and out at any time. The selected projects in this category are better known, which means that the expected return is also lower, with a maximum of around 10 percent on an annual basis. Do you want to know more about staking? In this article, we will discuss the possibilities of staking on Binance in more detail!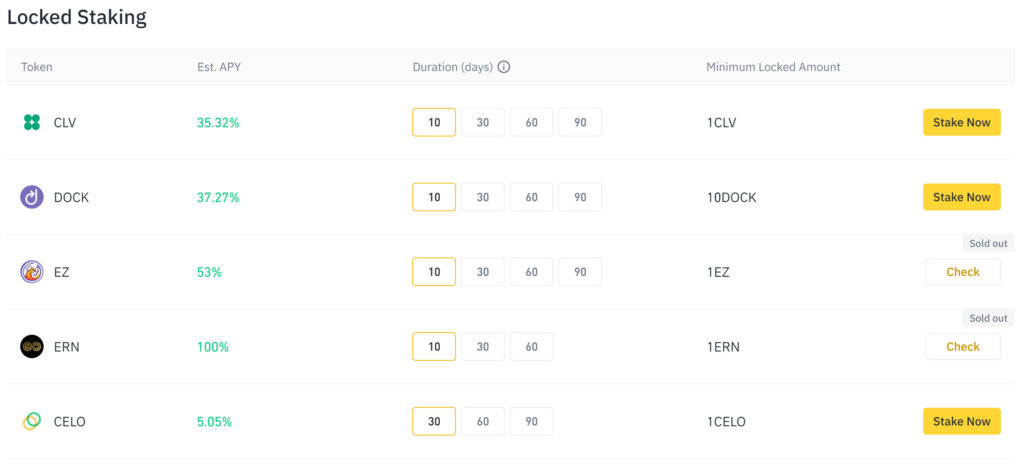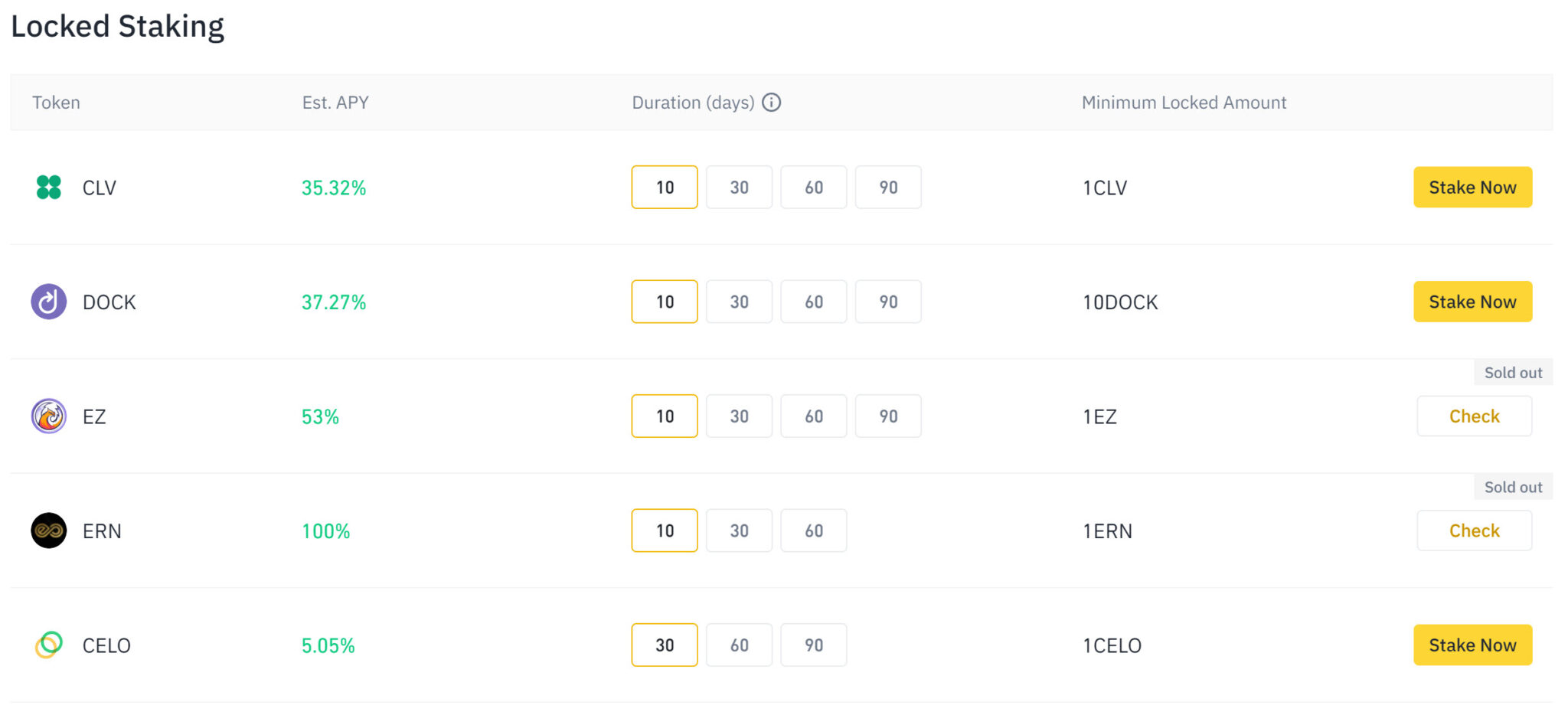 Investing in multiple trading pairs
Another advantage of Binance is that you can trade in multiple pairs. At many crypto exchanges, you can only trade in euros, dollars or certain cryptos. At Bitvavo, for example, you can only exchange euros for cryptos of your choice and vice versa.
At Binance, the possibilities are much more extensive: for example, you can choose from pairs with BUSD, USDT, BNB, and BTC. Binance supports all well-known and less known fiat currencies: think for example of the euro and dollar, but also of the Ukrainian hryvnia or the Turkish Lira. This makes Binance a perfect choice for users who do not use the most well-known currencies.
High liquidity
Binance is the largest crypto exchange in the world, which means they can offer high liquidity. High liquidity indicates that there are many people using the platform. This makes it relatively easy to find buyers and sellers for a particular crypto.
When liquidity is low, you often pay more for a crypto because the spread is higher. The spread is the difference between the buying and selling price, and this difference increases when there is little trading activity.
Many additional services and possibilities
Binance is more than a simple trading platform: you can for example apply for a Visa card that allows you to make payments with cryptos. Other examples of services are:
Participation through the community
Binance has an active community where users can discuss the latest developments in crypto land. A positive point is that Binance listens to its users: everyone can vote on which new cryptos should be added to the platform. This allows you to contribute to the future of Binance yourself!
Depositing money with credit card
At many crypto exchanges, it is not possible to deposit money with a credit card: many regulators are afraid that users can buy and sell cryptos with borrowed money. On Binance, it is still possible for users from many countries to deposit money with a credit card, which is very convenient!
Educational materials
The last advantage of Binance that I would like to cover is the many educational materials that the crypto exchange offers. On the website, you can find many clear articles in which they explain well-known crypto concepts. On Binance, you can also follow livestreams of users who make interesting analyses. These materials can help you make investment decisions.
Do you want to read more about Binance? In our extensive Binance review, we discuss the strengths and weaknesses of Binance in more detail.