Binance staking: how does staking work on Binance?
At Binance, you have dozens of opportunities to earn extra returns with your crypto coins. One of those options is Binance staking. With Binance staking, you commit your crypto tokens for Proof of Stake and contribute to keeping your favourite blockchain alive. In this guide, we will teach you how staking with Binance works.
What is staking on Binance?
At Binance, it is easy to use staking. The technical story behind staking is quite complex, but in simple terms, you stake your crypto coins to keep the blockchain running. Staking crypto tokens ensures that transactions get verified and that the integrity of a blockchain is maintained.
How can you stake on Binance?
Before you can stake on Binance, you first need an account. Click here to open an account on Binance & pay 20% less transaction fees permanently!
You also need to buy the crypto that you want to stake. You can buy crypto tokens on Binance by depositing funds and by converting them through Trade and then Conversion. Do you need help with buying crypto? Then read the extensive Binance manual!
You can choose from two types of staking on Binance, both of which we will discuss here.
Locked staking on Binance
When you engage in locked staking, you lock the cryptocurrency for a certain period of time. This period can be for example 30, 60 or 90 days. The interest rate you receive usually increases when you lock a crypto for a longer period.
To stake a cryptocurrency, simply press the Stake Now button. You will immediately see the minimum and maximum amount you can stake and the expected yield.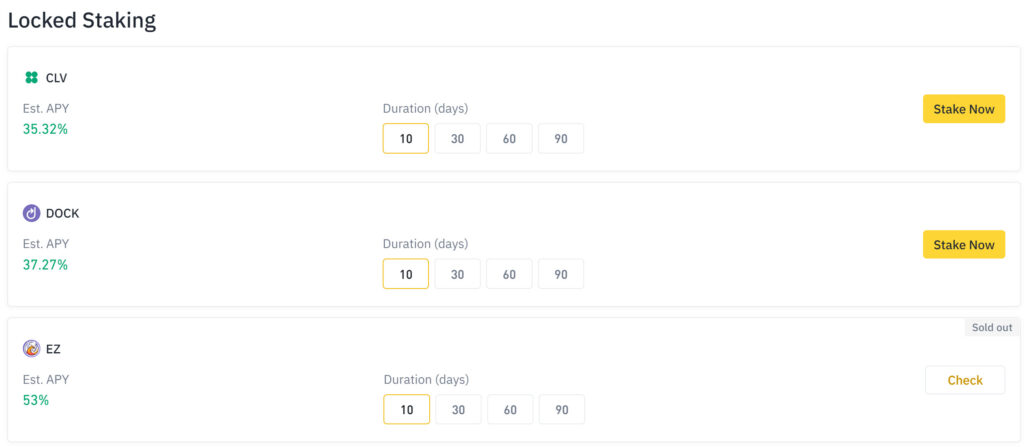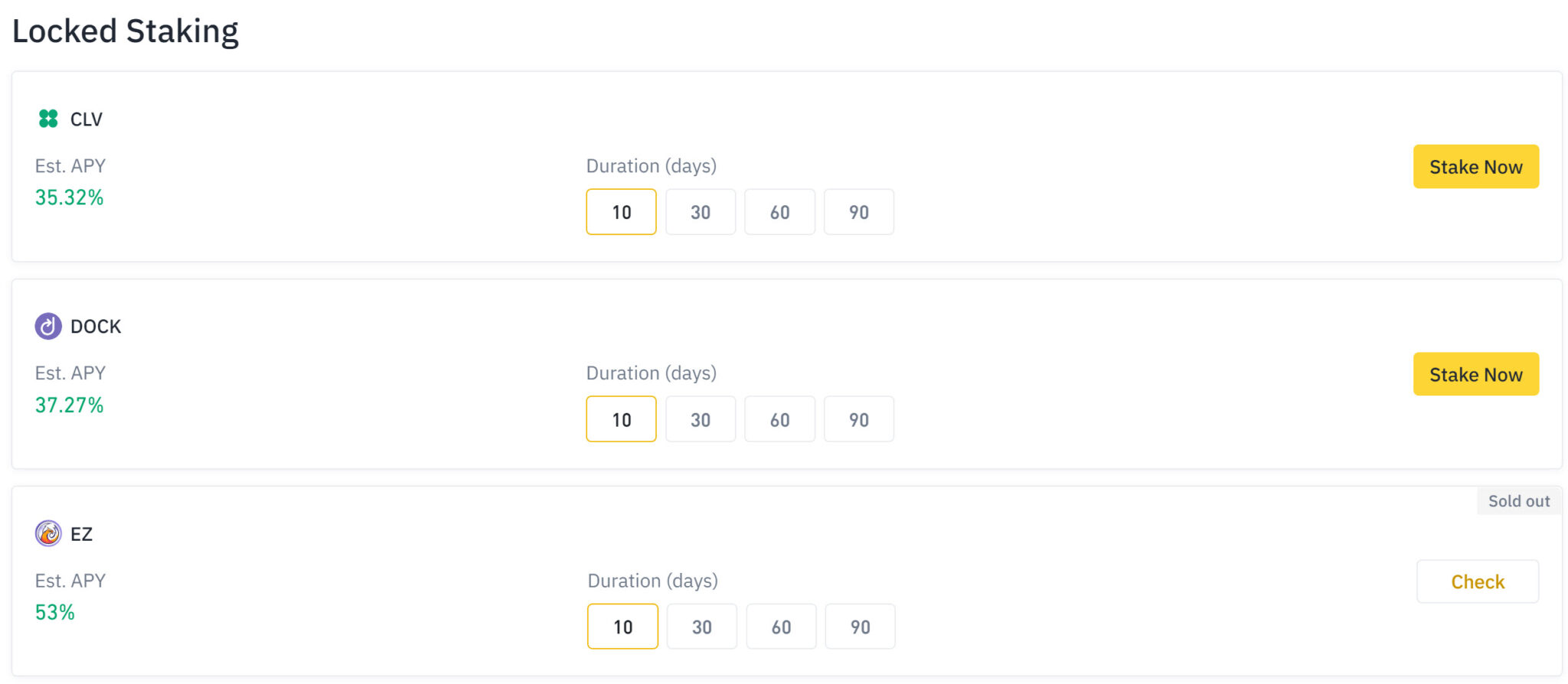 You can stop your locked staking earlier, but you will lose the accrued interest. Therefore, it is not wise to use Binance Locked staking when you want to use the crypto coins again quickly. When this is the case, Binance Earn can be a better option.
Staking is not entirely without risk: the underlying project can go bankrupt. To compensate for this risk, you receive a higher fee for more exotic crypto coins.
With staking, you are at the mercy of price fluctuations: a crypto can suddenly drop in value, which can significantly reduce the value of your investments.
DeFi staking on Binance
You can also use DeFi Staking on Binance. This form of staking can be risky: Binance already clearly states on the website that they do not accept responsibility for losses caused by problems with contracts on the blockchain.
Normally it is difficult to participate in DeFi staking, but Binance helps users by making the investments on their behalf. DeFi staking is easy to use and Binance properly vets all the projects they participate in: this reduces the chance of your money being invested in a scam project.  As a result, you get a fairly consistent return with a known risk.
Conclusion staking
Binance staking is an interesting option for Binance users who want to lock in their cryptos for a longer period. However, make sure you do proper research on the project you want to stake: this reduces the chance of a big loss.
Do you want to read more about Binance?