How to buy Ethereum on Binance
Do you want to buy Ethereum on Binance? In this short guide, we will discuss how you can quickly buy your first Ethereum at the Binance crypto exchange in 3 easy steps! You will also find more information that can help you when investing in Ethereum.
Step 1: Open an account on Binance
Before you can buy Ethereum, you need an account at this crypto exchange. With the button below, you can open an account on Binance immediately & benefit from a permanent 20% friend discount on all your transactions:
To open an account, all you have to do initially is fill in an e-mail and password. It is recommended that you verify your identity as this will give you more trading opportunities. It is also important to secure your account sufficiently, read here how to do this.
Step 2: Deposit money or crypto
You need funds that you can exchange for Ethereum. Fortunately, on Binance you can quickly deposit money or crypto into your account. To accomplish this, navigate within your account to the Wallet overview and press Deposit.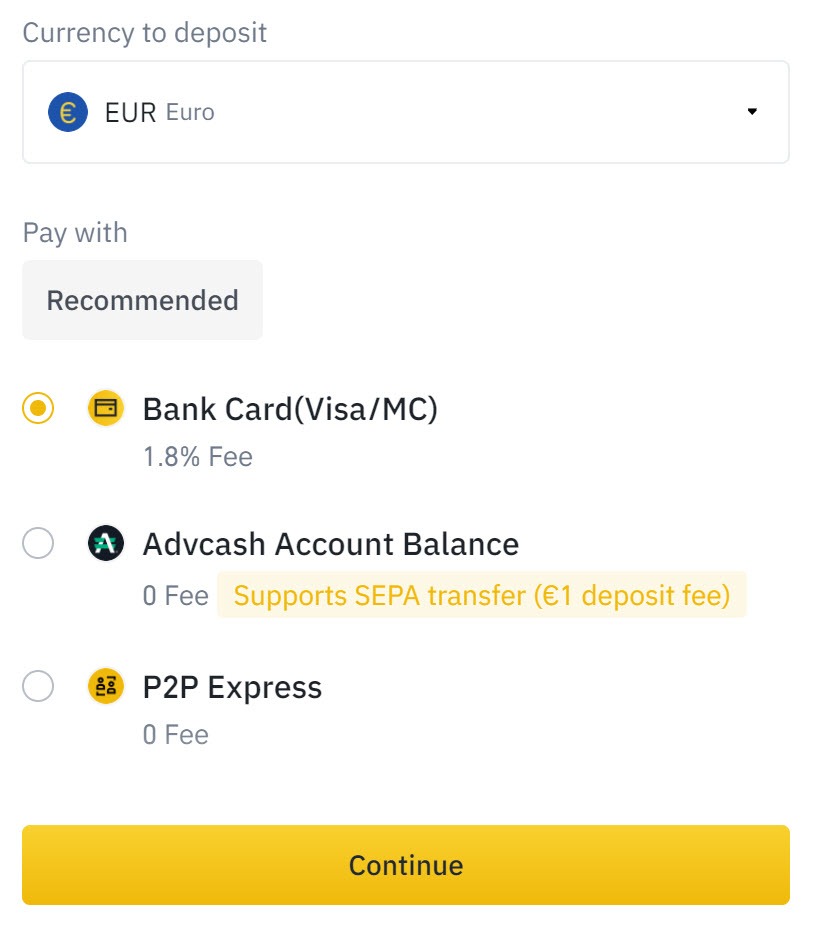 Do you require help depositing money or cryptos on your Binance account? In this short guide, we will help you on your way!
Step 3: Buy Ethereum on Binance
Now that you have an account with sufficient funds on Binance, you can buy Ethereum or ether! In this article, we will discuss the fastest & easiest way to buy Ethereum. Of course, it is also possible to use the more advanced trader. In our extensive Binance manual, we will show you in more detail how it works.
Click on Trade in the menu bar
Click on Convert
Choose between a Market or Limit order
Choose the currency or crypto you want to use
Click on Preview Conversion
Accept the order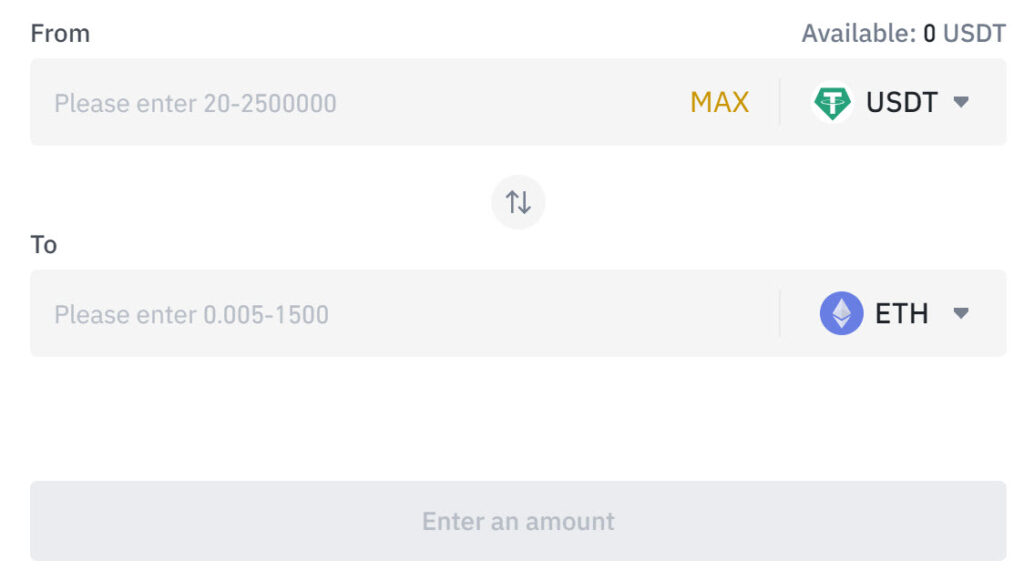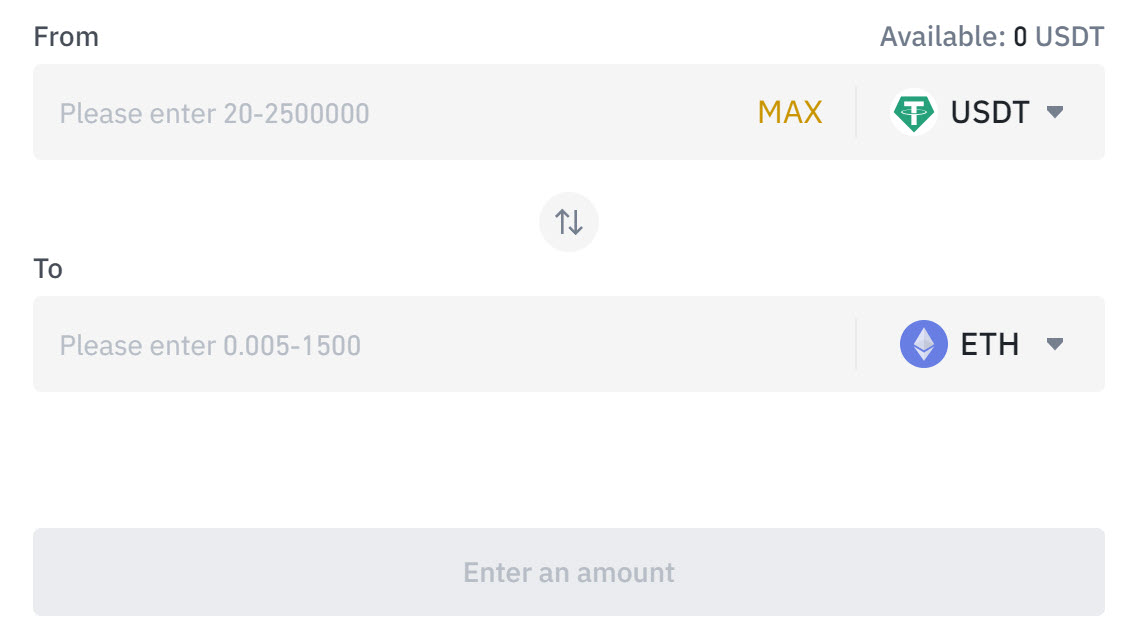 You can choose between market and limit orders when buying Ethereum. With a market order, you buy Ethereum directly at the available price. You can use a limit order to get more control over the transaction: you fill in the maximum price, which you are willing to pay for Ethereum (ETH).
What is Ethereum (ETH)?
Before you buy Ethereum, you are probably wondering what it actually is. After Bitcoin, Ethereum is the largest crypto in the world by market capitalization. The token of Ethereum is called Ether (ETH) and the blockchain on which it runs is called Ethereum.
Ethereum was founded in 2015 by programmer Vitalik Buterin. Like Bitcoin, Ethereum is a decentralized blockchain on which transactions are controlled. What is unique about Ethereum, however, are the so-called smart contracts. These can be programmed on the blockchain and make it possible for transactions to take place without the intervention of a notary or other third party.
Ethereum also makes it possible to publish centralized applications (Dapps). As a result, Ethereum has already contributed to all kinds of games, services and financial products. A good example of this are the non-fungible tokens or NFTs. As more users and services use Ethereum, the price of ether will continue to rise. Ether is in fact used for all services and applications that run on Ethereum.
What can you do with Ethereum?
Unless you are a programmer, you will probably buy Ethereum primarily to speculate. There are many speculators active in the crypto market, which also explains Ethereum's volatility.
If you are confident about the future of Ethereum, you can also choose to buy Ethereum on a regular basis for a fixed amount. For example, by investing 1000 dollars in Ethereum every week or month, you can benefit from an average return on the digital currency.
You can also stake Ethereum on Binance: you will then receive a nice, extra return on your crypto. When you want to get rid of your Ethereum, you can donate it to charity or buy gifts for friends and family. The possibilities of Ethereum are ever-increasing!
Why should you buy Ethereum on Binance?
Binance is the largest crypto exchange in the world
Binance is fast: it can handle 1,400,000 transactions per second
Binance is cheap: you never pay more than 0.1% in commissions
Do you want to read more about Binance? Read our extensive review or examine the biggest advantages of Binance in this article.
Latest tips for investing in Ethereum
Ethereum is certainly a promising crypto project: nevertheless, it is advisable to spread your risks as much as possible. Therefore, do not invest all your money in crypto or Ethereum specifically. This will prevent you from incurring a substantial loss if Ethereum does not perform as well as expected in the future. In this article, you can find more tips that can help you when investing in Ethereum.
It is also important to secure your Binance account properly. When you buy Ethereum and store it on your Binance account, there is a chance that hackers will steal your Ether. Of course, you want to prevent this from happening! In this article, we help you to secure your Binance account. Do you want to send Ethereum to an external wallet? This can be even safer! In this guide, we will discuss how crypto wallets work.
Frequently asked questions about buying Ethereum on Binance

You pay up to 0.1% in transaction fees when you buy Ethereum on Binance. You can further reduce these fees by holding BNB or by signing up on this website. Also, consider the spread: this is the difference between the buying and selling price. This difference increases when there is a lot of movement in the market.

It is also possible to buy parts of an Ether on Binance. This means you can invest in Ethereum on Binance with $10 or $50.

Binance is a reliable and professional party. If you want to buy Ether, Binance is a good choice. However, buying Ethereum does not always turn out well. Due to the high degree of volatility, there is always the chance that you will lose a large part of your investment. You should therefore only invest in Ethereum with money that you can afford to lose in the long term.

.