Binance Launchpool tutorial
With the Binance Launch Pool, you can earn new crypto tokens for free by temporarily locking your own crypto tokens. In this article, we explain how you can also earn free tokens with the Binance launch pool.
What is the Binance Launchpool?
With the Binance Launchpool, you can farm tokens to earn new crypto coins for free. You earn more tokens when you contribute more tokens to the pool: this is also called staking. The Binance Launchpool lasts for 30 days and the new token you receive will be listed on Binance.
How can you use the Binance Launchpool?
In this part of the article, we will show you how you too can use the Binance Launchpool to earn new crypto coins!
Step 1: open an account with Binance
Before you can get started with the Binance Launchpool, you first need to open an account on Binance. When you open an account by using the button below, we will share our 20% friend discount with you. You will then pay 20% less transaction fees permanently:
Hold your mouse button over the squares in the top left and click on Launchpad.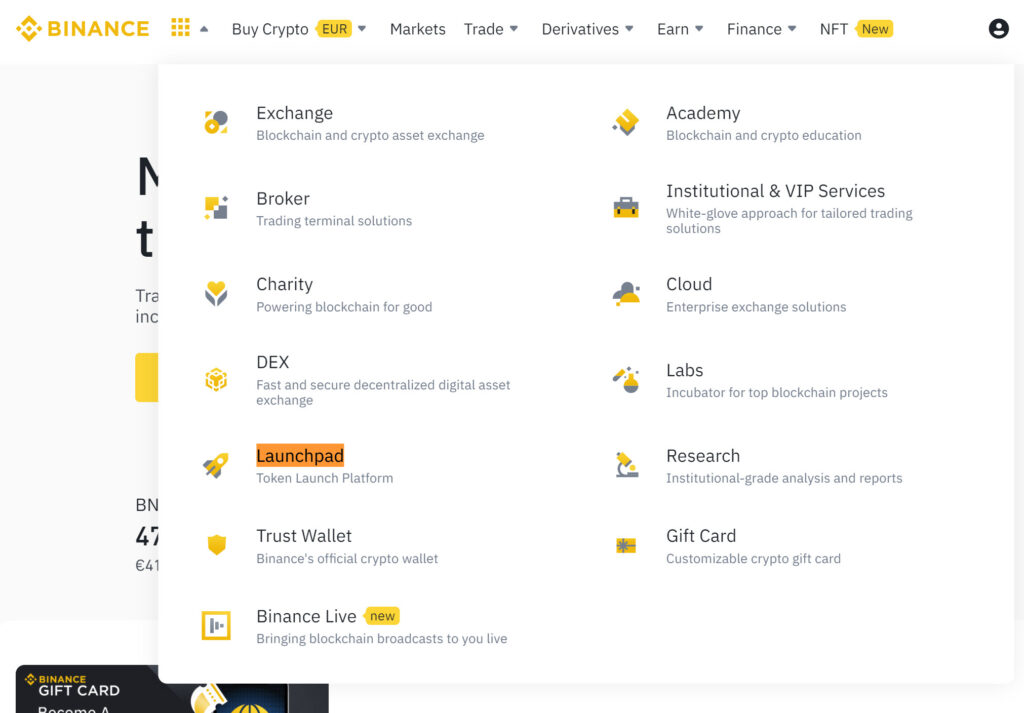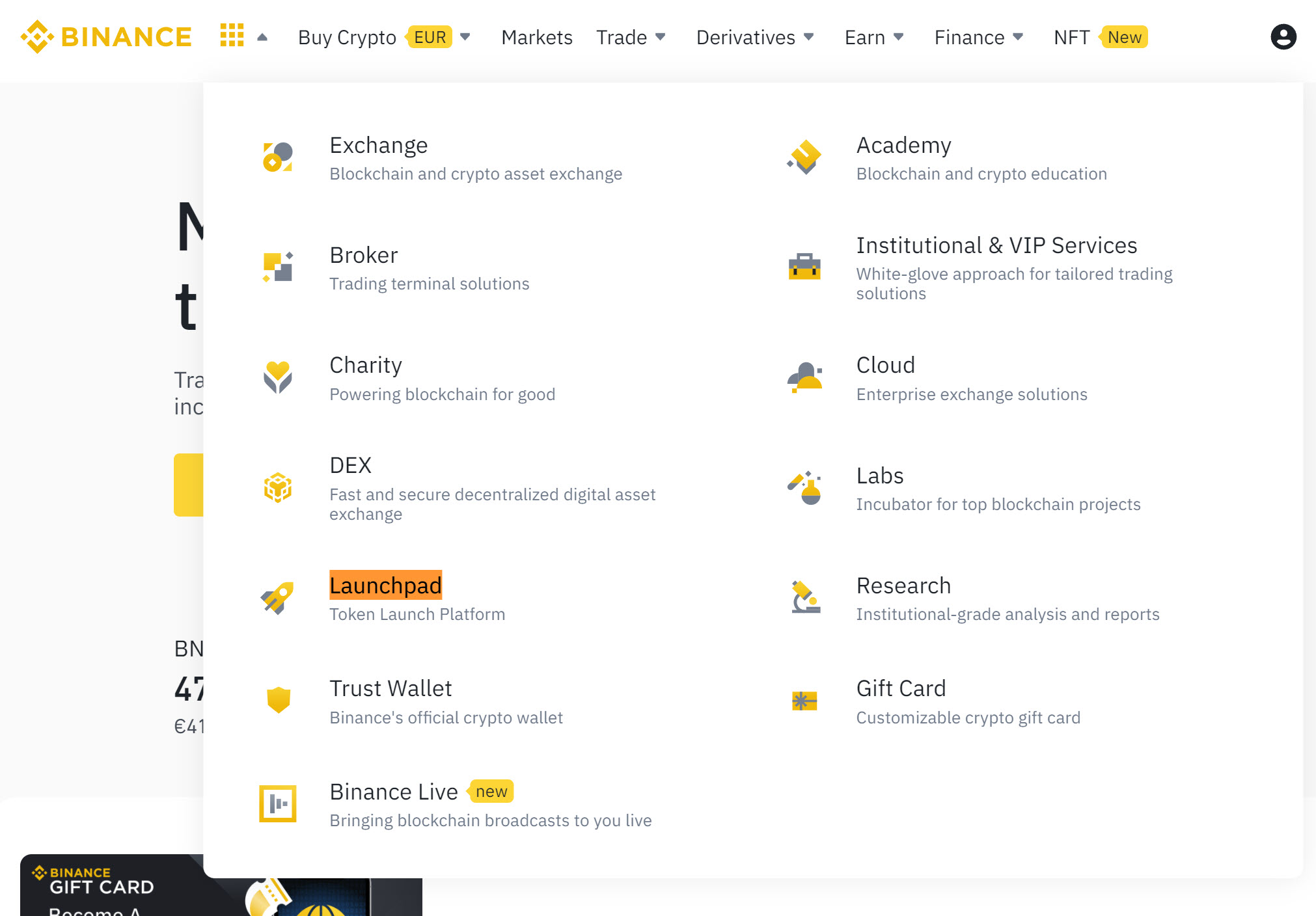 Then scroll down: you will see the Launchpool. Pick one of the projects you would like to participate in.


Step 3: Buy the right crypto
You can choose from three different pools for which you have to stake another cryptocurrency. Before you can participate in a Launchpool, you first have to buy the corresponding crypto. To do this, first deposit money or crypto to your account, in this article you can read how to do this.
Then navigate to Trade followed by Convert in the menu. Here you can quickly exchange your fiat money or cryptocurrency for the one you need.
Step 4: Staking
Then click on the Stake Now button to join the Launchpool. In the next screen, you fill in the amount you want to stake. The rest is completely automatic: new crypto coins are added automatically every hour. You can harvest your rewards at any time, and you are not tied to the Launchpool either.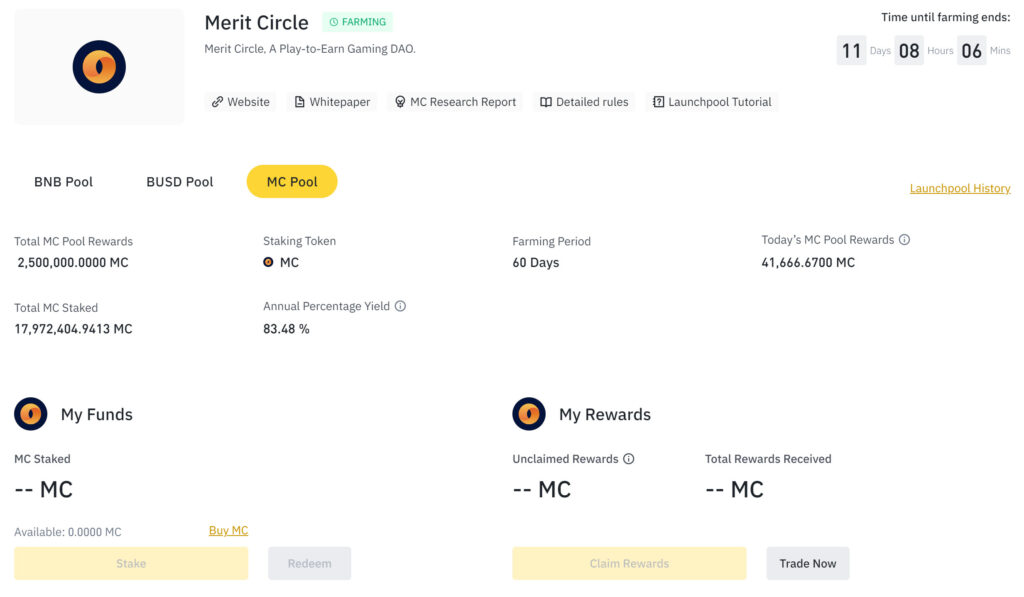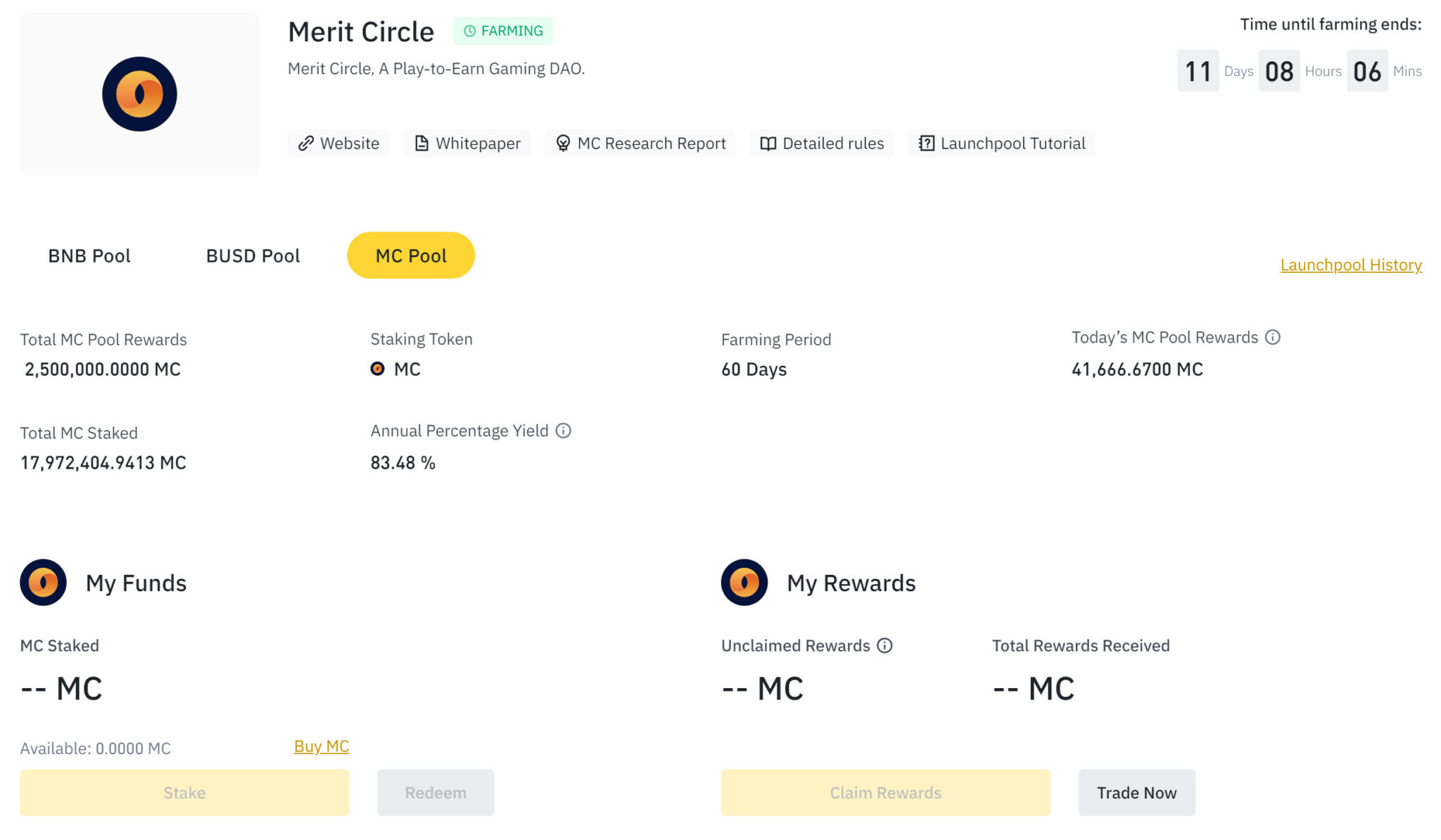 How much do you receive?
How many new crypto tokens you will receive depends on the number of other users that are active within the Launchpool. If a total of 100,000 tokens are issued on a day and 100,000 BNB have been staked, you will receive 1 new token for each BNB.
Binance monitors the average staking amount within a 24-hour period. Based on the amount that you stake yourself, it is then calculated how much of the new crypto token you will receive.
What are the advantages of the Binance Launch Pool?
The Binance Launchpool is an accessible and flexible way to earn additional returns on your crypto coins. Binance adds that the projects included in the Launchpool to the Binance crypto exchange. Because the rewards are released every hour, you can trade them right away. Moreover, you can withdraw your stake at any time, which means you are not making any commitments with the Binance Launchpool.
What are the disadvantages of the Binance Launch Pool?
A Launch Pool usually lasts only 30 to 60 days, which means there is little time to farm coins. In addition, there are not always many projects available, so due to high popularity it can be difficult to obtain numerous new tokens. The Launchpool always shows the estimated annual rate of return.
Frequently asked questions about the Binance Launch Pool

A big advantage of the Binance Launchpool is that you don't need more than 0.1 token to stake. This allows you to benefit from the Binance Launchpool even with small amounts.

With the Binance Launchpad, you pay Binance Coin to buy a new crypto coin, while with Binance Launchpool you stake cryptos to earn new tokens. The threshold to join the Binance Launchpool is lower, as you do not have to hold a minimum number of BNB on your account.

There are no restrictions to the Launchpool: anyone with an account on Binance can participate. Your new tokens are not locked, and once they are added to the Binance exchange you can trade them right away.

.
Do you want to read more about Binance?