PancakeSwap Binance: detailed explanation & advice
PancakeSwap is a decentralized exchange developed on the Binance Smart-Chain. In this article, we will discuss in detail what PancakeSwap is and how you can use it. We will also show you how to invest with PancakeSwap yourself.
What is PancakeSwap?
PancakeSwap is a decentralized exchange (DEX) where you can quickly exchange your cryptos. An advantage of PancakeSwap is that you can use this exchange to invest in relatively new cryptocurrencies that are not yet included in an exchange like Binance. You can also speculate in the price movement of the token CAKE associated with PancakeSwap.
PancakeSwap is similar to Uniswap, which runs on Ethereum. PancakeSwap runs on the Binance Smart Chain.
How can you buy CAKE (PancakeSwap)?
You can easily invest in the token of PancakeSwap (CAKE) on Binance. Click here to open an account on Binance & receive a permanent 20% friend discount on all your transactions.
After you have opened an account, you first need to deposit fiat money or cryptos into your account. You can do this by navigating to your Wallet and then to Fiat and Spot. Here you can quickly add funds to your account. Do you need help with this? In this article, we explain how you can do this step by step.
After you added funds to your account, you can buy CAKE directly from Binance. To do this, navigate via Trade to Convert. Here you can enter CAKE, which is the token of PancakeSwap. Fill in the amount you want to convert to CAKE and press Preview Conversion. When you are satisfied with the buy order, you can execute it.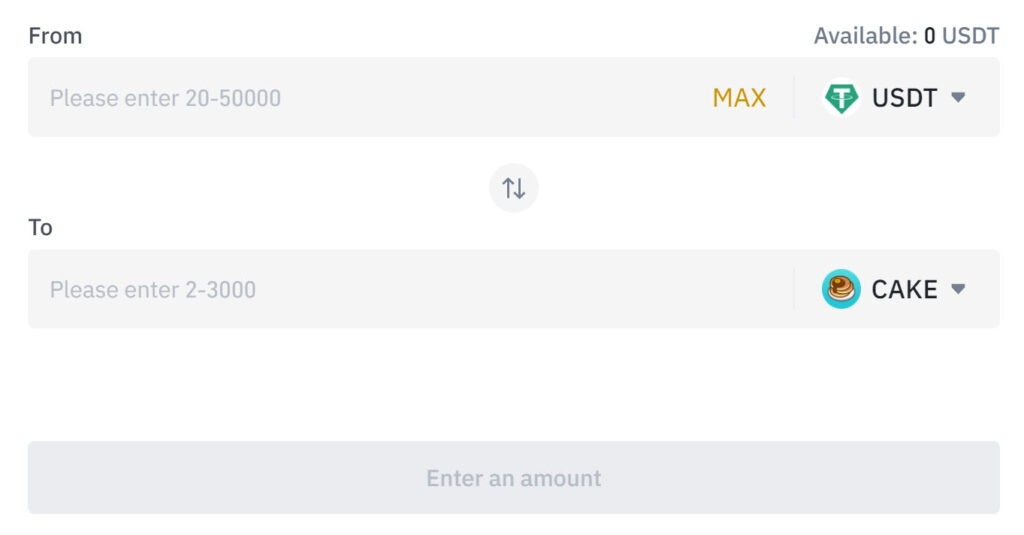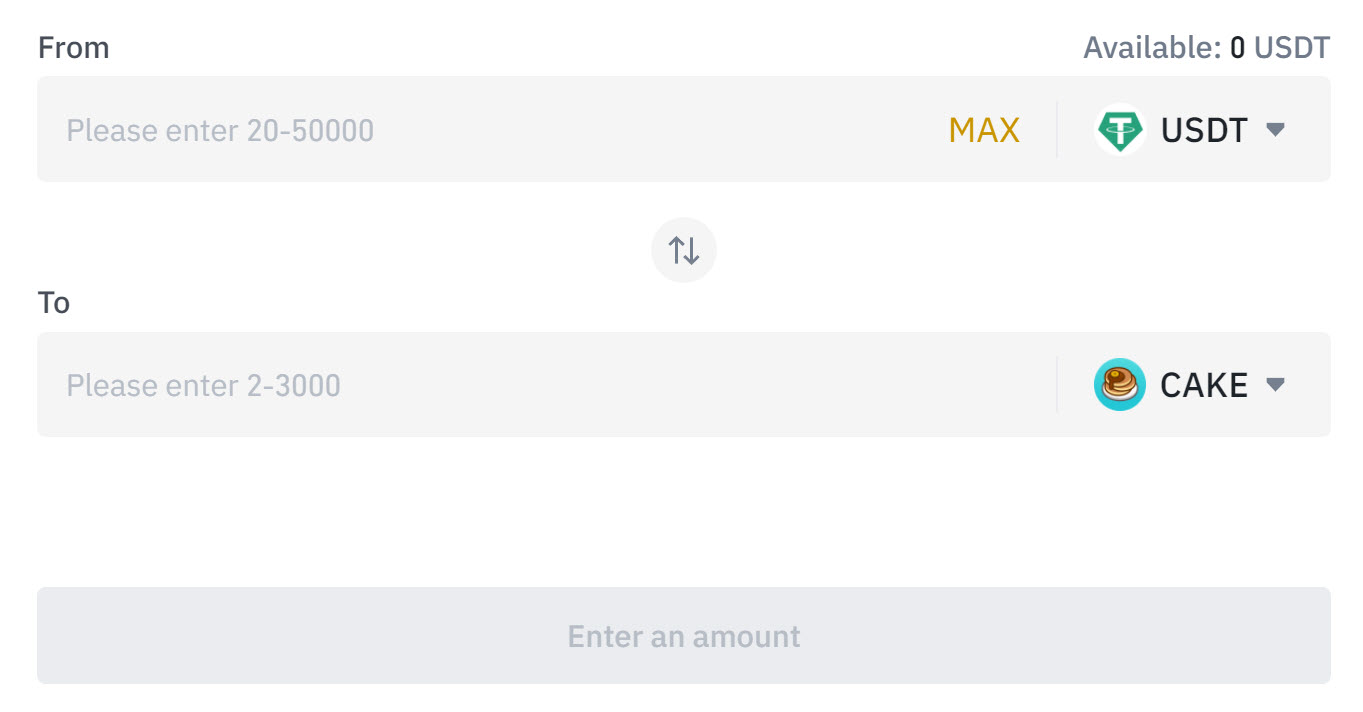 How to use PancakeSwap?
You can use PancakeSwap in combination with a supported wallet. You can choose from between different wallets:
Metamask
WalletConnect
Trust Wallet
MathWallet
TokenPocket
Binance Chain
SafePal
Coin98
Click here to see the list of wallets. You can then easily follow the steps to connect the wallet to PancakeSwap.
In this example, we will use the Binance Chain wallet. You can easily install it within your browser.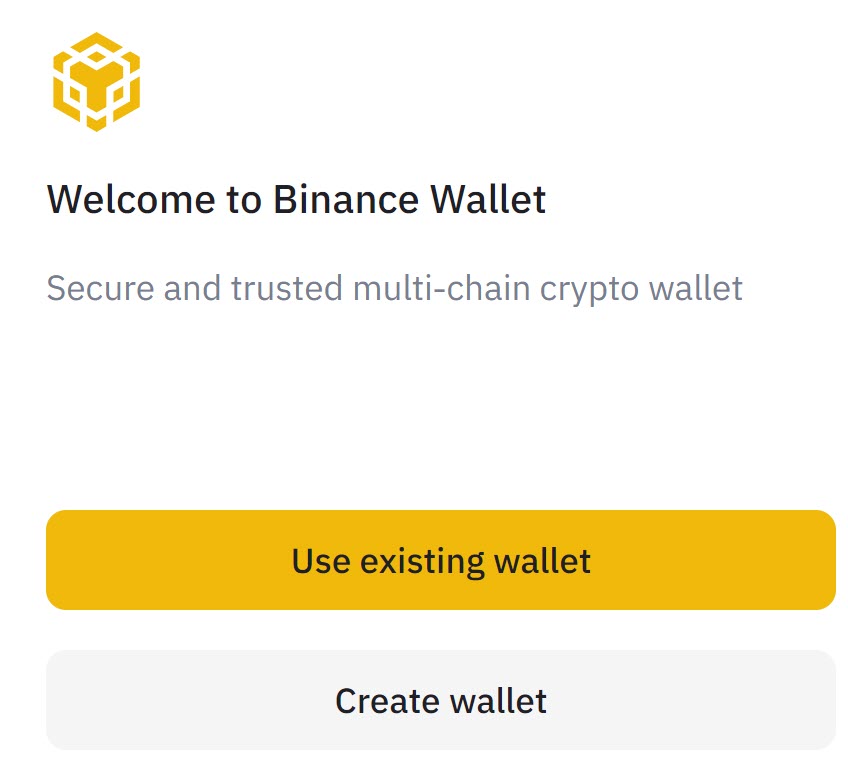 If you already have a wallet, you can connect it directly. If this is not the case, you need to create a wallet first. On the PancakeSwap website, click on connect wallet to go through the steps.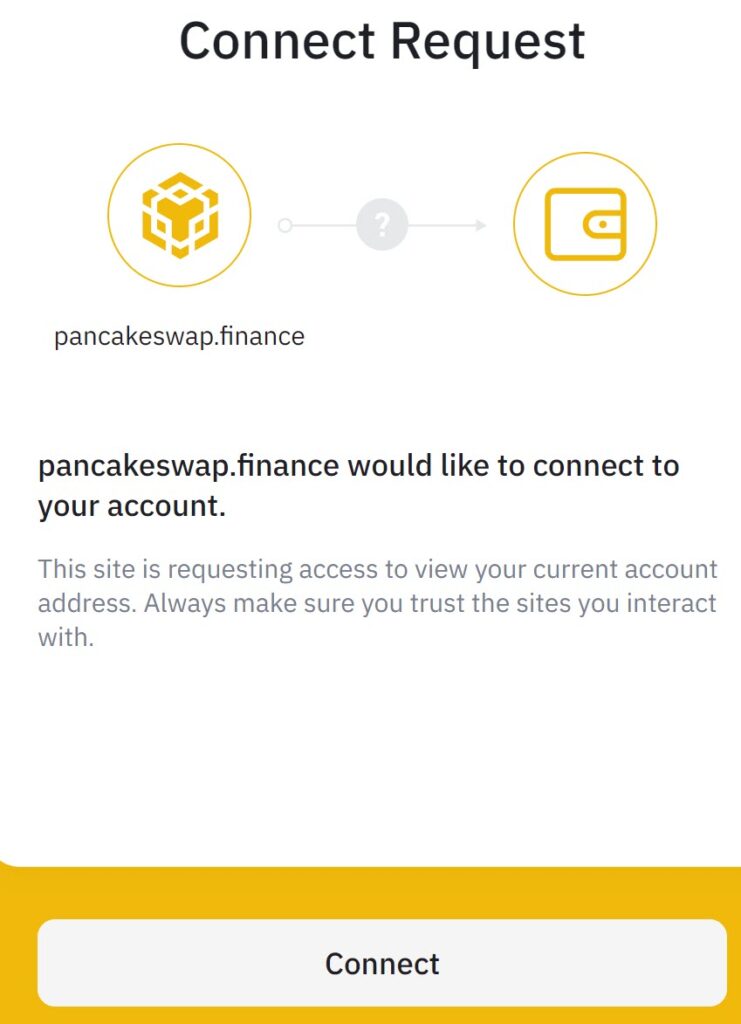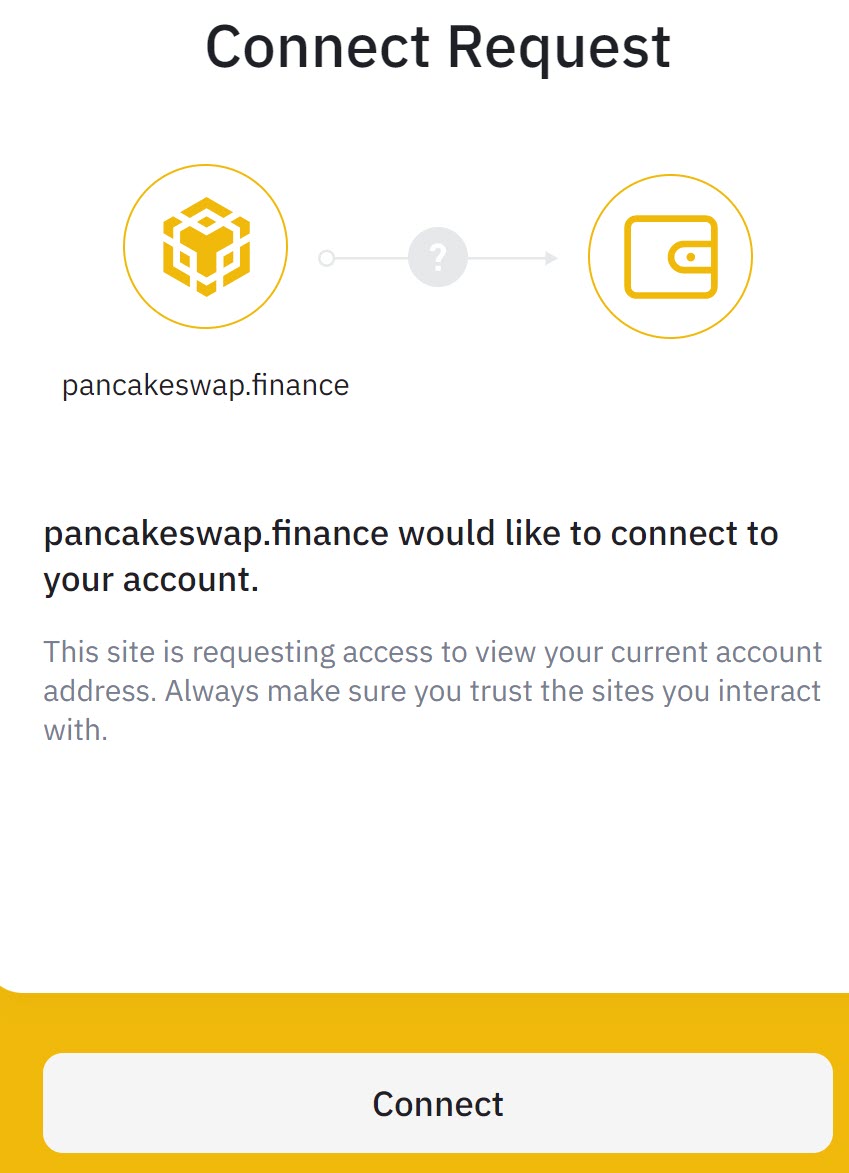 After connecting your wallet, you can use all PancakeSwap features. In the rest of this article, we will dive deeper into the different possibilities.
Using PancakeSwap to buy crypto
When you connect your wallet to PancakeSwap, you can use the website to buy cryptos. It is smart to add Binance Coins to your wallet first. You can use BNB to buy all other cryptos. Remember that PancakeSwap works on the Binance Smart Chain, which means BNB is used for exchanging crypto.
Buy BNB on Binance and send it to your wallet address. Do you need help with this? In this article, we show you how to buy BNB and in this article you can see in more detail how wallets work.
Your first trade on PancakeSwap
Click on the Trade button in the menu on the PancakeSwap website. You can then set which cryptocurrency you want to buy. Please note that at PancakeSwap, you can trade thousands of different cryptocurrencies; there are also many shitcoins and scam coins among them. Therefore, do your research before buying a crypto. When you would like to place a trade against the offered conversion, simply press Swap.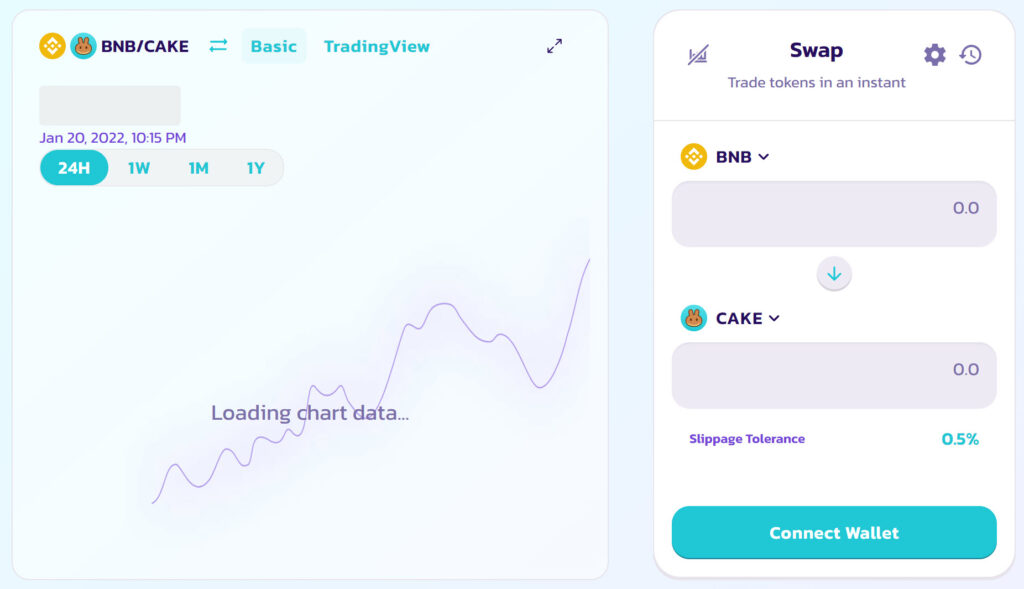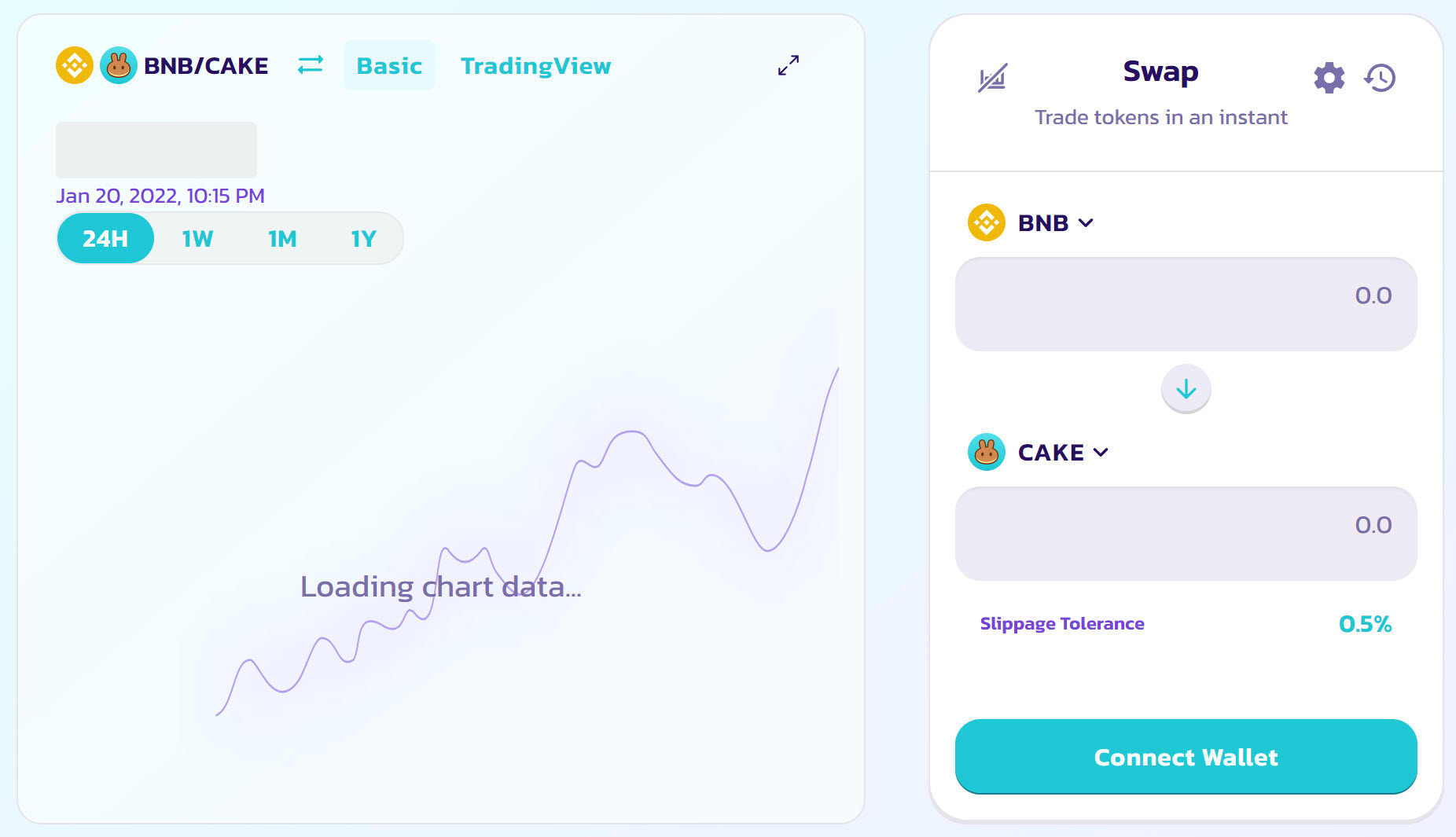 In PancakeSwap, you can also press the cogwheel to change the settings of your trade. Especially the slippage tolerance is of importance here. Slippage is the difference between the price at which you place an order and the price which you eventually pay. In case of a higher slippage, you will pay a higher amount of transaction costs.
With smaller coins, it is difficult to bring buyers and sellers together. You will therefore have to set a higher slippage tolerance for these types of crypto coins: sometimes more than 10%. These are very high transaction costs, but users often take them for granted, as these types of coins can often rise (or fall!) in value rapidly.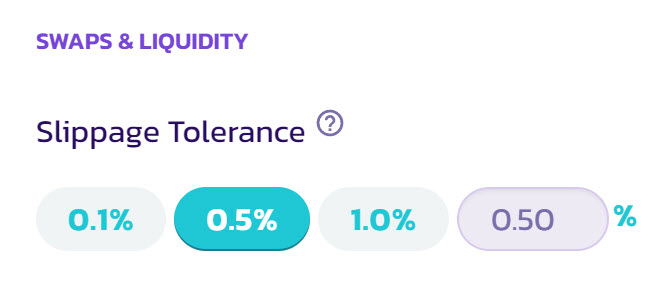 If you see the error message INSUFFICIENT_OUTPUT_AMOUNT then you must increase the slippage fee. It is wise to start with a low slippage fee. You can then learn from experience what percentage is needed.
How can you sell tokens on PancakeSwap?
Do you want to sell a crypto token again on PancakeSwap? Luckily, this is also easy to do. Simply change the first token into the token you want to sell. Then convert it to BNB.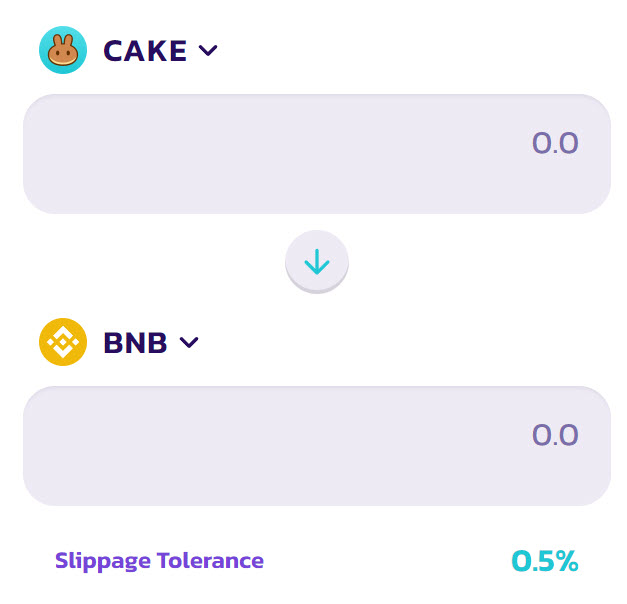 You can then easily send the Binance Coins back to the Binance exchange from your wallet. Here you can exchange them back to fiat currency and have them paid into your bank account.
How to add tokens to the PancakeSwap list?
Not all tokens can be found in the PancakeSwap list. If you would like to invest in an exotic crypto, you can add it. To achieve this, first go to this website. Then fill in the name of the token and copy the contract under profile summary.
You can then enter this contract code in the search box on the PancakeSwap website. Then press the Add button to add the token.
How can you check a transaction?
You can easily check whether your transaction has been carried out via bscscan.com. You do this by entering the wallet address. You will then immediately see all transactions that have taken place. If your transaction is listed, you will know it has been carried out. Sometimes it can take a while before this is actually visible in your wallet.
How do you see the value of your tokens?
Within your wallet, it is sometimes difficult to determine the value of your tokens. You can easily check the value by looking up the token of which you want to know the value within PancakeSwap. Click on Max in the conversion area (all your tokens will be added) and click on BNB. You will immediately see the value of your tokens in BNB. You can use Google to find out how much this is worth in your own currency.
Pancake Farms explanation
PancakeSwap works with a liquidity pool to enable transactions. You can also add liquidity yourself and make money with PancakeSwap.
Adding liquidity
Before you can do this, you first need to add liquidity to the exchange. You can do this by clicking on Trade in the sidebar and then on Liquidity. Then click on Add Liquidity and choose the token pair you want to deposit. You need to make sure you own both cryptocurrencies before you can add liquidity.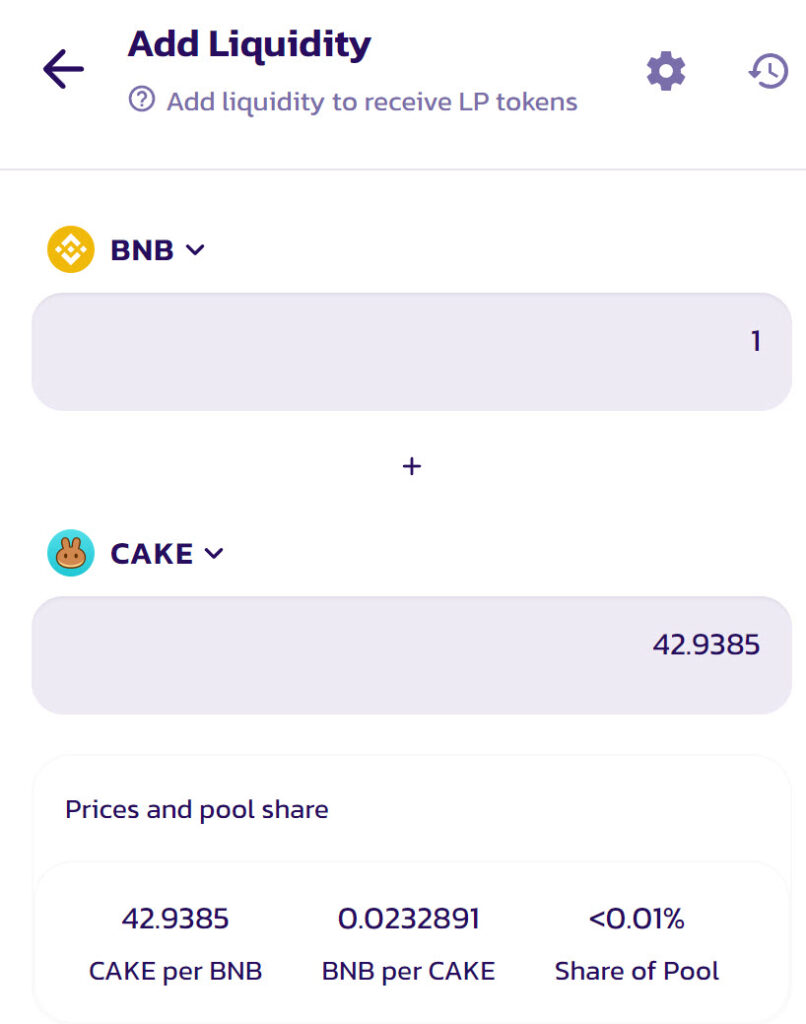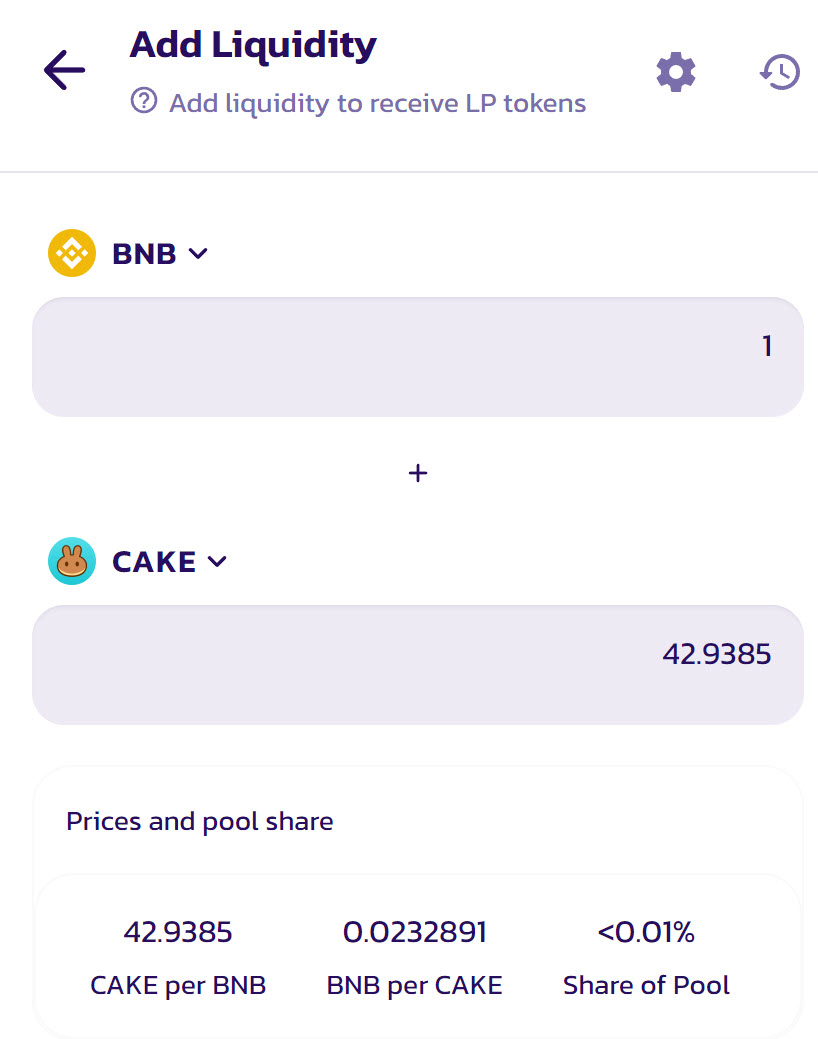 LP tokens staking
After obtaining LP tokens, you can stake them within the Liquidity farm. To do this, press Farms under Earn and then press Enable on the pair you want to stake. After this farm opened, you can start farming CAKE by pressing the Stake LP button. You can choose how much you want to stake, by pressing Max you can stake your full amount of LP coins.

Harvest of a Farm
After you have staked the crypto coins, you can see them in the overview by searching for staked only farms. For each farm you participate in, under cake earned you will see the amount of CAKE you have earned so far. You can claim this amount at any time by pressing Harvest. Please note, however, that you have to pay a small fee to get the CAKE.
Do not forget the effect of impermanent loss. You will earn from the transaction costs (especially with high volumes) but due to strong value fluctuations, you can also lose a large part of your deposit. You earn 0.17% over all trades on a pair in proportion to the percentage you contribute to the pool.
Pancake Syrup Pools explanation
Within the Pancake Pools, you can stake CAKE to earn other crypto coins. You can buy the required CAKE through the trade option, or you can earn it through farming as discussed in the previous paragraph.
In the overview, you can see which staking options are available at that time. You must first open a pool by pressing enable. After it is opened, you can stake CAKE to earn other crypto coins.


You can use the ROI calculator to calculate how much CAKE you would receive, depending on the amount you bet and the duration of the staking.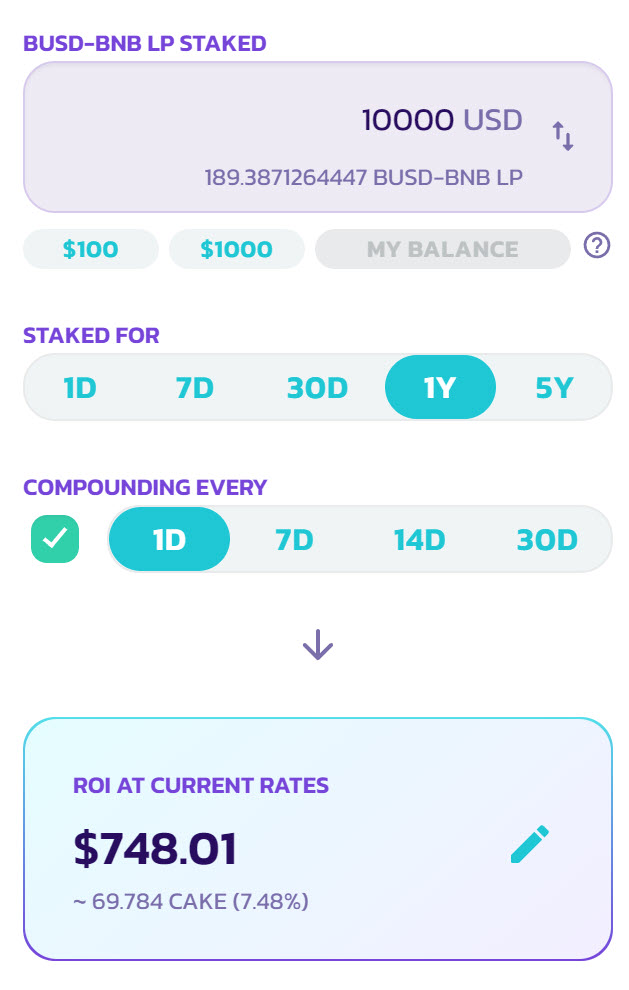 After you have turned on a pool, you can sit back and everything happens automatically. It is advisable to carefully research which company is behind a new crypto. Only invest in projects you fully trust.
Lottery of PancakeSwap
You can also enter the lottery at PancakeSwap. At the time of writing, a ticket costs 0.41 CAKE which is approximately 10 euros. The prizes are determined for each round and you need to get all 4 numbers right to win the jackpot. You can win a huge amount of CAKE: sometimes they raffle over $100,000!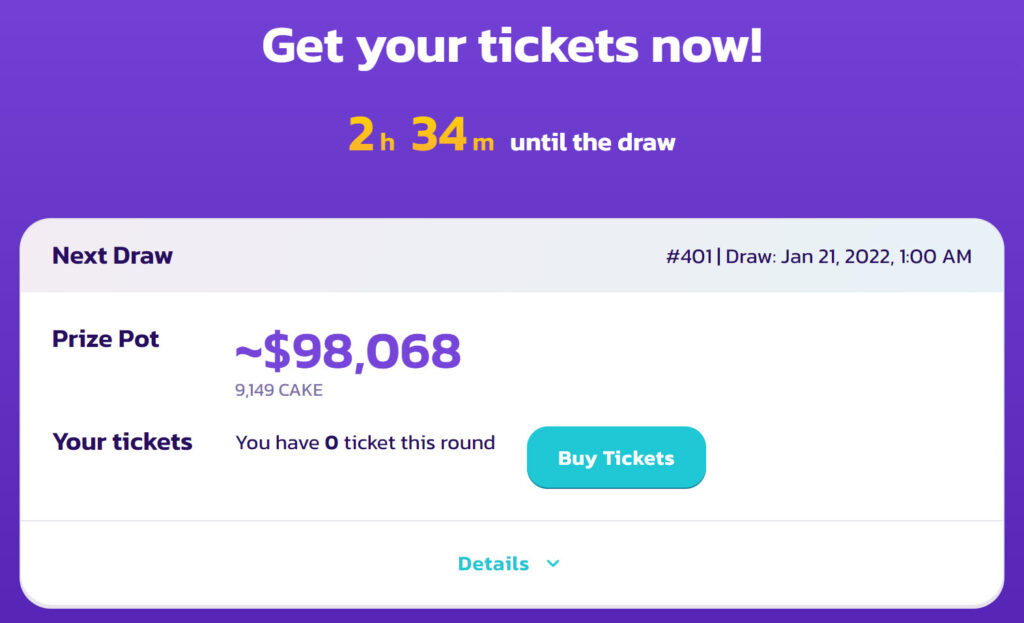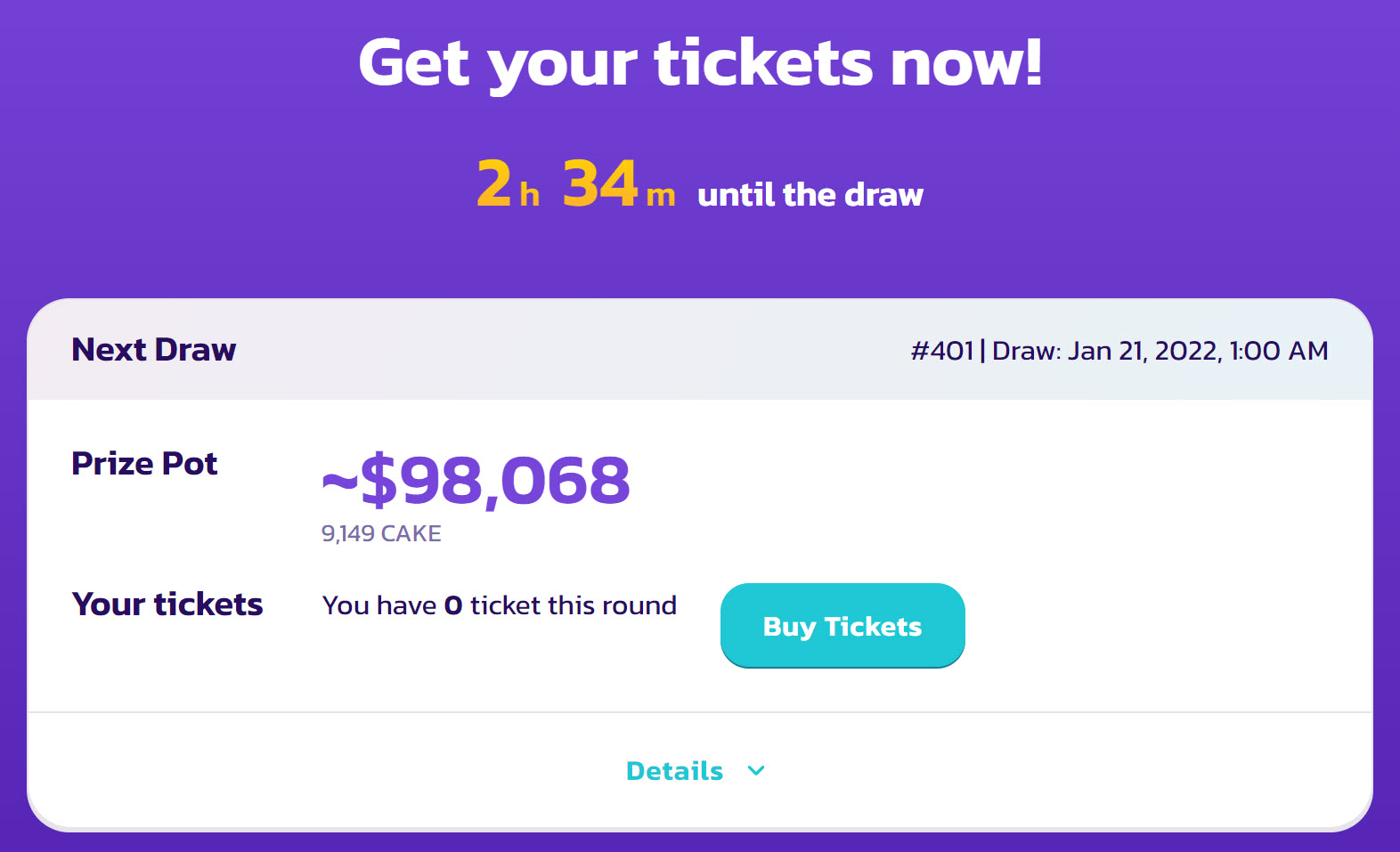 You do not need to get all the numbers right to win a prize. If only the first number matches, you also win a prize.


As well as a lottery, PancakeSwap also offers predictions: you bet on whether BNB's share price will rise or fall in the future. The payouts vary depending on the number of people who participate.
Trade NFTs with PancakeSwap
You can also trade NFTs with PancakeSwap: these are digital, decentralized works of art. Because it is a big hype, you can sometimes make a nice profit by buying smart. At the same time, there is also a chance that you will lose money and remain stuck with a digital image.
You can easily buy artworks within the NFT marketplace by paying the required amount of BNB.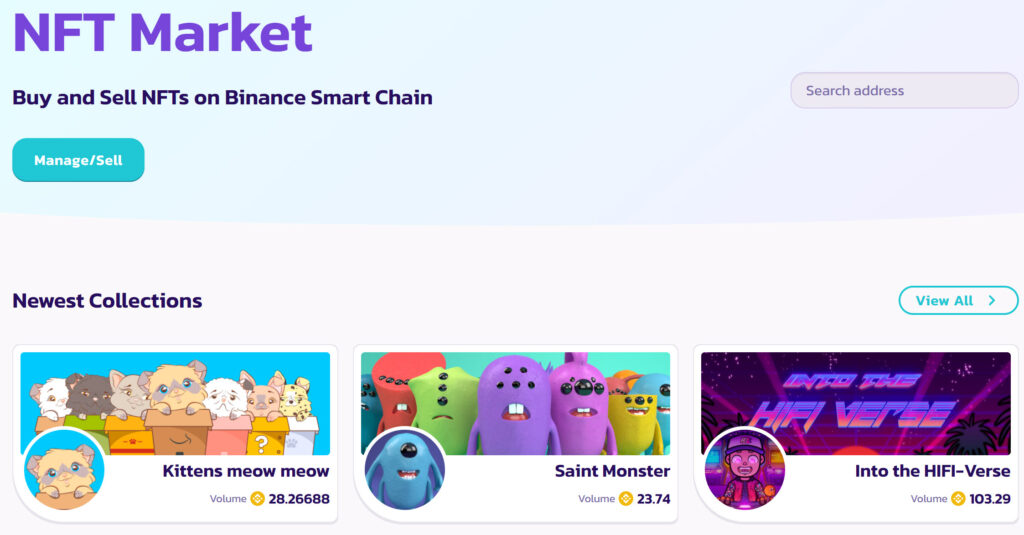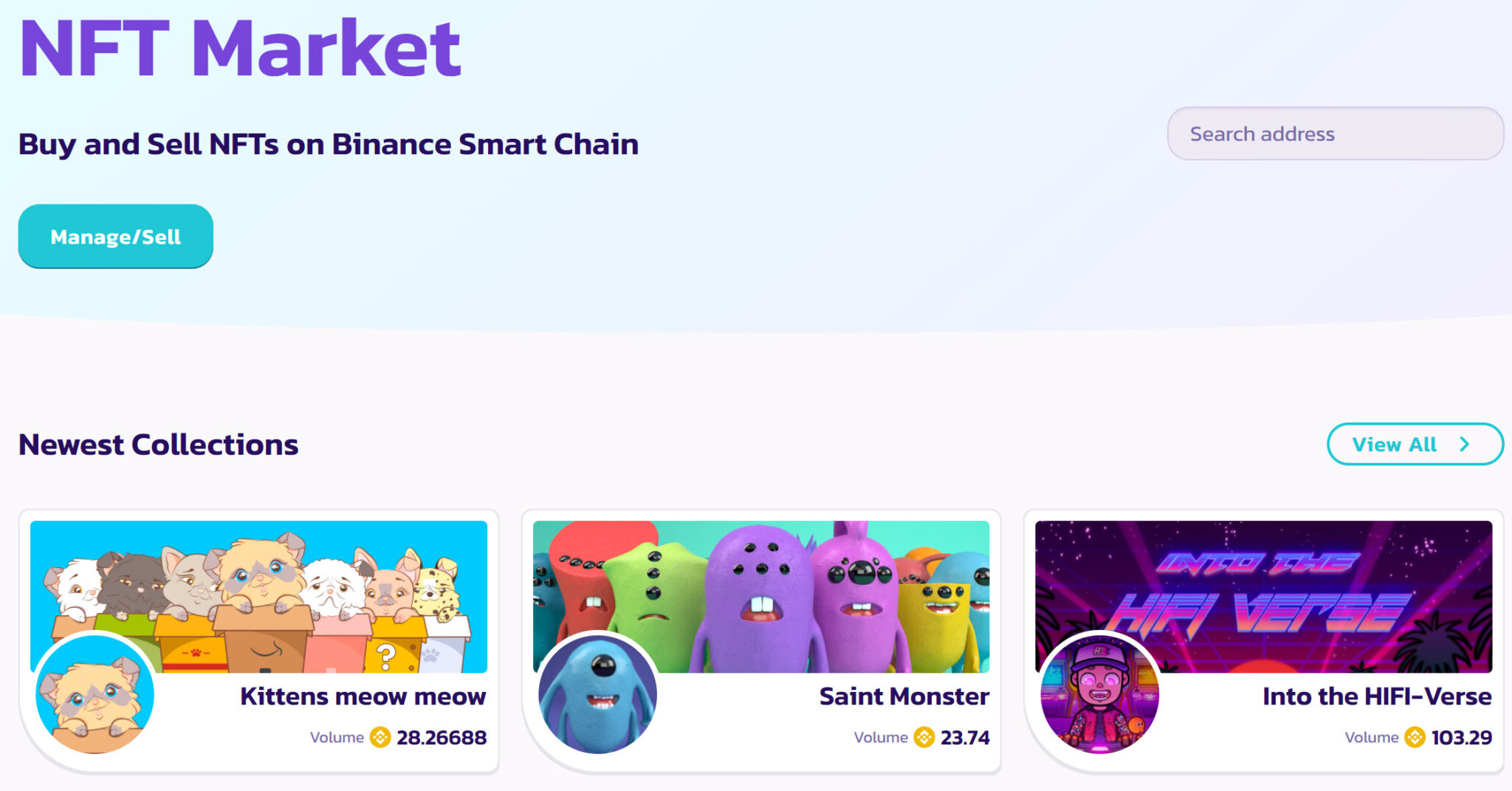 Conclusion PancakeSwap
PancakeSwap has become very popular and has a higher trading volume than Uniswap. This is mainly due to the lower transaction costs: at Uniswap, the gas fees are very high because it runs on the Ethereum network. However, PancakeSwap is fully decentralized, and many users doubt whether this is sustainable. The future will therefore show whether PancakeSwap will continue to win the battle with Uniswap.
Do you want to read more?