Binance versus Coinbase: which crypto exchange is better?
If you are looking for a crypto exchange, you will soon end up on Binance. In this extensive comparison, we will discuss which crypto exchange you can choose for trading bitcoin and other cryptos.
Do you want to try it?
Comparison between Binance and Coinbase
| Characteristic | Binance | Coinbase |
| --- | --- | --- |
| Number of cryptos | 500+ | 80+ |
| Costs | 0,1% | 0,5% |
| Year of establishment | 2017 | 2012 |
| Markets | Crypto, options, futures | Crypto |
| Promotion | 20% permanent discount | Up to $10 free crypto |
| Regulation | No | Yes |
| Helpdesk | Live chat | Telephone |
| Trading volume 24h | >$50 billion | >$5 billion |
Biggest advantages of Binance
At Binance, you can trade in a larger range of cryptos
Costs are lower on Binance: you pay no more than 0.1%.
Binance's software is more advanced and offers more possibilities
More than just a crypto exchange
Biggest advantages of Coinbase
Clearer and therefore easier to use
User-friendly trading software with fewer options
Only more established cryptos are tradable
Coinbase is listed on the stock exchange and has a good reputation
Is Binance or Coinbase better?
It is difficult to answer which crypto exchange is better, as both Binance and Coinbase have unique advantages and disadvantages.
I myself mainly use Binance. In the long run, the lower transaction fees make it possible to achieve higher returns. In addition, Binance offers more trading products.
If user-friendliness and a good reputation are more important to you, Coinbase may be a better choice. The transaction costs are higher, but the platform is easy to use.
In the rest of the article, we will compare Binance and Coinbase in more detail. Please share your experiences at the bottom of the article!
The software: Binance versus Coinbase
Binance
The possibilities on Binance are extensive: beginners can get lost because of this. When you log in for the first time, you will see dozens of possibilities, so even buying bitcoin can be a challenge. Do you want to learn how to use the Binance platform? Then read our extensive Binance manual.
However, if you are patient, the trading platform of Binance is a lot better. The extensive possibilities allow you to trade crypto in different ways. Moreover, Binance is innovative, and they are quick to add new features. For example, when NFTs became popular, Binance immediately published a marketplace for NFT's.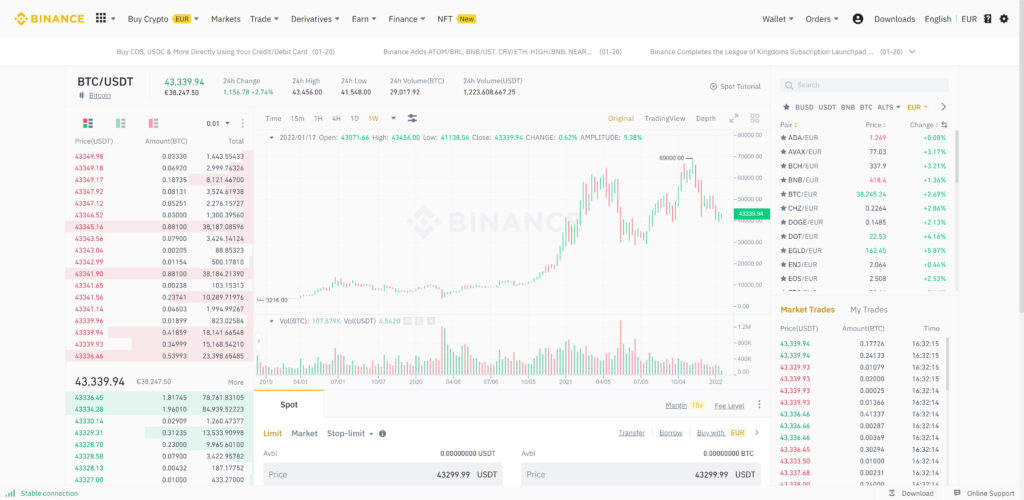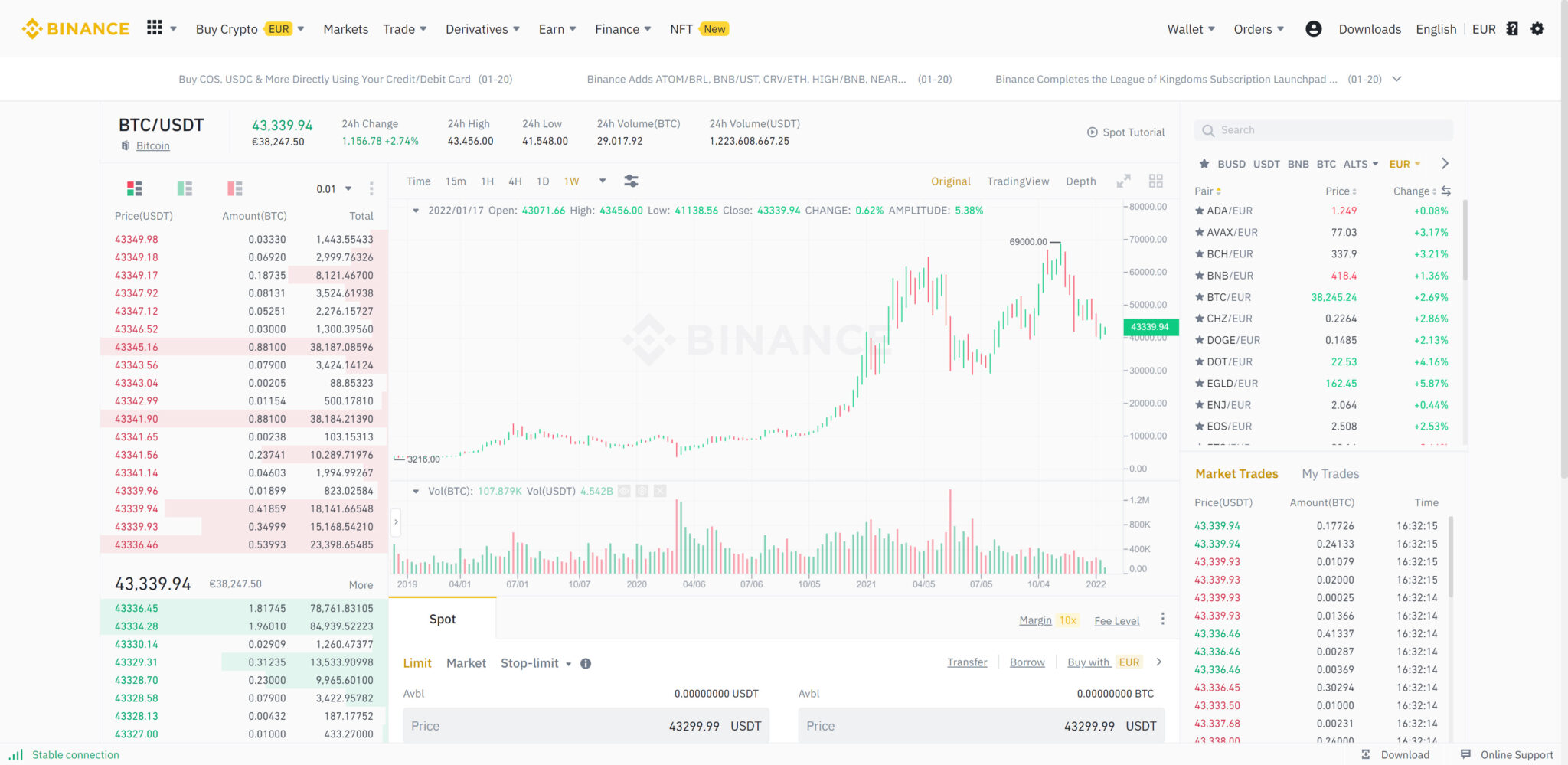 Coinbase
Where the software of Binance excels in its features, Coinbase's software excels in its user-friendliness. If you are a novice crypto investor, you can get started with Coinbase immediately after opening an account.
You can also use Coinbase Pro. Coinbase Pro gives you additional trading opportunities, which makes this account type more suitable for the more active trader. The costs are lower, and you can execute more advanced analyses. Unlike with Binance, you cannot use both options under one account.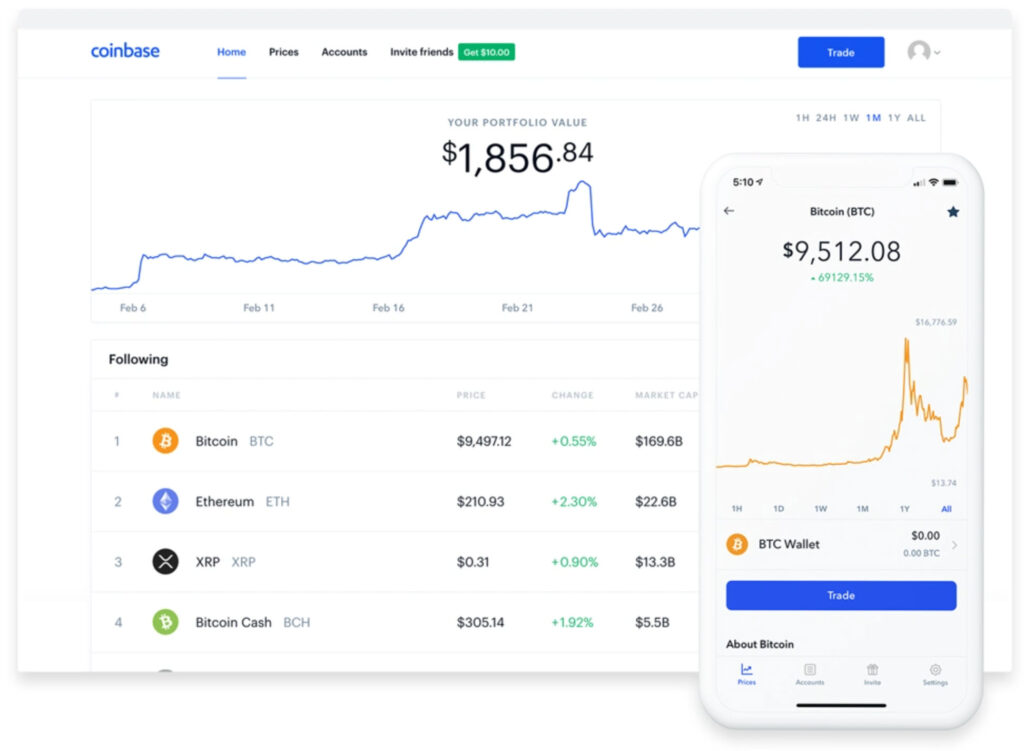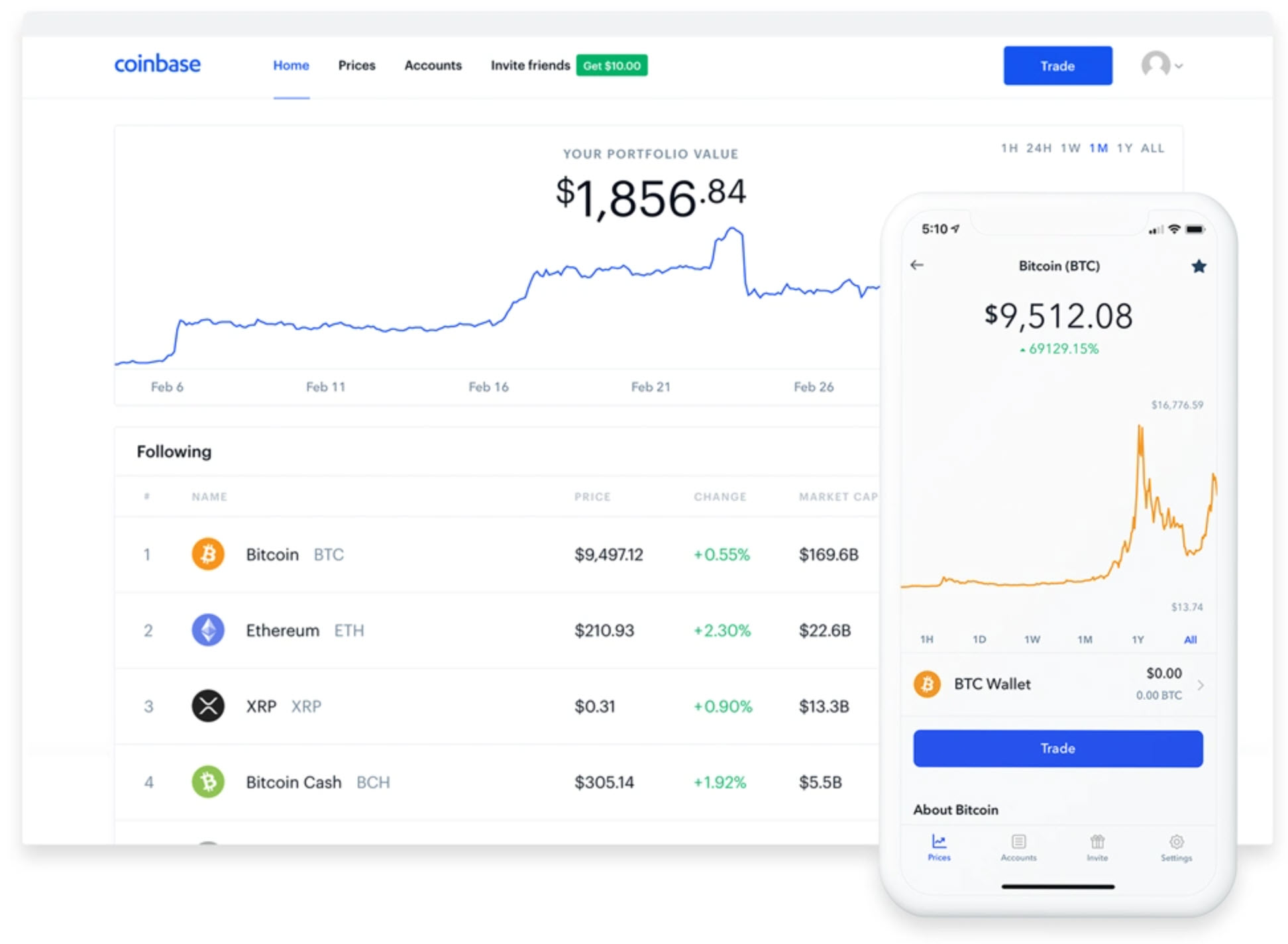 The offer: comparison between Binance and Coinbase
Binance
Concerning supply, Binance clearly wins over Coinbase. On Binance, you can trade around 500 different cryptocurrencies. It is possible to trade in different pairs, and you can deposit different fiat currencies to your account. This flexibility makes it attractive for users all over the world to trade crypto on Binance.
Moreover, you can do much more than just trade crypto on Binance. Binance is more than just a crypto exchange: you can trade NFTs, speculate with derivatives, apply for a crypto debit card or learn more about cryptos in the academy. Binance also offers various financial services with which you can, for example, take out loans using cryptos or earn money by staking crypto.
These extensive possibilities also come with a downside: not all products offered are equally suitable for all types of investors. Since many cryptos are available for trading, there are also more scam coins among them. Some possibilities are also very risky: think of investing in crypto with a high leverage, which can make your losses increase even faster.
Coinbase
The range of products offered by Coinbase is clearly much more limited: you can trade in around 80 different cryptos at Coinbase. The emphasis at Coinbase is more on the exchange part and not so much on offering other crypto-related services.
At Coinbase, you can stake your cryptos just like on Binance. Attractive is Coinbase Earn, which is an education program where you receive crypto by learning more about the different crypto projects. You can also choose to open a Coinbase Pro account, which will allow you to use more advanced trading tools.
Security & reliability: Coinbase vs Binance
Binance
Binance does everything in its power to secure users' accounts. When you use of all the security measures, you greatly reduce the chance of a hack. Examples of security measures at Binance are 2FA and whitelisting external wallets. In this article, we explain how you can secure your Binance account.
Binance did suffer a major hack in the past: in 2019, 7,000 Bitcoins where stolen. Fortunately, Binance deposits 10% of the transaction fees into a fund to compensate users in case of a similar hack. The users whose Bitcoins where stolen were therefore fully compensated by Binance.
A disadvantage of Binance is its messy regulation: in many countries, they are under fire for not adhering to the local legislation. In our opinion, this means Binance scores less well in terms of reliability and security. In this article, you can read more about the reliability of Binance.
Coinbase
Coinbase does very well as for security: just like Binance, you can use 2FA to protect your account. It is also possible to use biometric fingerprints to log in, which goes a step further.
It is good to know is that Coinbase stores 98% of its cryptos in vaults on cold wallets. This means that hackers cannot simply steal all cryptocurrencies from the exchange. Coinbase also has insurance for the remaining 2% that are stored on hot wallets. This insurance only applies if something goes wrong on the part of Coinbase, so always make sure you protect your account well!
Coinbase has a better reputation in comparison with Binance. Coinbase was founded in 2012 and has been listed on the stock exchange since 2021. They adhere to local laws and have a clear head office. Binance is a lot younger and only exists since 2017. The registered office has been moved frequently, which has created a lot of confusion about Binance's corporate structure.
The costs: Binance compared to Coinbase
Binance
Binance is the clear winner when it comes to costs: you will never pay more than 0.1% in transaction fees at this crypto exchange. If you create an account via this button, you will receive an additional 20% discount on top of this. By keeping BNB, you can reduce your transaction costs another 25% and on Binance, the costs will decrease even more when you trade with high volumes.
Withdrawing and depositing money and crypto is also cheaper on Binance than at Coinbase. Binance is one of the cheapest parties out there, which makes it a good option when you want to trade actively.
Coinbase
Whereas Binance is one of the cheapest crypto exchanges, Coinbase turns out to be one of the most expensive. At Coinbase, you pay 0.5% on each transaction, which is 5 times more than on Binance. The costs for withdrawing and depositing funds are also considerably higher. When you switch to Coinbase Pro, the trading costs decrease, but this comes at the expense of user-friendliness. Regarding costs, Binance is clearly the cheaper option.
Customer service
Personally, I am not very impressed with the customer service of both Binance and Coinbase. The customer service of Binance is probably just a little better than that of Coinbase, since you can also reach them via live chat or Twitter. In practice, both crypto exchanges can take a long time to answer requests. So let's say that patience is a virtue.
Try it for yourself!
As you have been able to read, Binance and Coinbase differ enormously! Binance is the largest crypto exchange in the world where you can trade cryptos at unprecedented low prices. Coinbase is a lot more expensive, often more user-friendly, and has a somewhat better reputation. It is therefore difficult to say with certainty which crypto exchange is the better choice.
It is therefore advisable to try the possibilities for yourself. On Binance, you will get a 20% permanent friend discount on all your transactions. Use the button below to open an account on Binance right away:

At Coinbase, you will receive $10 worth of free crypto when you open an account. Use the button below to open an account at Coinbase right away:
Frequently asked questions about Coinbase versus Binance

Binance is certainly better than Coinbase in some areas. For instance, Binance offers much lower transaction fees than Coinbase. Binance also offers a lot more options: you can trade in over 500 cryptocurrencies and apply for a debit card, for instance. However, Coinbase has a better reputation and is more user-friendly. Whether Binance is better than Coinbase, therefore, mainly depends on your personal preference.

The crypto market is decentralized, which means that there is no central exchange that sets the price. Each exchange forms its own market where supply and demand determine the price. Therefore, there will always be (small) differences between the crypto prices on different exchanges.

Binance is a lot cheaper than Coinbase. You never pay more than 0.1% in transaction fees on Binance. If you use our friends discount and hold Binance Coin, these costs can fall even further. The costs for depositing and withdrawing money are also much lower on Binance.

Binance is the largest crypto exchange in the world. This is an impressive achievement, considering Binance was founded in 2017. Binance currently operates from the Cayman Islands and provides various crypto related services from this location. In this article, we will discuss in more detail what Binance exactly is.

Coinbase is an American crypto exchange, which has been in existence since 2012. The company is now active in more than 100 countries and is listed on the NASDAQ since 2021. Coinbase is the largest US crypto exchange, which is very suitable for novice crypto traders thanks to its clear interface.

Both Binance and Coinbase are crypto exchanges. Crypto exchanges make it possible to exchange fiat or cryptos for other cryptocurrencies. For example, you can exchange dollars for Bitcoin. The price on the exchange is then determined by the interaction between supply and demand. When the popularity of crypto increases, there are more buyers and fewer sellers, which makes the price rise. When the popularity decreases, there are fewer buyers and more sellers, which causes the price to fall.

Binance is especially suitable for crypto enthusiasts who already have some knowledge. On Binance, you can trade more than 500+ different cryptocurrencies. You can choose from different trading platforms and crypto products, allowing you to respond to every market event. Moreover, on Binance you benefit from one of the lowest fees in the world, allowing you to actively buy & sell.

Coinbase is especially suitable for the beginning crypto trader who, for example, wants to buy some Bitcoin for the long term. The interface of the software is a lot clearer, which means that you will not get lost in the possibilities quickly. The higher transaction costs at Coinbase are not a big problem if you do not trade cryptos regularly.

Both Binance and Coinbase do everything they can to secure their users' accounts. You must apply all security measures: this helps you to reduce the risk of hacks.

However, storing cryptos on exchanges is still risky, since they are connected to the Internet. When you own large amounts of crypto, it might be wise to transfer a part of it to an external wallet. In this article, you can read how this works.

.