Binance guide for beginners: how does Binance work?
Binance is a great crypto exchange, but because of the extensive possibilities it is easy to get a little lost. In this Binance tutorial for beginners, we will discuss how this crypto exchange works. After reading this tutorial, you can immediately start trading cryptos on Binance.
How do I open an account with Binance?
Opening an account on Binance is easy. When you open an account with the button below, you will receive a permanent 20% friend discount on all your transaction fees:
To create an account, you only need to enter an e-mail address and password. It is important to choose a strong password as hackers are constantly trying to hack users' accounts.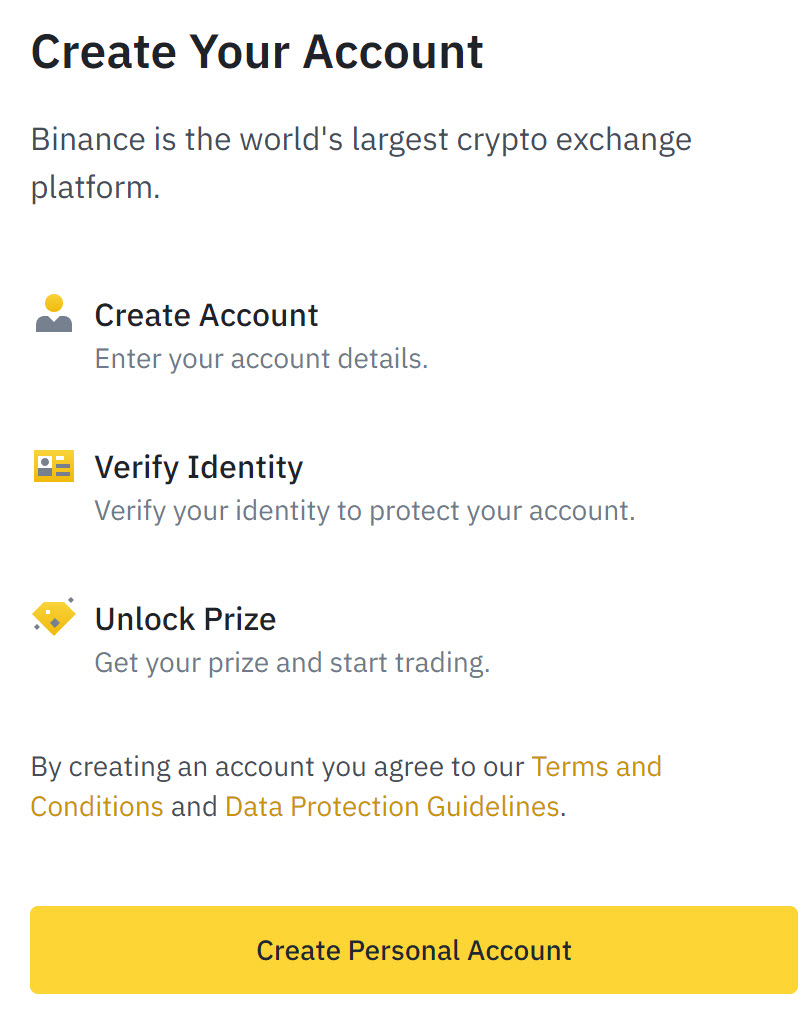 After you have entered your details, you have to solve a simple puzzle. This puzzle is there to prevent bots from opening accounts on Binance. After you have completed the puzzle, you will receive another email with a confirmation code. Enter this code to activate your account.
Tip: confirm identity
It is advisable to confirm your identity immediately. This procedure is also called the KYC procedure, or Know Your Costumer. Only after you have completed these steps, you can make use of all possibilities within the trading platform. There are several identification steps:
Basic: you only have to enter your address details
Intermediate: you also need to upload a copy of your ID-card, driving licence or passport.
Advanced: you must also enclose proof of the address where you live, for example an electricity bill.
How do you add funds to your Binance account?
After you have opened an account, you can add funds to your Binance account. Without funds, you cannot execute trades within the Binance platform.
You can manage all your funds in your Wallet: you can find your wallet by navigating in the menu to Wallet, followed by Overview. Here you can click on Deposit to deposit funds. You can then choose between a Crypto Deposit or a Fiat Deposit.
With a Fiat Deposit, you can deposit money into your Binance account directly using your bank account or credit card. It is also possible to deposit cryptos to your account. It is important, however, that you copy your wallet address correctly. If you make a mistake, you may lose the full amount of your crypto deposit. In this article, we will show you in more detail how depositing funds in your Binance account works.
How to buy crypto on Binance?
Once you have added funds, you can trade cryptos by using the Trade option. The simplest option you can use is the Conversion option. With the conversion option, you can quickly exchange one crypto for another. However, you will not see any charts or information with the conversion option.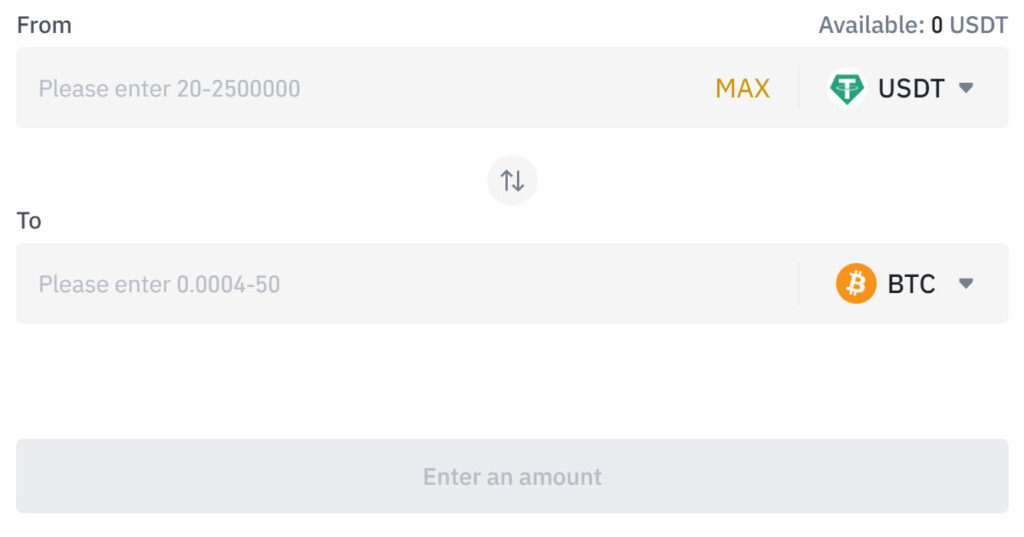 You can always use different order types on Binance. The most common order types are the market order and the limit order.
Market order
With a market order, you can buy a crypto directly at the best available price. Since cryptos are very volatile, you can receive a less favourable price than expected. An advantage of the market order is that your position is always opened.
Limit order
With a limit order, you can set a level at which you want to buy a crypto. The order is only executed, when the crypto is available at the specified price. This ensures that you do not end up paying more than expected. A clear disadvantage is that your crypto position may not be opened when the specified price is not available.
If you would like to have more control over your investments, you should use the advanced trader. In the next part of the manual, we will explain how this trader works.
How to use the advanced trader?
Under Trade followed by Classic you will find a more extensive trading application. With this application, you can trade many cryptos.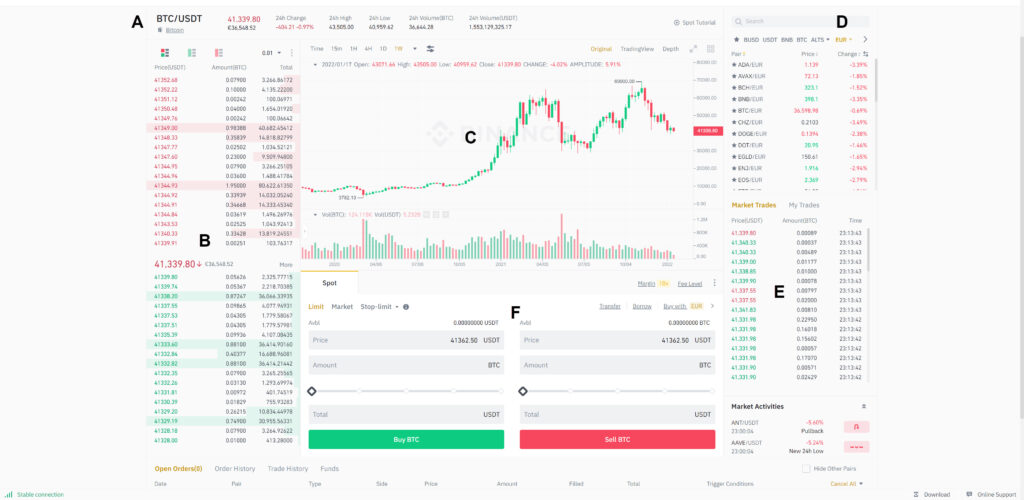 Let us first discuss what you see on your screen:
A: At the top, you will see some general information about the crypto pair you are investing in. In this case, you see the price information for bitcoin against the dollar.
B: On the left-hand side of the screen, you can find the order book. Here you can see which orders are coming in for both buying and selling. The algorithm of the Binance exchange always tries to connect buyers and sellers.
C: In the middle, you see a graph with the price development of the crypto pair. You can apply various technical analyses.
D: In the top-right corner, you can quickly search for different crypto pairs to invest in. By selecting a pair, you will immediately see all the information.
E: At the bottom right, you can see all executed trades on the Binance system. You can also find your own trades here under My Trades.
F: At the very bottom, you will see the order screen, where you can place orders on the crypto pair you wish to trade.
Crypto pair explanation
You always trade in a pair, for example, BTC/USDT. When you trade in BTC, you sell bitcoin in exchange for US dollars. It is also possible to trade in crypto pairs on Binance. For example, you sell one crypto in exchange for another crypto.
Opening a position
If you want to buy crypto within the trader, simply scroll down. You can then place an order on the market, which will be executed by Binance as quickly as possible. For each order, you must provide at least the following information:
Type of order: you can choose between a limit order or a market order
Price: with a limit order, you indicate the price at which you want to buy the crypto
Amount: here you indicate the amount for which you would like to buy crypto
Buy/Sell: open a position with the buy and sell button
The stop-limit order
The stop-limit order makes it possible to close your position automatically at a certain profit or loss. Cryptos are very volatile, and it can therefore be wise to limit your risks. In this article, we will discuss in more detail how the stop limit order works.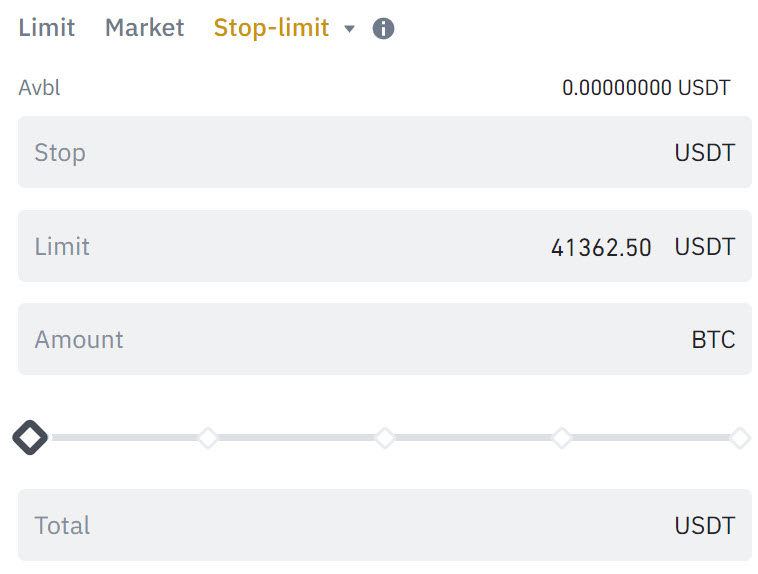 Other trading opportunities
P2P: You can also buy cryptos directly from other users on Binance. In this guide, we will discuss how this works.
Decentralised exchange: You can also buy cryptos on Binance in a decentralised exchange. In this article, you can read how this works.
Derivatives: it is also possible to speculate on crypto prices with derivatives. In this extensive manual, we explain how this works.
How do you withdraw your Binance funds?
You can withdraw your fiat or crypto funds from Binance at any time. To withdraw funds, navigate to the Wallet overview and click on Withdraw.
You can then easily withdraw fiat to your bank account or Visa Bank card. If you prefer to withdraw your crypto to an external wallet, you can press Withdraw Crypto.
You fill in the address and network to which you want to send the crypto. You must use the right address and network: if you do not, you might lose the entire amount of cryptos you would like to withdraw. In this article, you can read in more detail how withdrawing cryptos on Binance works.
How can you get higher returns with Binance?
Some people hold crypto assets on Binance without doing anything with them. This is a waste: with Binance Earn, you can build a passive income with your crypto assets in several ways. You can find Binance Earn by navigating to Earn followed by Binance Earn. In this article, you can read about the possibilities of Binance Earn in more detail.
Crypto Savings on Binance
With Binance Savings, you can put your cryptos in a 'savings account'. The principle is similar to that of a bank: you lend your funds to Binance, which can then use them to carry out all kinds of profitable activities. However, it is important to remember that there is no bank protection in place on Binance, which makes crypto saving riskier than saving money at a traditional bank.
With Binance Savings, you can use flexible savings, or you can lock your cryptos for a certain period of time. If you lock your cryptos for a longer period of time, you will usually receive a higher interest rate. Locking your cryptos long-term is only suitable for investors who are confident about the future of the crypto and want to hold on to it.

Crypto staking on Binance
You can also stake crypto that operate under a Proof-of-Stake blockchain. When you stake a crypto, you contribute to the integrity of the blockchain. In return, you will receive a nice interest rate on your funds from Binance. Staking crypto coins on Binance is usually locked, which means you won't be able to use the crypto for 10 to 90 days. In this article, you can read more about staking crypto coins on Binance.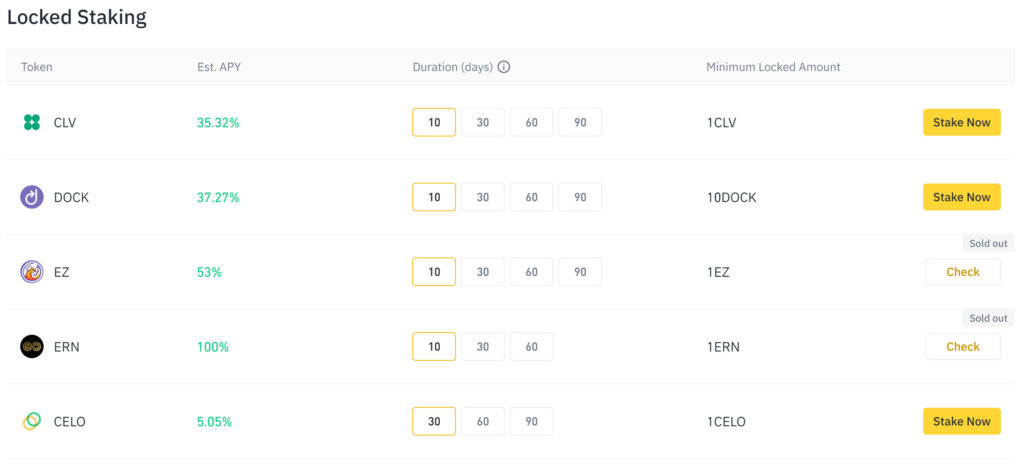 How do you secure your Binance account?
Cryptos can be very interesting, but unfortunately, scammers are also active. In our article on securing your Binance account, we have already extensively described what you can do to prevent these types of hacks as much as possible. In this Binance manual, we will briefly return to this subject.
It is important to choose a strong password. Moreover, by changing your password regularly, you reduce the chance of hacks. It is also smart to protect your account with 2FA. 2FA adds an extra layer of security where you have to confirm each login attempt with your mobile phone.
Furthermore, beware of phishing attempts: hackers regularly send out fake e-mails. They hope you will click on the link in the e-mail and enter your password. By setting an anti-phishing code in your account, you greatly reduce the chance of this type of hack. You can find these and other security measures in the Binance security centre.
Strategies for trading crypto
In this part of the tutorial, we want to explain some well-known strategies that you can use when you would like to trade cryptos on Binance. Many users actively decide to speculate. With speculation, you try to take advantage of upward and downward price movements in the short term.
To select good entry and exit moments, you can apply both technical and fundamental analysis. With technical analysis, you look for technical levels to which the price often reacts. With fundamental analysis, you dive deeper and examine whether a project has a right to exist.
Another group of Binance users mainly invest in crypto for the long term. This strategy is also known as HODL: hold on for dear life. You can combine this strategy with dollar cost averaging: you then invest a fixed amount at regular intervals. With dollar cost averaging, you benefit from an average return on your investments.
Every investment strategy has its advantages and disadvantages. It is therefore advisable to experiment with the various possibilities, as not all options are equally suitable for everyone.
Tips for investing on Binance
I would like to end this guide with some tips for your investments on Binance. I hope these tips will help you improve your investment results.
Diversify your investments
Don't put all your money into one specific crypto. By spreading your chances, you automatically increase your chances of success. I know many people who lost all their savings because they put all their money in a promising scam coin. It is wise to look for other investments besides crypto: this prevents you from losing everything when the crypto market is not performing well for a longer period of time.
Control your emotions
By drawing up a good plan in advance, you can achieve good results even in bad times. The biggest mistake investors can make is to take investment decisions based on emotions.
Evaluate your decisions regularly: this allows you to determine whether your investment style still suits your personal goals. If this is not the case, you can adjust your plan. Always evaluate your performance at a quiet moment and not when you are stressed.
Do sufficient research
Many people see crypto investments a bit like the casino, but without the chance of losing. Of course, this is not the case. I know many stories of people who lost a lot of money because they put all their money in a crypto token that does not exist.
At Binance, you can invest in hundreds of different cryptos. Some of these cryptos are less reliable projects. It can therefore happen that a crypto goes bankrupt and disappears. Therefore, always ask yourself what new, unique feature the crypto fulfils. Is there no unique feature added? Then the price of the crypto has been entirely established by speculation and the fear of missing out.