Binance review: is Binance the best crypto exchange?
In this review, you will read about my experiences with Binance in detail, so you can make an informed decision. Binance is more than just the largest crypto exchange: they offer a wide range of crypto products that we will discuss in detail on this website.
Do you want to try Binance yourself? Then create an account by using the button below & receive a permanent 20% discount over all your transactions:
Binance review summary
Binance is a good choice for anyone looking for a crypto exchange with extensive features. The transaction fees are low (never more than 0.1%) and you can trade hundreds of different cryptocurrencies on Binance. Binance also has a good reputation: they protect their users well and offer compensation in case of hacks.
| Offer | Hundreds of cryptocurrencies + crypto derivatives |
| --- | --- |
| Fees | You never pay more than 0.1% on a transaction |
| Payment methods | Bank transfer, credit card |
| Suitable for | Crypto investors & serious traders |
| Application | Web interface, advanced trader and mobile application |
| Promotion | 20% discount on all your transaction fees |
| Staking | Extensive staking options, receive up to 40% |
| Online wallet | Yes, Binance offers a free online wallet |
| Customer service | You can reach Binance via live chat |
What are the advantages of Binance?
Extensive range: on Binance, you can trade in hundreds of different cryptos, and you can make use of an extensive range of crypto products.
Low costs: you benefit from extremely low costs on Binance. You never pay more than 0.1% on each transaction.
Reliable reputation: when Binance was hacked, they compensated all users for their losses.
Liquidity: Because Binance is the largest crypto exchange in the world, you can always trade your cryptos quickly.
Credit card: you can apply for your own crypto credit card and use it to pay in (online) shops.
Extra return: with Binance Earn, you can earn a high return with the cryptos you hold.
What are the disadvantages of Binance?
Regulation: Binance does not always follow local regulations, so they sometimes get into trouble with regulatory authorities.
Complex: The possibilities on Binance are very extensive, which can cause users to get lost on the platform.
Costs for withdrawing money: withdrawing fiat money on Binance can be pricey.
No demo: You cannot try out the possibilities on Binance with a free demo.
Slow customer service: due to the popularity of Binance, it can sometimes take a long time for customer service to respond.
About Binance
Binance is the largest and most popular crypto exchange in the world. This is not without reason: the platform offers an extensive range of crypto related services. You can trade cryptocurrencies, but you can also make payments and borrow/save cryptos.
Binance has only been around since 2017, when it was founded in China by Changpeng Zhao. Since then, Binance has changed its registered address several times due to problems with local authorities. Binance operates worldwide, but the services and features they offer differ from country to country.
How does the crypto exchange work?
Before you can use the Binance crypto exchange, you first need to open an account. Click here to open an account & benefit from a 20% permanent discount on all transaction fees. Opening an account is easy, but it is advisable to secure it well:
Apply 2FA
Choose a strong password
Verify your identity
By securing your account properly, you reduce the chances of hacks & theft. After you have opened an account, you can immediately start trading cryptos. You first need to add funds to your account: these can be either crypto or fiat. In the menu, press Wallet followed by Fiat and Spot to add money to your account. In this article, we will discuss in more detail how this works.
Making your first trade
After you have added funds to your account, you can start trading cryptos. Under trade, you can choose between the Classic and the Advanced trader. The Classic trader is easier to use, while the Advanced trader shows more information. In this example, we will use the Classic trader.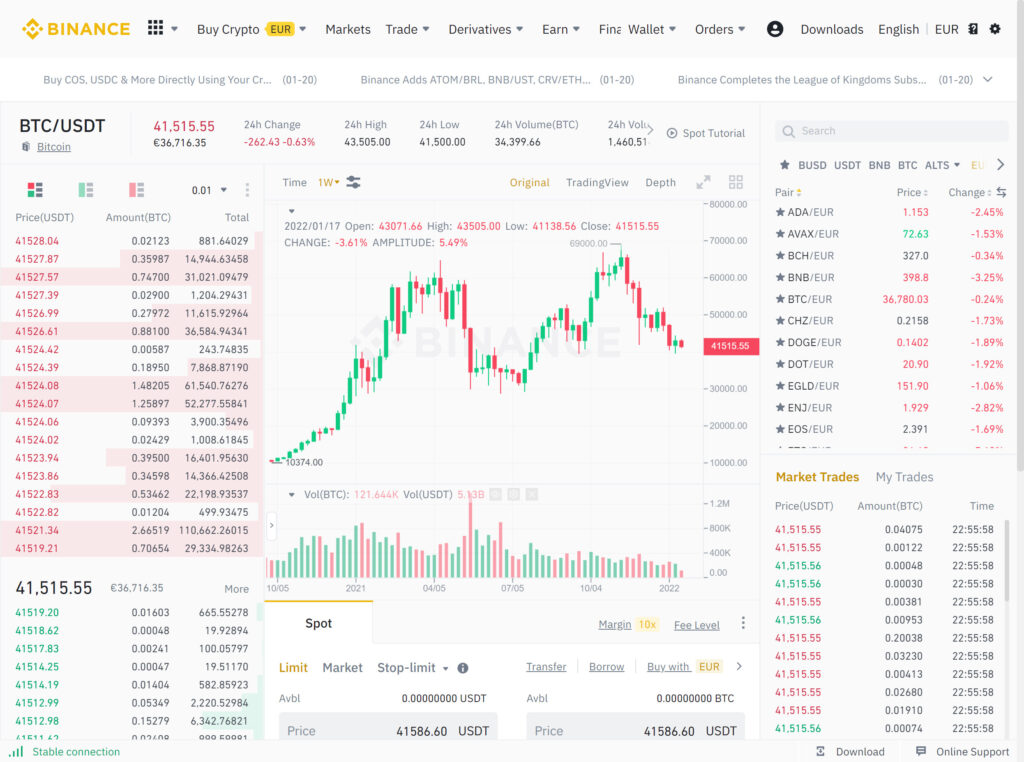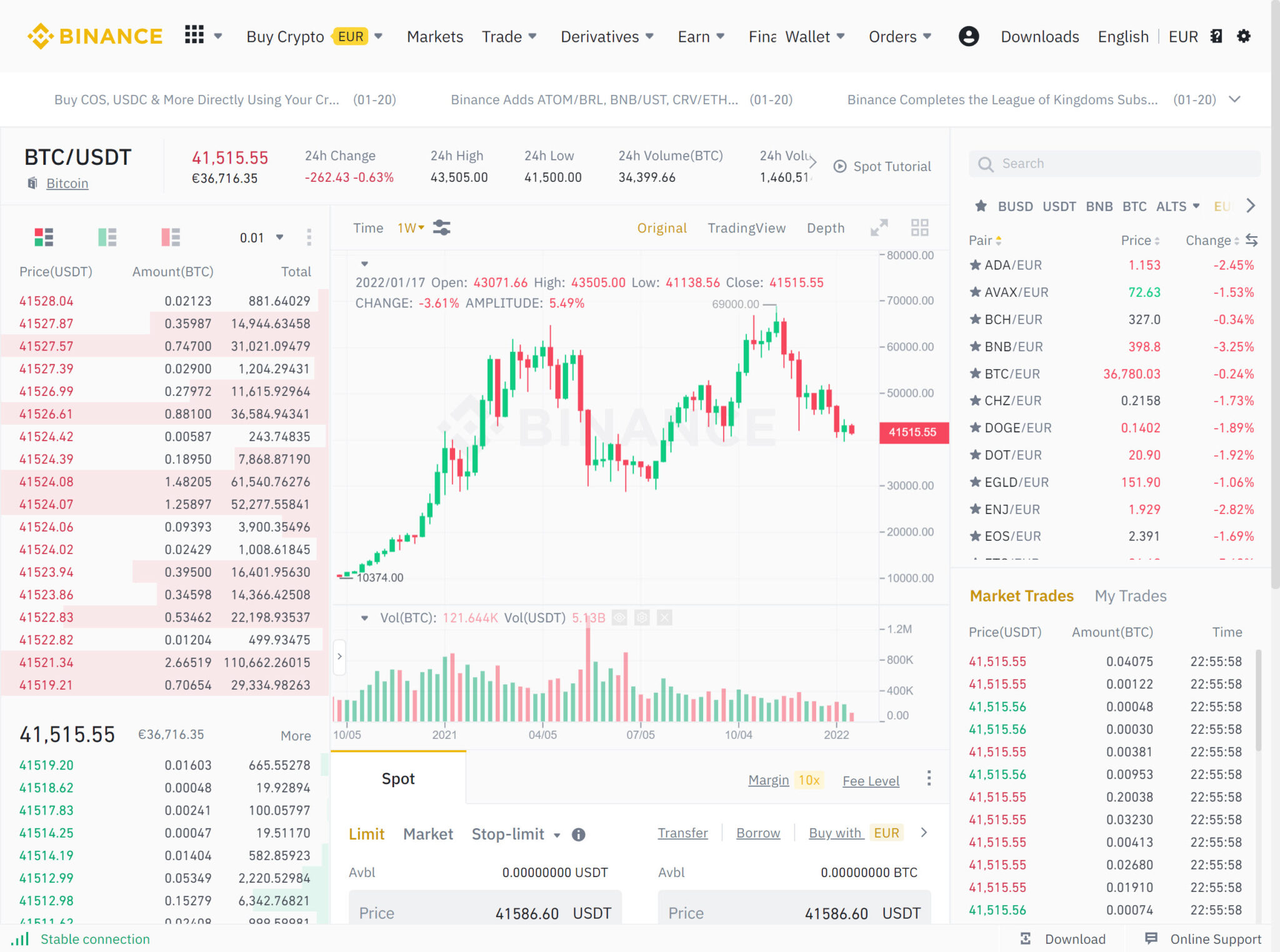 In the trader, you can look for a pair that you want to trade. A trade pair is always displayed in this form: BTC/USD. The first part of the pair indicates what you are buying and the second part indicates what you are selling. Therefore, in this case, you sell US dollars and you buy bitcoin in return. When you click on a trade pair, an order summary appears at the bottom of the screen.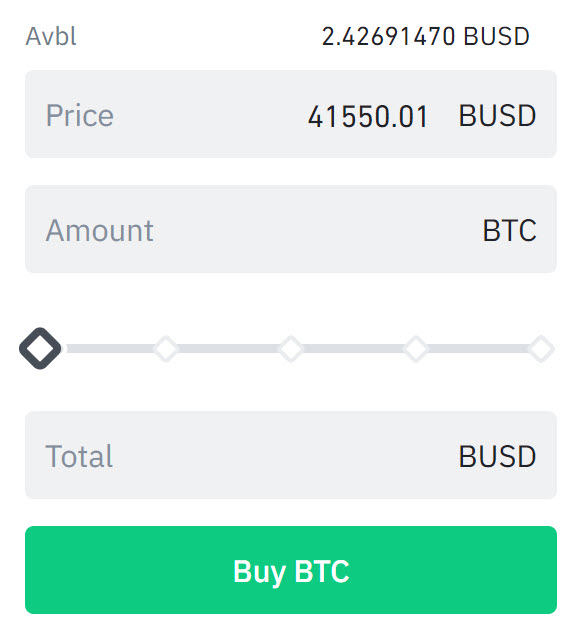 In the order screen, you can indicate whether you want to buy or sell the crypto in question. Enter the amount you want to exchange and press the Buy button to execute your order. With a market order, the crypto is bought directly at the best available price and with a limit order, you can set the maximum price you are willing to pay.
Do you want to read in more detail how investing with Binance works? Click here to read our extensive Binance manual and learn all the ins & outs of Binance!
What are the fees on Binance?
If you plan to trade a lot, fees are very important. In our review, Binance performs very well in this area: you never pay more than 0.1% in transaction fees when buying or selling cryptos on Binance.
Would you like to benefit from even lower transaction costs? You can:
By signing up to Binance through this website, you will receive an additional 20% discount on your transaction fee.
By paying your transaction fees with Binance Coin (BNB), you achieve an even higher discount.
When you trade a lot and reach a higher VIP level, you will receive an additional trading volume discount.
Holding a Binance account is 100% free. However, it is important to pay close attention to the costs of withdrawing and depositing money. If you use your bank account as a deposit method, you will often not have to pay any costs. However, if you use your credit card or other external services, the costs can increase significantly.
Do you want to read about the costs on Binance in more detail? In this article, we will discuss the cost structure of Binance in more detail.
How is the trading platform of Binance?
At Binance under Trade, you can choose from different trading platforms. In this part of the review, we will briefly discuss the options.
Convert
Convert is the easiest way to quickly exchange one crypto for another. If you are already 100% sure which crypto you want to buy, this is a good option. Under trading method, you won't see any graph or supporting information.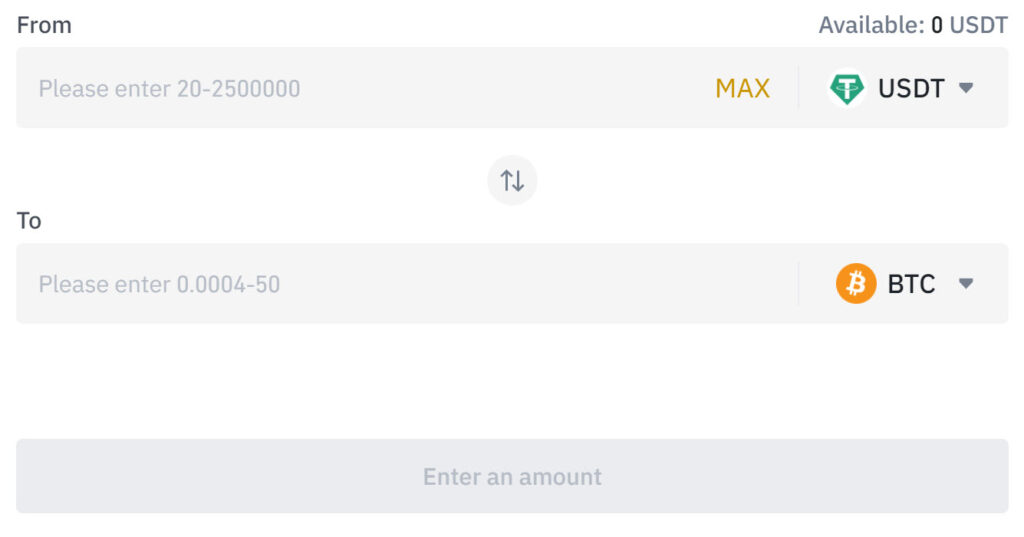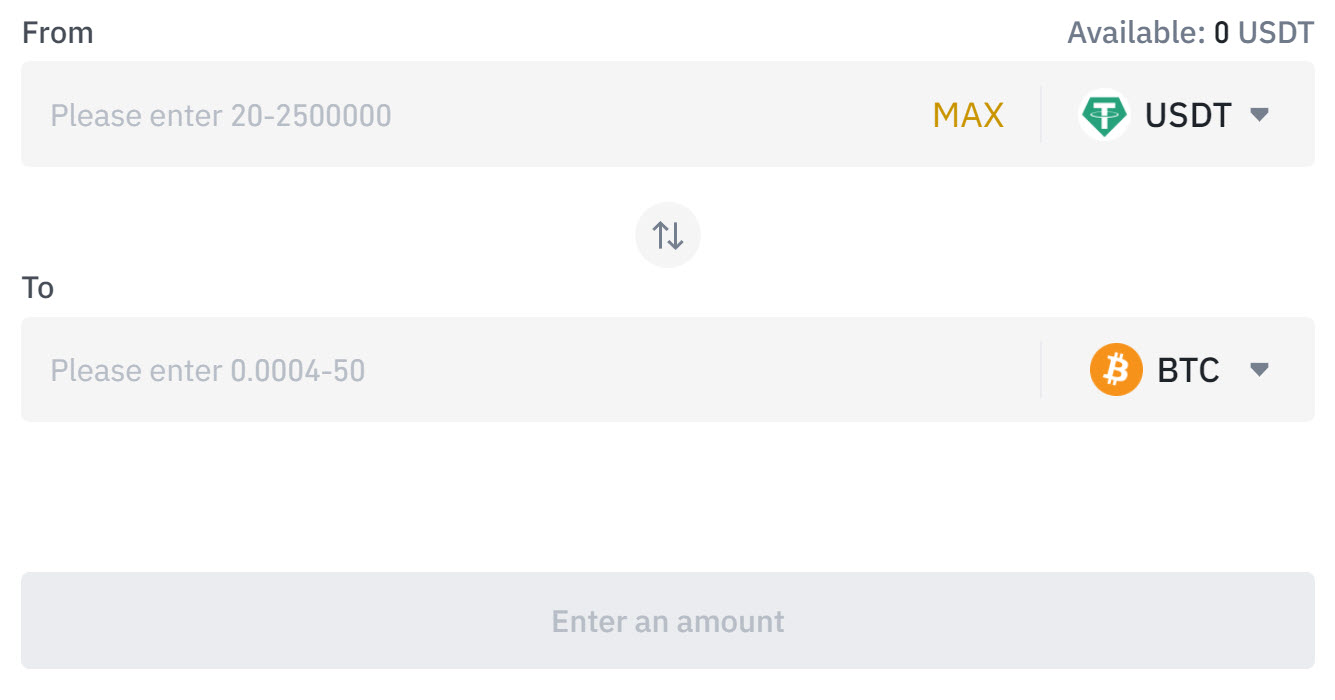 Classic trader
My personal favourite is the classic trader. The classic trader gives you enough information to trade actively. Within the trader, you find a chart, the orderbook with the latest transactions and the necessary technical indicators that you can apply.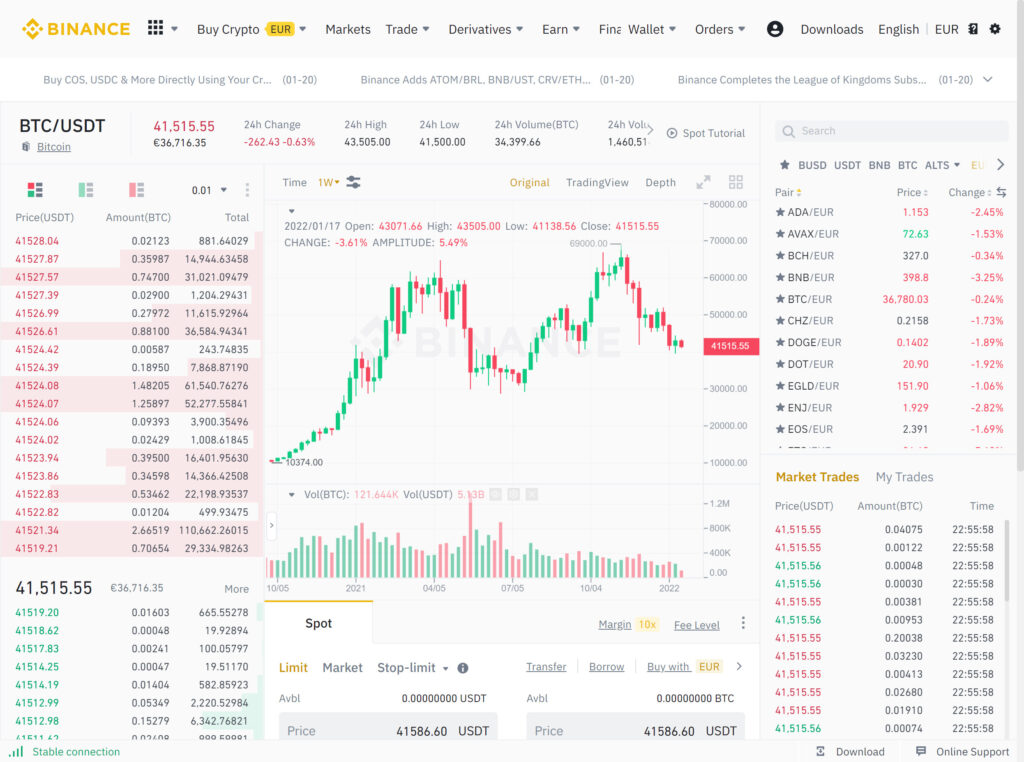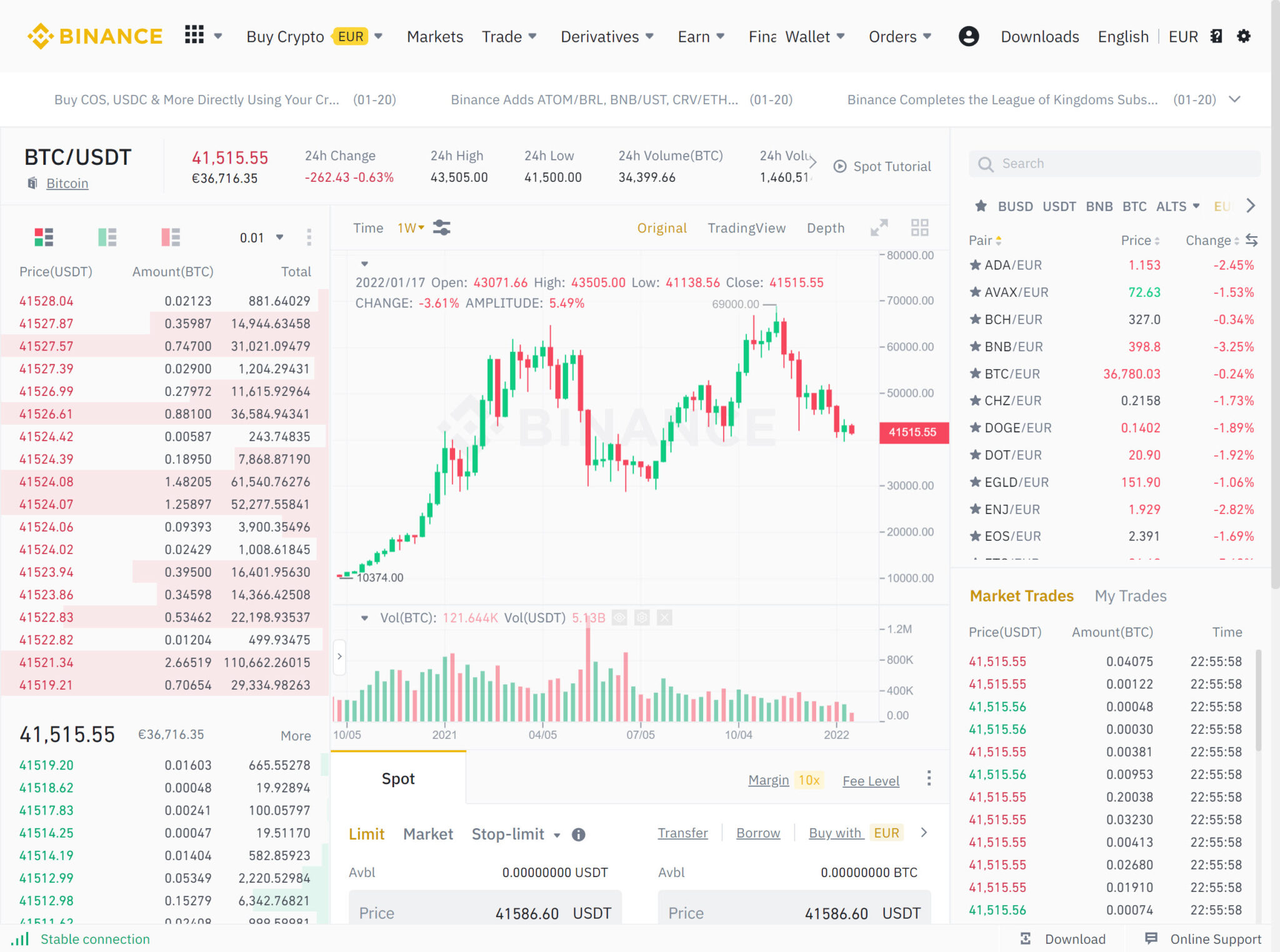 Binance advanced trader
The Binance advanced trader goes one step further and offers even more technical analysis tools. The advanced trader is a good choice for the active trader who wants to get serious with Binance.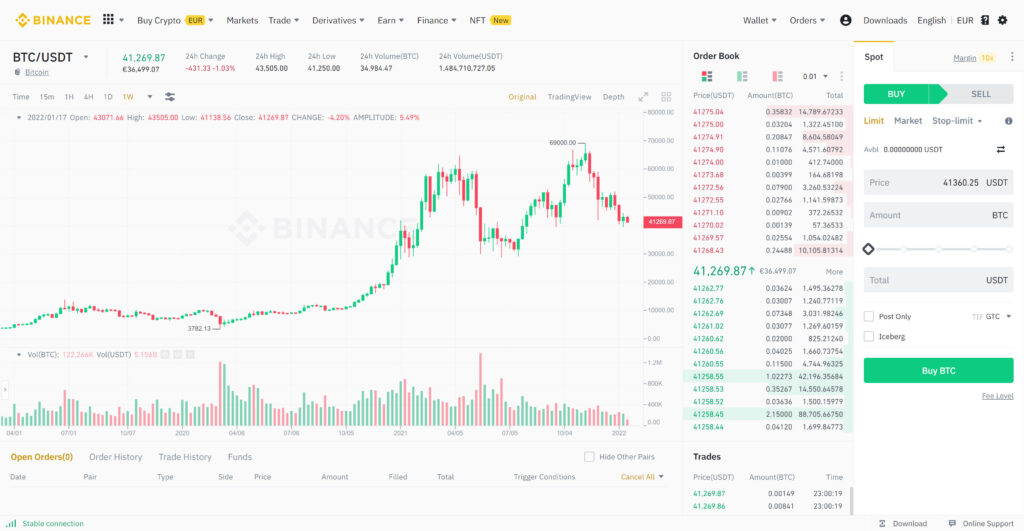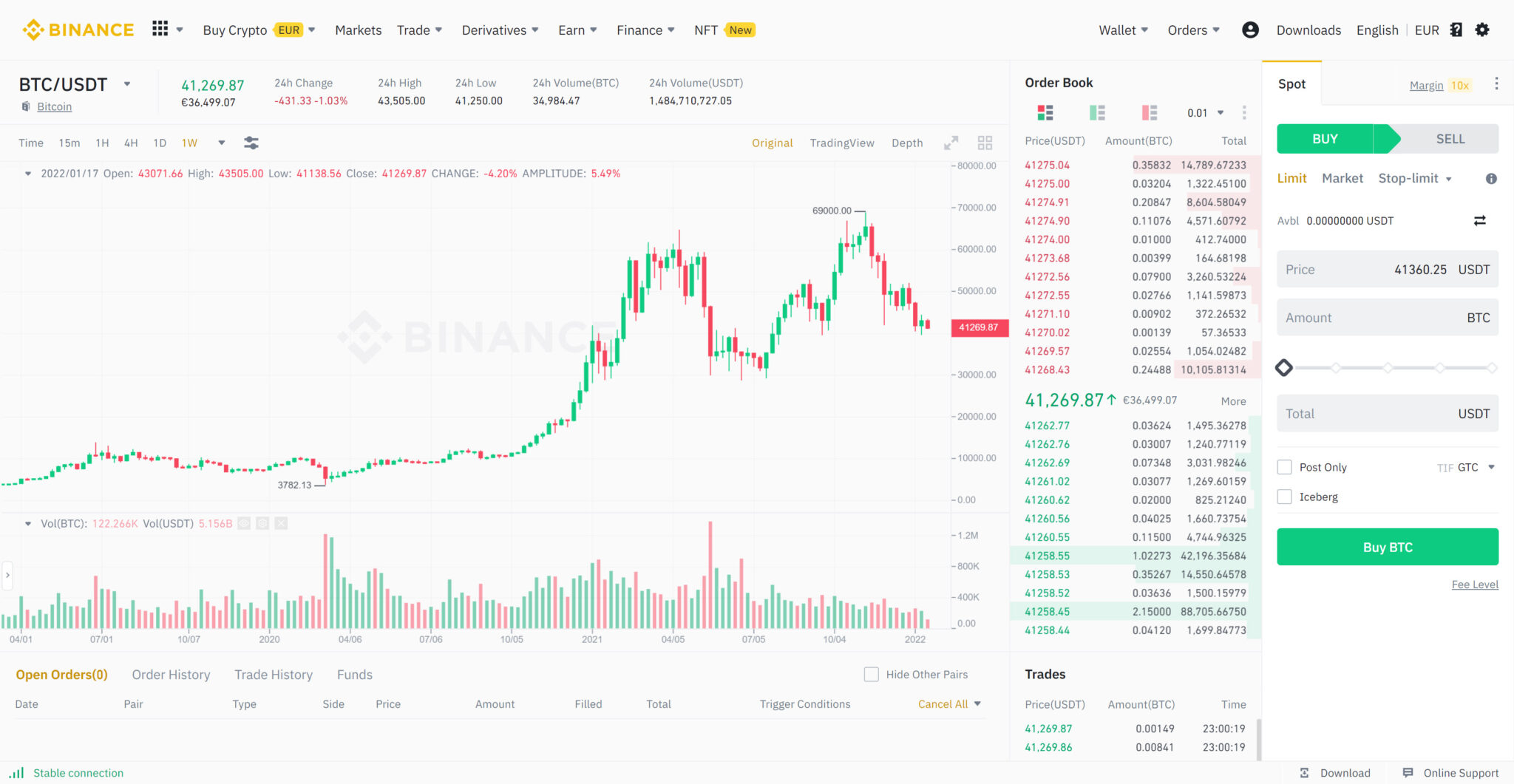 P2P trader
A unique option on Binance is the P2P trader. The P2P trader allows you to buy crypto directly from another user, so your transaction does not go through the Binance exchange. An advantage of this trading method is that you do not pay any transaction fees. However, with the P2P trader it takes longer before the transaction is executed, which makes this trading method less suitable for the active day trader. In this manual, we will explain to you how P2P trading works.


Binance Liquid Swap
You can also use the Binance Liquid Swap to open a trade. For this option, a decentralized liquidity pool is used. The number of cryptos you can trade using a Binance Liquid Swap is more limited, but you do benefit from cashback on your transaction costs in the form of BNB. Do you want to learn more about Binance Liquid Swap? Then read this article!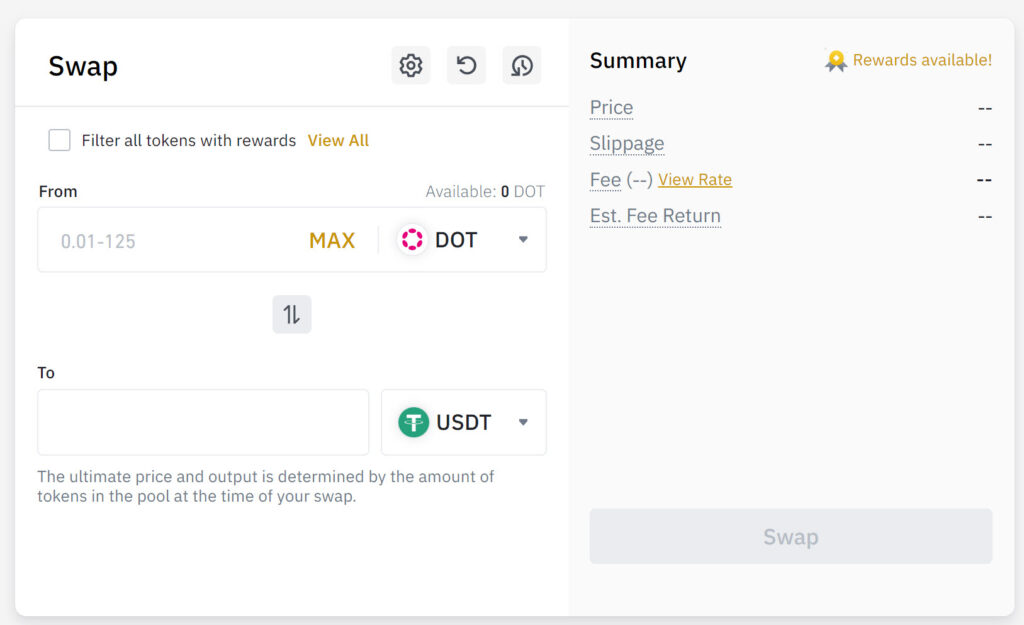 Which crypto products can you trade on Binance?
One major advantage of Binance is the huge range of options they offer. On Binance, you can trade in hundreds of different cryptos and new options are added every week. New and popular tokens are often added to Binance first, and you will see that the price of these tokens often gets an immediate (temporary) boost after such a listing. This makes Binance very suitable for innovative crypto fanatics who like to keep an eye on the market.
The Binance Coin
Binance has also launched its own cryptocurrency: the Binance Coin or BNB. This crypto has seen a huge rise since its launch and is now often in the top ten of the largest crypto coins. Binance uses part of the profits they make to buy back and destroy BNB, which can increase its value in the long run.
The Binance Coin has various functions within the platform. For example, you can use BNB to get a discount on transaction fees. You can also use BNB to subscribe to ICOs via the so-called Binance Launchpads. Would you like to know more about the Binance Coin? In this article, we summarize everything you should know about BNB.
NFT
A positive point about Binance in our review is that they always integrate the latest blockchain innovations. An example of this, is that they have also launched an NFT Marketplace. NFTs or Non-fungible tokens are proof of ownership associated with a smart contract on the blockchain.
You can use your Binance account to actively trade in digital artworks. Using crypto coins, you can buy an online asset and then try to resell it at a profit. It is also possible to deposit NFTs yourself and auction or sell them. Beneficial is that you receive 1% on all future sales. This allows you to constantly earn money with your published work of art. Do you want to know more about trading NFTs with Binance? Then Click here for more information!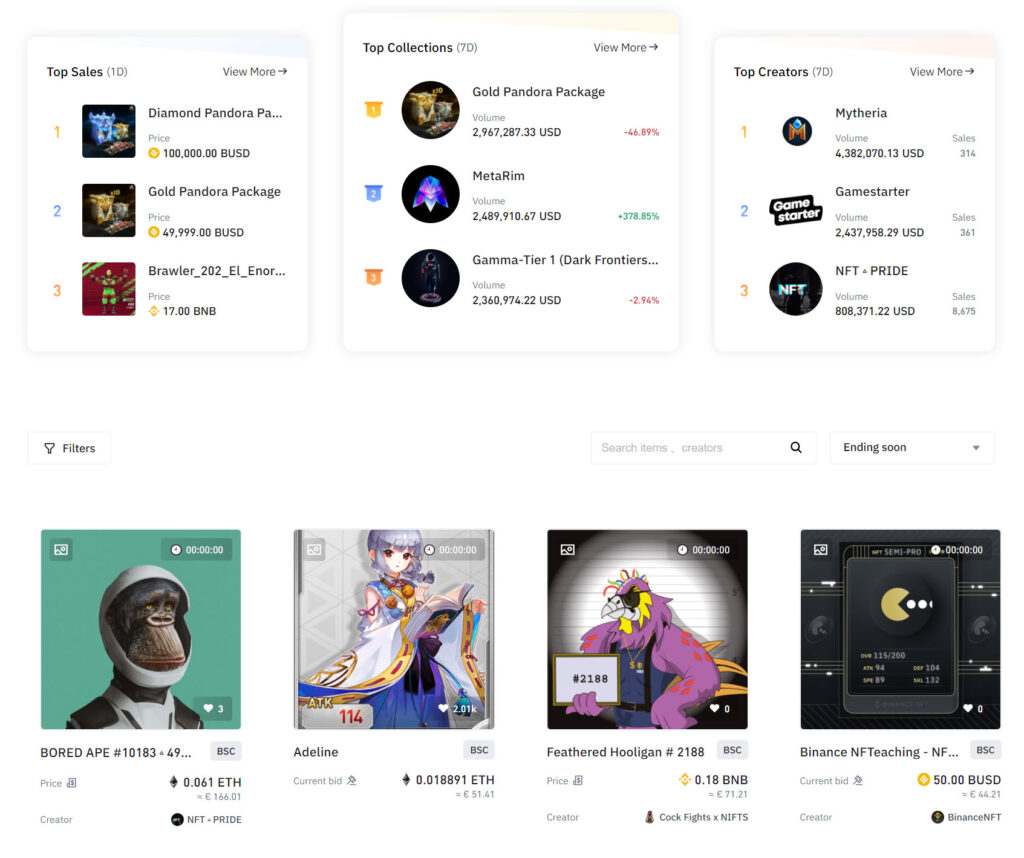 Binance Launchpad & Binance Launchpool
You can also buy or earn new crypto tokens on Binance. With the Binance Launchpad, you can buy new tokens right away, provided you maintain sufficient BNB on your account. Before you can participate in a launch, you do need to be lucky since you have to win a lottery. Due to its great popularity, it can be difficult to win the lottery. In this article, you can read in more detail how the Launchpad works.


If you invest with smaller amounts, you can still earn new crypto coins with the Binance Launchpool. You can earn new tokens by staking cryptos. In this article, we will discuss in more detail how the Binance Launchpool works.


Futures
If you want to trade actively, futures and leveraged tokens can be interesting. With this type of derivatives, you can actively speculate on falling and rising prices. With futures, it is also possible to use leverage. This allows both your profits and losses to increase much faster. Trading futures through Binance is only suitable for more advanced traders: with futures you can lose your entire deposit in one fell swoop. In our extensive Binance futures manual, you can read in more detail how this works.


Trading on margin
At Binance, you can also trade on margin. In this case, you only deposit a small part of the required amount for a trade. When you trade on margin, you do run the risk of a margin call. You can be confronted with a margin call when the amount you have deposited is no longer sufficient.
Another option is to borrow cryptos. On Binance, you can use your crypto as collateral to borrow another crypto. You will pay interest over the borrowed amount, but you can then use the borrowed crypto to open new trading positions. In this article, you can read how borrowing money from Binance works.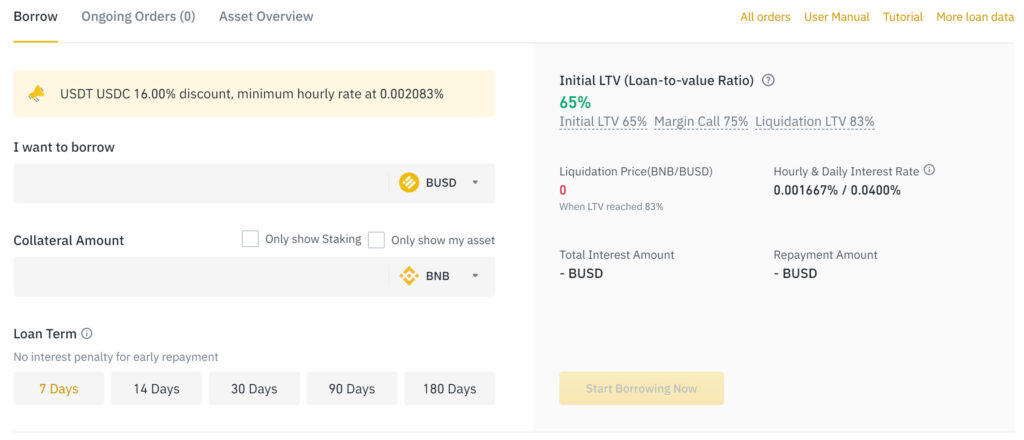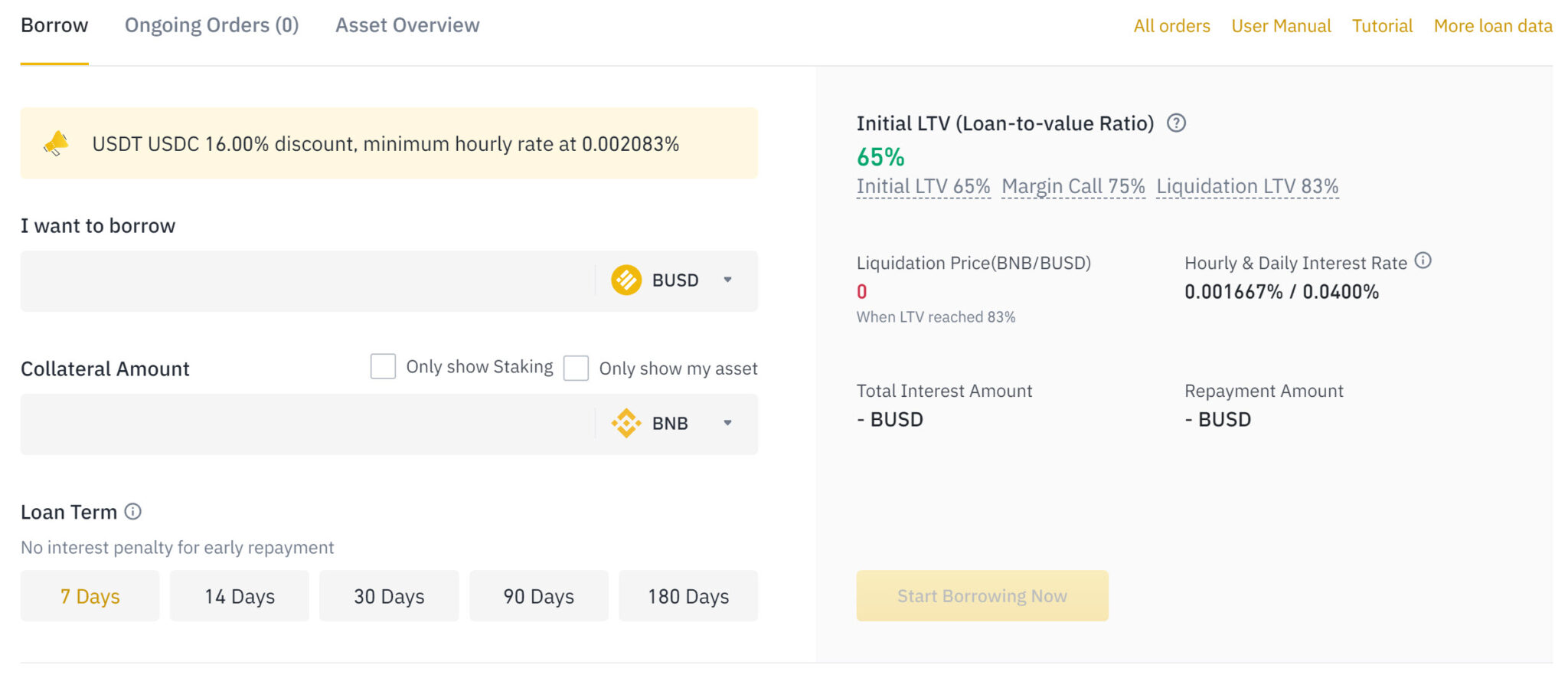 How can you make extra money with crypto on Binance?
Binance Earn is in my opinion a big advantage of Binance. Many people leave their crypto's unused within their wallet. This is a waste: you will not get any return on your cryptos that way. Luckily, on Binance you have plenty of opportunities to use your cryptos for an extra return. In this article, you can read in more detail how this works.
Binance Savings
Binance Savings actually works the same as a savings account at the bank. You make your cryptos available to Binance and in return, you receive an attractive return. It is possible to use flexible saving (you can withdraw your cryptos at any time) or to lock your cryptos. When you lock cryptos, you will receive a higher return.


Staking on Binance
With proof-of-stake cryptocurrencies, you can also contribute to the blockchain of the crypto. You do this by staking or locking your crypto. Depending on the type of crypto you stake on Binance, the return on an annual basis can be substantial. However, keep in mind that this also comes with a considerable risk. In this article, you can read more about staking cryptos on Binance.


The Binance Visa credit card
What is unique about Binance is that every user can apply for a Binance Visa Credit card free of charge. In reality, the Binance Visa Credit Card is more like a debit card, since you first have to add cryptos to the credit card yourself. When you then make a purchase, the value of your cryptos is converted to the currency you are using to make the purchase.
An additional advantage of the Binance Visa card is that you receive cashback. The amount of cashback depends on the number of Binance Coins you hold and can be as high as 8%. Do you want to know more about the Binance Visa credit card? Click here to read in more detail how the credit card works.


Is Binance a reliable crypto exchange?
Many people wonder whether Binance is a reliable crypto exchange. The company regularly relocates its headquarters and does not always follow all local laws correctly. This raises questions among users who fear that their cryptos might not be safely stored.
However, the reliability and security of Binance seem to be in order. In 2019 9,000 Bitcoins where stolen by hackers with a value of $40 million at the time. Binance compensated all users for this hack with the Secure Asset Fund for Users (SAFU). Binance deposits 10% of all transaction fees in this fund to support users who are hacked.
Binance has also taken various measures to protect users' accounts as good as possible. Read our guide on securing your account to protect your account. In any case, it may be wise to transfer a part of the cryptos you buy to a hardware wallet. Cryptos in a hardware wallet are not directly connected to the internet, which reduces the chance of hacks.
The Binance Wallet
Binance has also launched its own wallet: the Binance Chain wallet, which runs on the Binance Smart Chain. You can easily add this wallet as an extension to your browser, allowing you to trade in even more exotic cryptocurrencies on the decentralized exchange PancakeSwap. Do you want to know more about the Binance Wallet? In this article, we will elaborate on the possibilities!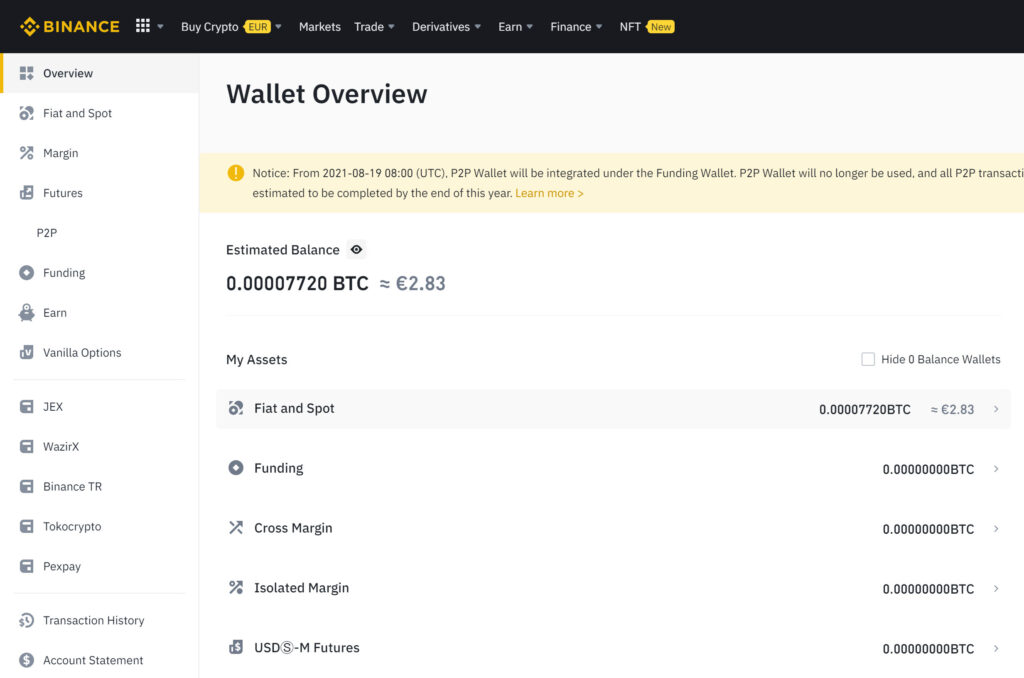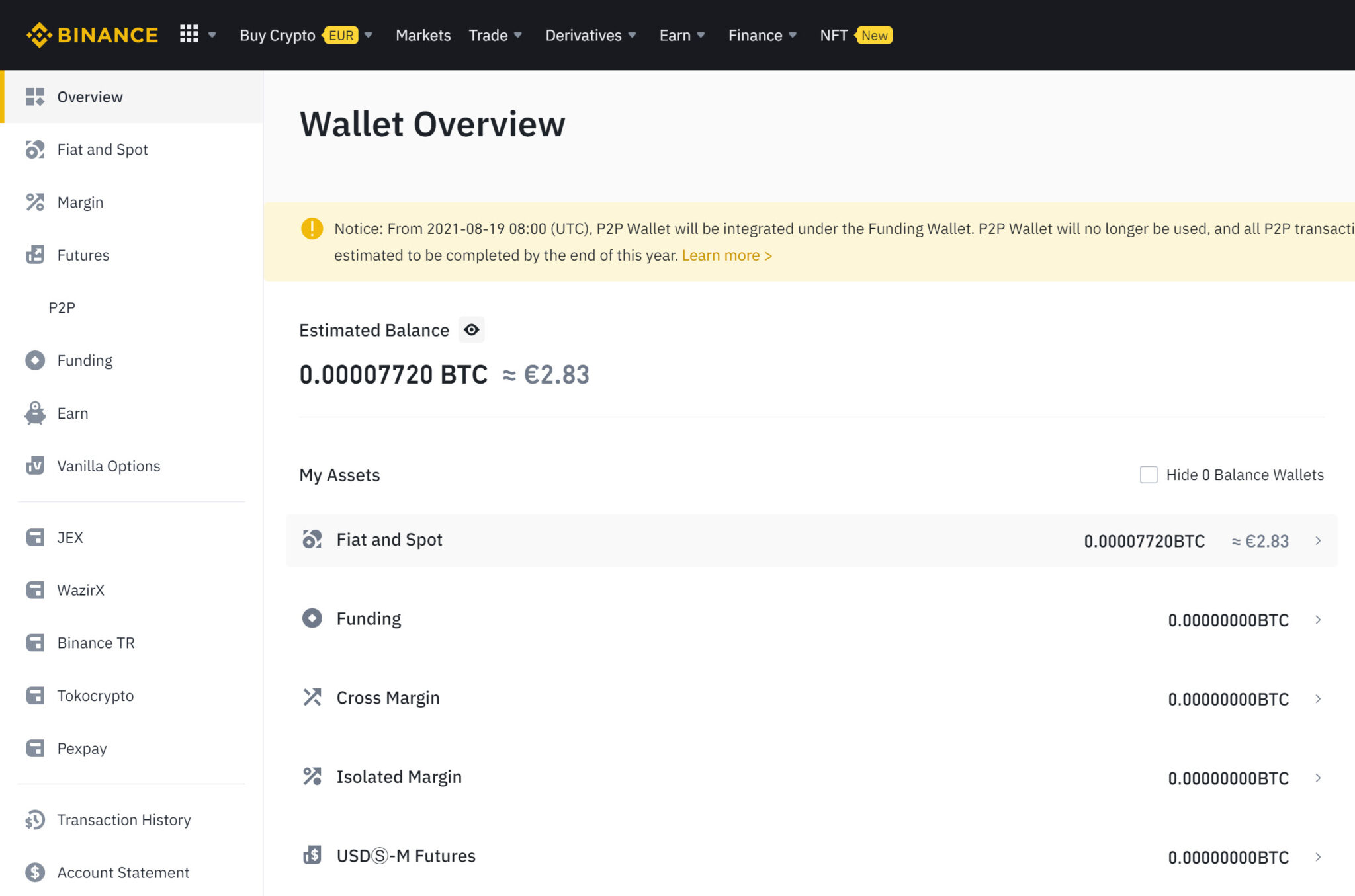 When you buy cryptos on Binance, you can automatically store them for free on the Binance website. You can keep them here to earn an extra return through Binance Earn, for example. It is also possible to move your crypto to an external wallet. In this article, we describe how wallets work on Binance.
Education
You can see from the possibilities that Binance really has a heart for crypto: they offer much more than just an exchange. Thanks to the various educational programmes they offer, you can learn more about blockchain and the different cryptos.
At the Binance Academy, you will learn everything about the more general crypto topics. With the information in the academy, you will better understand how cryptos and the blockchain work. Many people who start trading crypto are mainly concerned with getting the highest possible return. However, it is important to research tokens properly and for this it is important to have a good understanding of how the technology behind cryptos works.
If you want to understand the market better, Binance Research can help. Within Binance Research, you can examine studies and analyses concerning all participants in the crypto world.
If you are looking for a kind of 'crypto television', Binance Live is interesting. Here you can find livestreams and videos of crypto professionals discussing the latest developments in crypto. Interesting to watch, but don't forget to conduct your own research as well!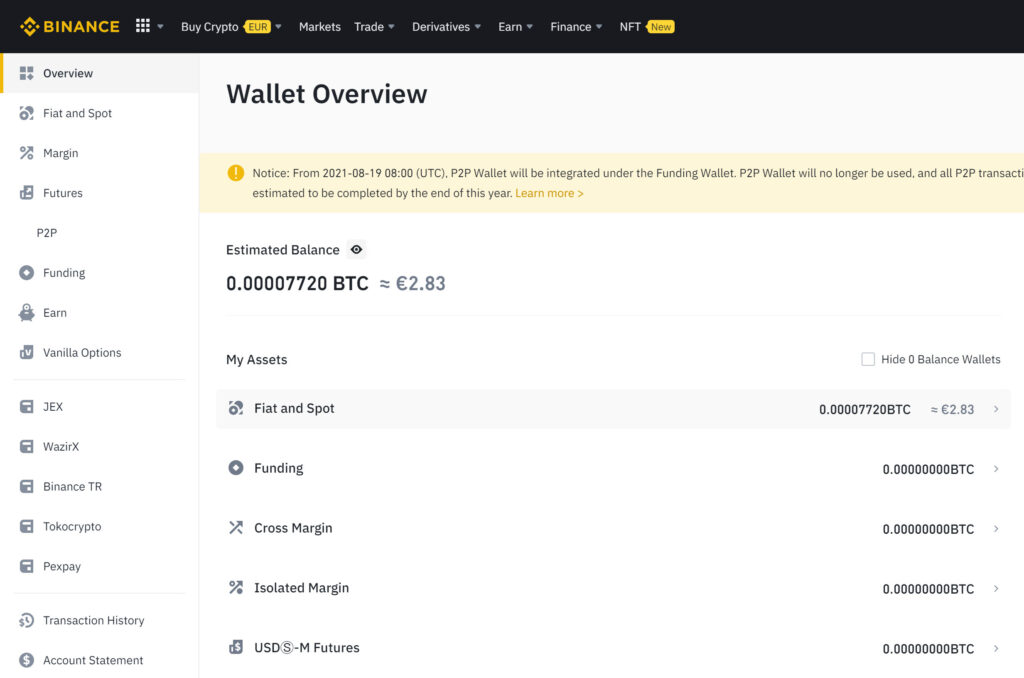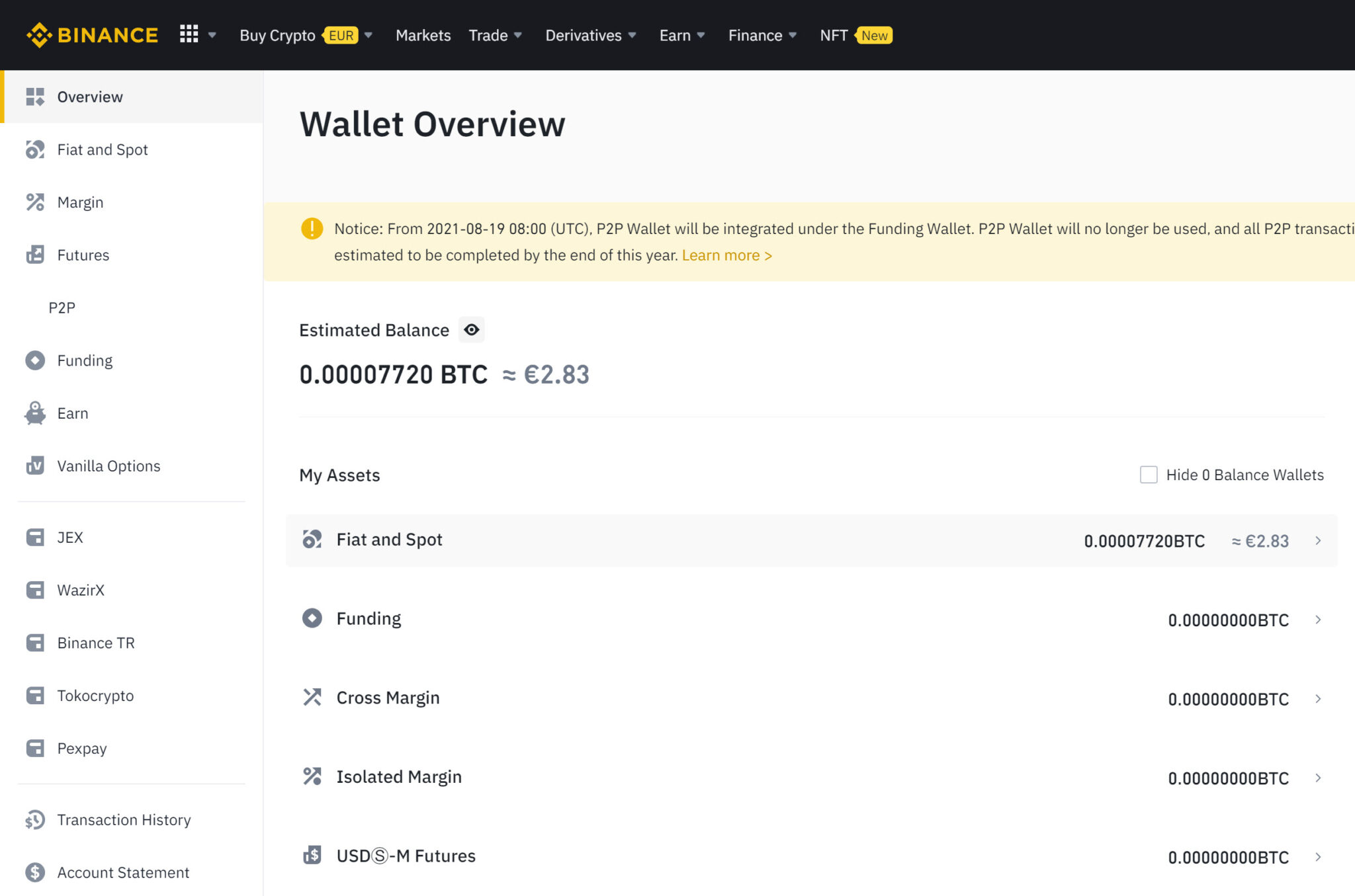 Binance customer service
A somewhat negative point in our review is the customer service of Binance. You can only reach Binance's customer service via live chat. When you press the speech bubble, you first get to speak to a bot that refers you to help articles on the website. If the bot does not answer your question, your request forwards to a human being.
The customer service can get very busy, sometimes making you wait several weeks for a response. Fortunately, problems are always dealt with and resolved in the end, but patience is definitely a virtue in the case of Binance's customer service.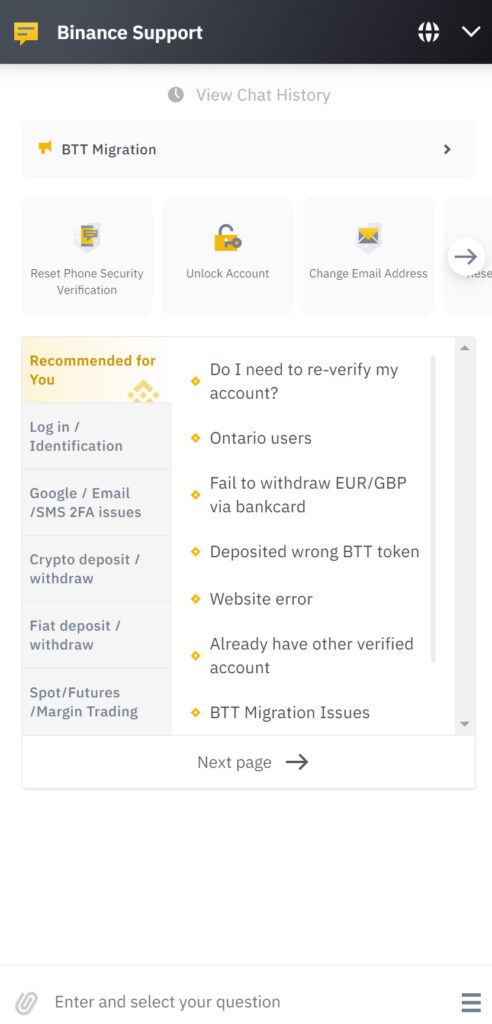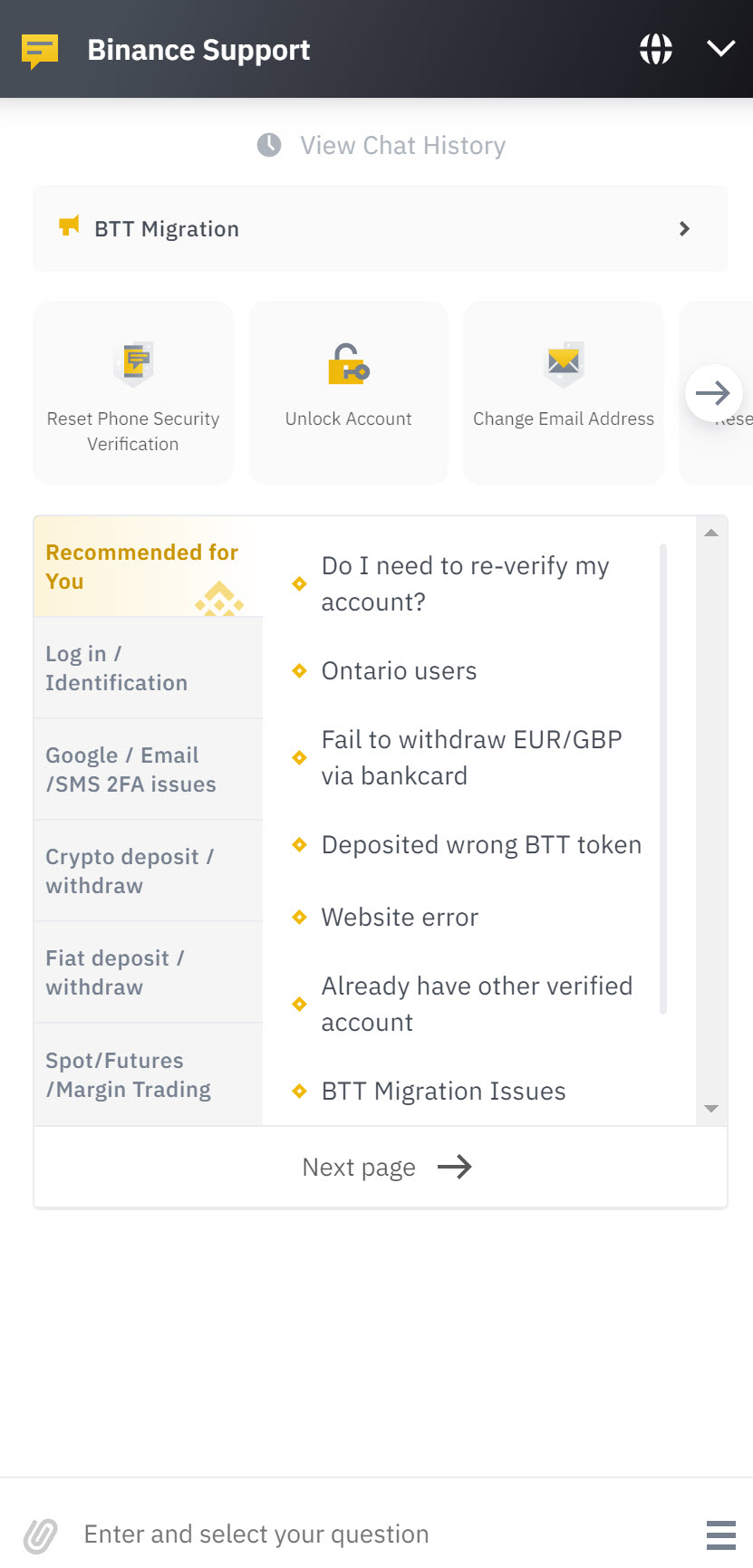 Frequently asked questions about Binance
Binance is not supervised in many countries. As a result, many users wonder if Binance is legitimate. Nevertheless, Binance has not done anything sketchy in the years that they have been active, and they have even compensated users in case of hacks. In my opinion, Binance is an excellent platform for trading cryptocurrencies: I trust them completely.
You pay a maximum of 0.1% in transaction fees on Binance when you trade cryptos on the spot market. If you trade in more speculative products, you may incur other costs. With derivatives, for example, you have to deal with financing interest. Therefore, when trading alternative crypto products, always research carefully what costs you will have to pay.
You can buy cryptos on Binance by using one of the many trading programs. With convert, you can quickly convert one crypto or fiat into another crypto. However, there are also more extensive trading programs where you can perform technical analysis. It is advisable to thoroughly test the various possibilities; this allows you to discover which option suits you best.
The minimum deposit on Binance is $1, although the minimum deposit can be higher depending on the selected payment method. If you transfer money with your bank, you need to make a minimum deposit of $100. In any case, it is only advisable to trade on Binance if you have a bit more money to spare, as cryptos are very risky and you can easily lose your entire deposit.
After completing the verification process, the maximum daily deposit is $200,000. It is possible to increase your limits on Binance by going through further verification steps. However, for most users $200,000 will be more than sufficient.
You must be at least 18 years old to open an account with Binance. Only adults can invest in the financial markets.
How long it takes for your money to be paid out depends on the payout method you select. Withdraws in crypto or to a credit card only take minutes. However, if you cash out the money in your account to a bank account, it may take several days before you receive your money.
The aim of Binance is to be available in as many countries as possible. However, not all governments agree and several countries blocked Binance. When the regulation of cryptos increases in the future, it might affect the number of countries where Binance is available.
You can store your cryptocurrencies in your account on Binance. Using Binance Earn, it is even possible to put your cryptos to work: you can build a passive income with your crypto assets.
Whether depositing money with Binance is free of charge often depends on the payment method and currency you choose. When you deposit money into your wallet, you will always see whether you are paying extra costs for the selected method.
Opening an account on Binance is always 100% free. Of course, you will be charged for trading cryptos and using Binance's services.
Cryptos and risks are inextricably linked: when you join Binance, you automatically have to deal with risks. Cryptocurrencies can quickly rise and fall in value, which can result in significant losses in a short space of time. Besides price fluctuations, you may also have to deal with hacking attempts and scam tokens. Therefore, it is essential to remain vigilant when investing in crypto.
Binance review conclusion
Binance has become the largest crypto exchange in the world for a reason. Because of the extensive possibilities, Binance really allows you to experience all aspects of crypto: from active trading to using a real crypto credit card. Because of the extensive possibilities, it can be hard for beginners to find their way, but when you take the time to discover all the possibilities, Binance is definitely one of the best crypto exchanges.
Do you want to try Binance? Register by using the button below & benefit from a 20% permanent friend discount on all your transactions: