Buy Dogecoin at Binance
Dogecoin started out as a joke, but quickly became a huge success. Do you also want to invest in DOGE? In this article, we will discuss how you can quickly buy Dogecoin from the well-known crypto exchange Binance.
Step 1: Open an account on Binance
Don't have an account on Binance yet? Open an account with the button below & receive a permanent 20% discount on all your transaction fees:
Opening an account is easy. All you have to do is fill in an username and password. Make sure your account is secure to prevent hackers from stealing your DOGE. It is also advisable to go through the identification procedure, so you can make use of the full trading possibilities. We are happy to help you with these steps:
Step 2: Deposit money or crypto on your Binance account
Before you can buy Dogecoin with your Binance account, you must first deposit sufficient funds into your account. You can deposit both cryptos and currencies to your account for buying DOGE. To do this, navigate to Wallet and Fiat and Spot. Then follow the indicated steps to add money to your account. Do you need help with adding funds? In this article, we explain how you can deposit money or cryptocurrencies to your Binance account.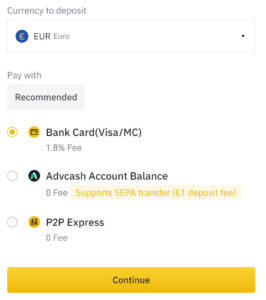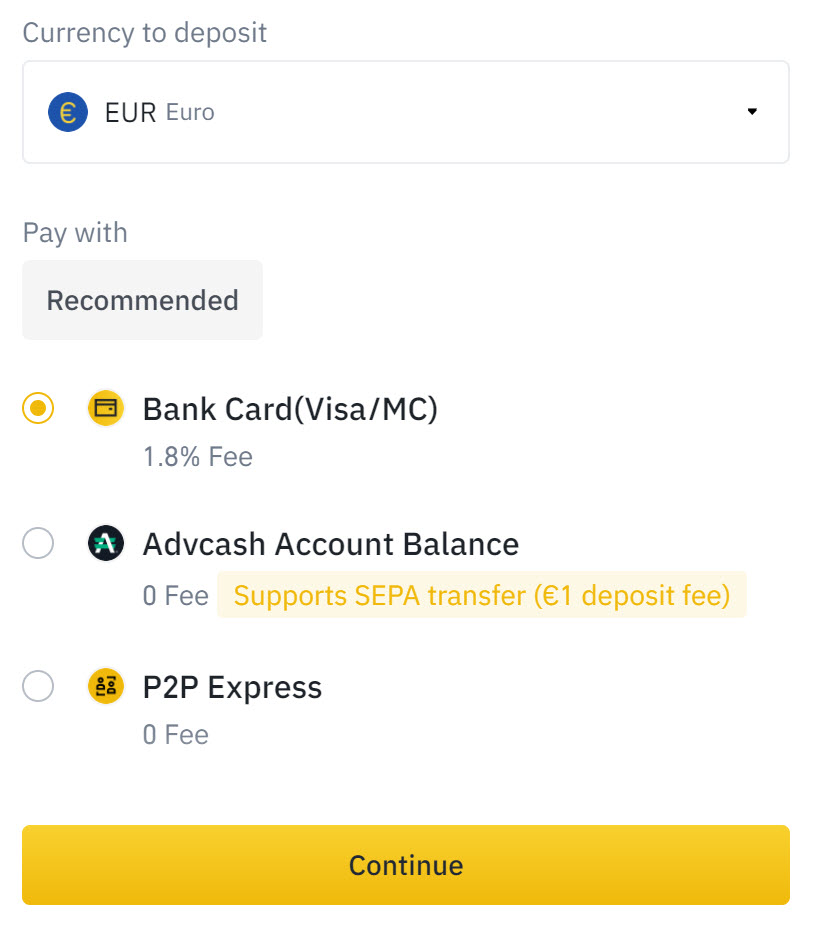 Step 3: Buy Dogecoin (DOG) on Binance
The simplest method for buying Dogecoin is to use the Convert trader. To use the convert trader, navigate via Trade to Convert.
You can choose between two types of orders here:
Market: with a market order, your DOGE is bought immediately at the best available price
Limit: With a limit order, you will buy Dogecoin at a specified price.
If you want to buy DOGE directly, it is best to use a market order. However, there is a chance that you will get a worse deal and pay more for your DOGE in the event of strong market movements.
With a limit order, you indicate the maximum price at which you would like to buy DOGE. The disadvantage is that your order will not always be executed. If the price is not available, you will not receive DOGE.
In the conversion screen, indicate which crypto or currency you want to convert to DOGE. Enter the amount or quantity and then press Preview Conversion. You will immediately see how much DOGE you would receive. When you are satisfied with the conversion, you can execute the order, and you will have bought your first DOGE on Binance!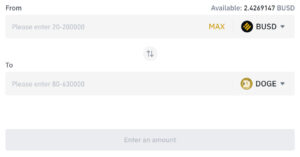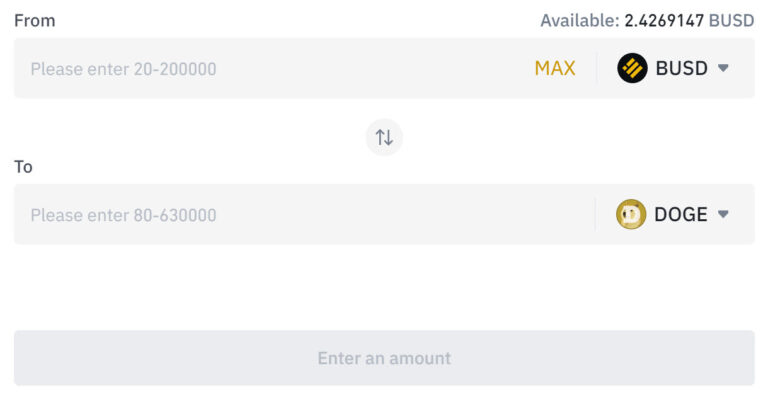 What is Dogecoin (DOG)?
Dogecoin is a fork of the Litecoin blockchain. The cryptocurrency originated as a meme in 2013 with the idea that a funny coin would get more attention than one with a more serious name like Bitcoin.
DOGE has not beaten Bitcoin, but it has a large fan base. Even Tesla CEO Elon Musk is a big fan of Dogecoin, which causes his Tweets to influence the price strongly.
Dogecoin uses the Proof of Work consensus, which requires mining equipment. An unlimited number of Dogecoins can be added, which has the advantage that transaction costs remain affordable. However, there is a risk of inflation, as a coin becomes worth less as new ones are added.
What is Dogecoin used for?
Dogecoin is more than just a meme coin these days. People are using DOGE to tip via social media. DOGE is also regularly used for fundraising events. These kinds of events have a positive influence on DOGE's price, as the price will rise when demand increases.
Yet, there is clearly one activity for which DOGE is mainly used: speculation. DOGE went through a huge boom in 2021, allowing an investment of €100 to grow to €10,000. This kind of growth attracts many enthusiastic investors. Therefore, if you step in at the right time, you can earn good returns from Dogecoin trades. At the same time, it is important to remember that crypto investments always carry a high risk.
Why should you buy Dogecoin on Binance?
Binance is the largest crypto exchange
It is possible to buy Doge with a credit card
You have a wide range of trading tools
Do you want to read in more detail why Binance can be a good choice for trading cryptos? Then read our Binance review or check out the main advantages of Binance!
What can you do with Dogecoin after you buy it?
If you have great confidence in DOGE, you can hold it. You can do this on your Binance account, but also on an external wallet. By applying dollar cost averaging, you avoid investing in DOGE at the wrong moment. With dollar cost averaging, you buy DOGE at fixed moments, which means you will be able to step in at both favourable and less favourable moments.
It is also possible to trade actively in Doge. However, it is important to keep a close eye on the market. Active speculation is not recommended for novice traders.
You can also use Dogecoin to shop: Nowadays, several sellers accept Doge as a payment method.
It is also possible to stake DOGE with your Binance account. You will then receive new Dogecoins on your account periodically. Whatever you choose, make sure you read up on the risks to prevent unpleasant surprises.
Read more about Binance
Frequently asked questions about buying Dogecoin

You can buy Dogecoin futures on Binance. Futures allow you to speculate on the price of Doge. With futures, you can bet on a falling price or use leverage.

You can store your Dogecoin on Binance. It is also possible to store your DOGE on the Nano Ledger S hardware wallet. Alternatively, you can download the official Dogecoin wallet at dogecoin.com. As you can see, there are plenty of options for storing your Dogecoin cryptos!

Nowadays, many brokers are selling Dogecoin. One we recommend is Binance, as you can buy Doge at very low transaction fees. The fees are never more than 0.1% of your order amount.

.