Binance Launchpad tutorial & manual
The Binance Launchpad gives users the opportunity to be among the first to invest in a new cryptocurrency. In this article, we will discuss how the Binance Launchpad works and whether it is wise to invest money in it.
What is the Binance Launchpad?
As with shares, the tokens of successful blockchain projects are also launched. When this happens via an exchange such as Binance, it is called an IEO or initial exchange offering. Anyone can subscribe to a launch on Binance.
Joining Launchpad in 4 steps
Step 1: open a Binance account
Before you can participate in Launchpads, you need an account on Binance. We have good news for you: when you open an account through this website, you will receive a permanent 20% discount on your transaction fee. Use the button to open an account right away:
Step 2: Buy BNB
Before you can participate in the Binance Launchpads, you require Binance Coin or BNB. You can easily buy BNB by navigating to Trade and then Convert in the menu. Then enter the amount for which you want to buy Binance Coins.


Do you need help depositing money or cryptos into your Binance account? Then read through this short guide. You first require fiat money or cryptos to be able to exchange them for BNB.
Step 3: Open the Launchpad
Navigate to the Launchpad by holding your mouse over the cubes in the menu and then clicking on Launchpad.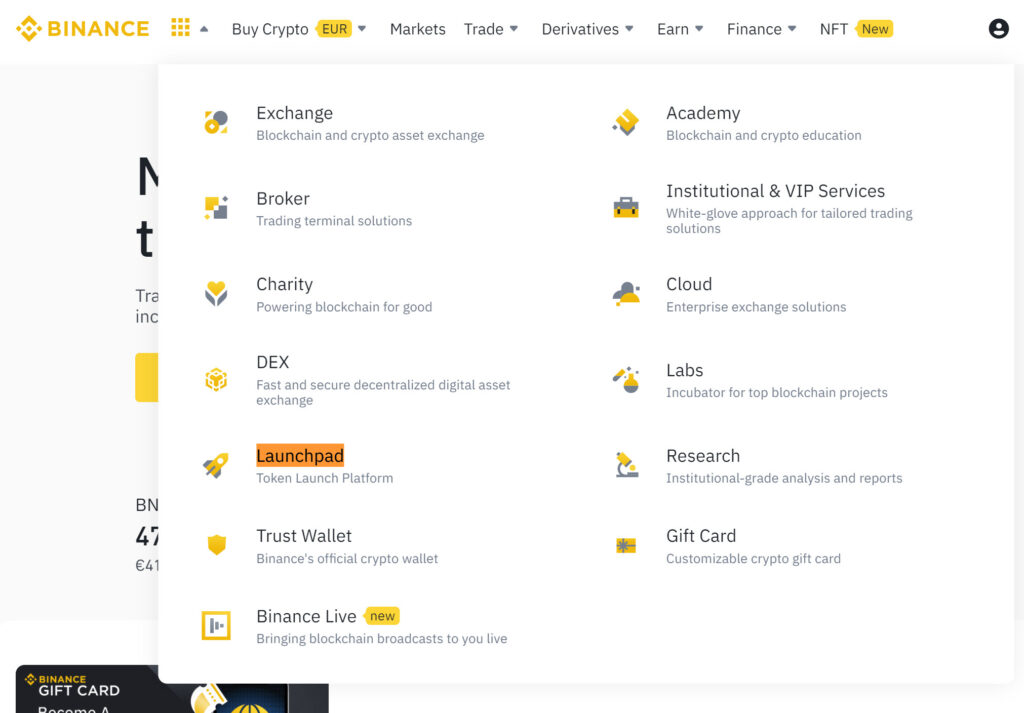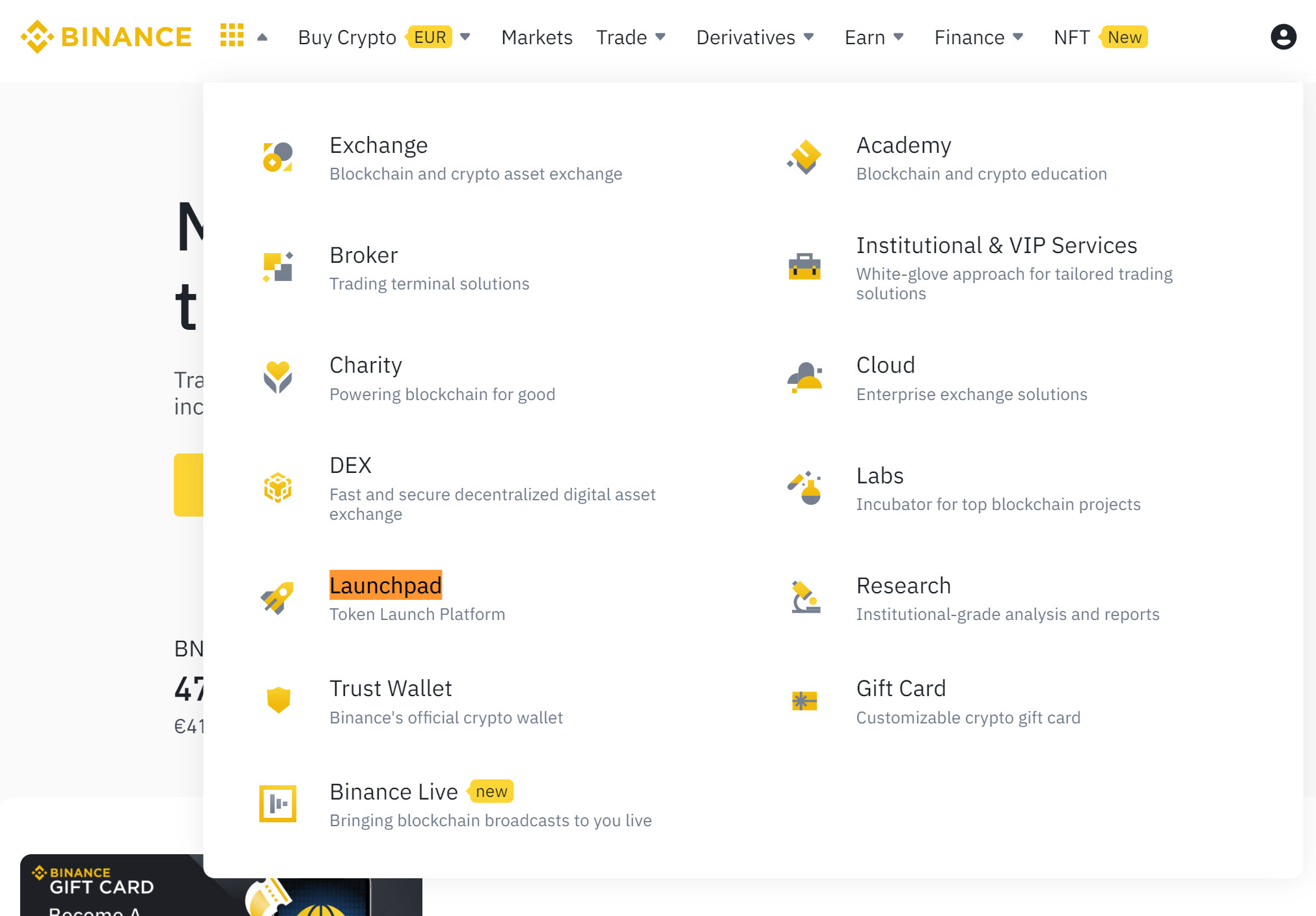 If a project is available, you will see it directly under Launchpad.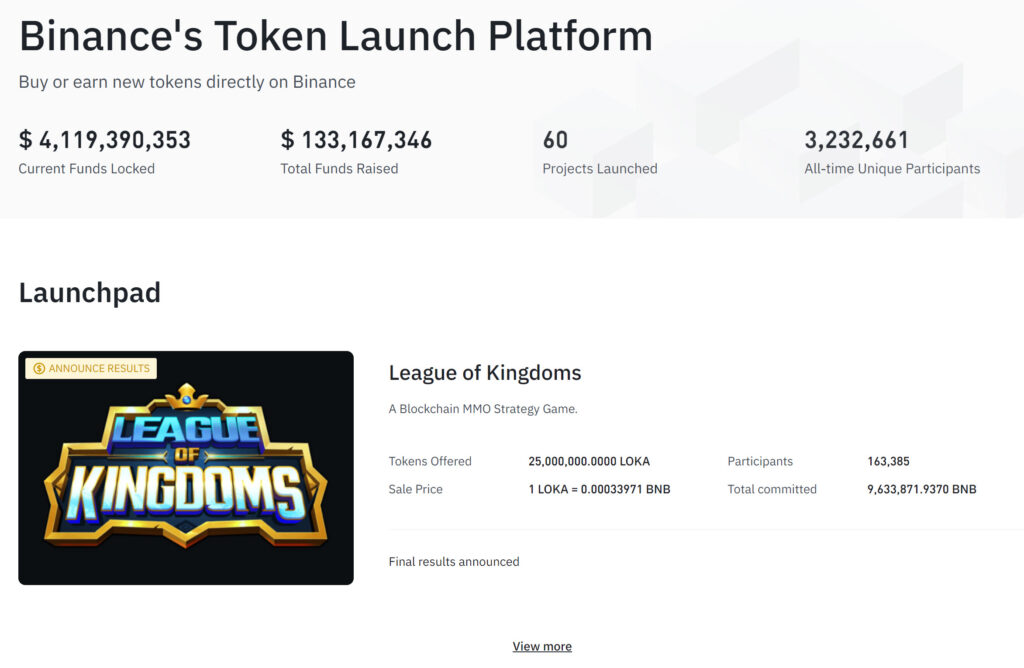 Step 4: Enter the lottery
Binance calculates the average amount of BNB you hold within your account over a certain period of time. You will then receive up to a maximum of 10 lottery tickets for the amount of BNB you hold: for the maximum number of tickets, you need to hold more than 500 BNB.
After the BNB holding period, a button will appear with the text claim ticket. The winners of the lottery can then participate in the IEO within the exchange.
Step 5: Subscribe!
If you can participate in the Launchpad for the project in question, you can register. Fill in how much BNB you want to use in total.
Each project has a minimum and maximum amount of the crypto you can receive. You can always bet as much BNB as you want.
Step 6: Receive your tokens
Binance ultimately calculates how much of the new token you will receive. To calculate this, the number of BNB you intend to wager is divided by the number of BNB wagered by everyone else. This percentage is then multiplied by the number of tokens sold to determine the percentage you will receive.
Therefore, when you bet 1% of all BNB, you receive 1% of the tokens issued through Binance. You pay for the new tokens with the BNB in your account.
Is it smart to join Launchpads?
ICOs or initial coin offerings have a somewhat bad reputation: this is because many scams also take place. At the same time, there are plenty of stories of new crypto coins rising in value by thousands of percent. This makes it interesting to participate in the Binance Launchpool, as Binance extensively reviews all projects.
However, participating in an IEO is also risky: new cryptocurrencies are by definition uncertain. Some projects gained tremendously in value: Injective Protocol, Alpha Finance Lab and The Sandbox all gained hundreds to thousands of percent. Still, there is always the risk that a crypto becomes worthless when the project cannot deliver on its promises.
You also have to buy a lot of Binance Coin to be able to participate in launchpads. This can be risky, as you can lose a lot of money if the BNB price falls.
Effects on the price
New tokens: tokens launched on Binance via Launchpad often rise sharply in value after launch. Binance is the largest crypto exchange in the world and all the extra attention can attract a lot of capital. Especially in the first few days after the launch, the price often rises. Not all projects manage to stay on top.
Binance Coin: Because users need BNB to participate in Launchpads, you typically see that the price of BNB rises before an IEO takes place. After the IEO, the price of BNB often drops because some users sell their superfluous BNB again.
How does Binance select projects for Launchpad?
Binance executes extensive research on projects that apply for the launchpad. Companies can apply by filling in long forms and sharing many details.
Binance looks at the business plan, economic model of the token, history of development and the project team. Binance only adds tokens that are in an advanced stage of development and offer a good infrastructure.
Do you want to read more about Binance?
Frequently asked questions about Binance Launchpad

Binance Launchpad is safe. Binance is the largest crypto exchange in the world and checks the projects on the launchpad thoroughly. Make sure you secure the account you use to participate in the Binance launchpad. Hackers are always on the lookout: therefore choose a strong password and enable 2FA. In addition, do not forget that you can lose your deposit when investing in crypto.

Binance Launchpad can certainly be profitable: some projects rose thousands of percent in value within a short period. New projects on Binance often receive a lot of attention right away, which makes people happy to risk their money in search of high profits. However, a new token can also crash: investing in new cryptos is risky. Therefore, only invest with money you can afford to lose.

Enterprises developing a crypto project can apply to Binance's Launchpad. When Binance accepts the project, users of the exchange can sign up for the launch. This model fits perfectly with the decentralised nature of crypto: everyone has the opportunity to benefit from new projects.

In an IEO, crypto coins are brought to the market by an exchange. In an ICO, the developers brings the cryptocurrency to the market, for example through their own website. An advantage of an IEO is that there is often a reliable party supervising the launch.

.